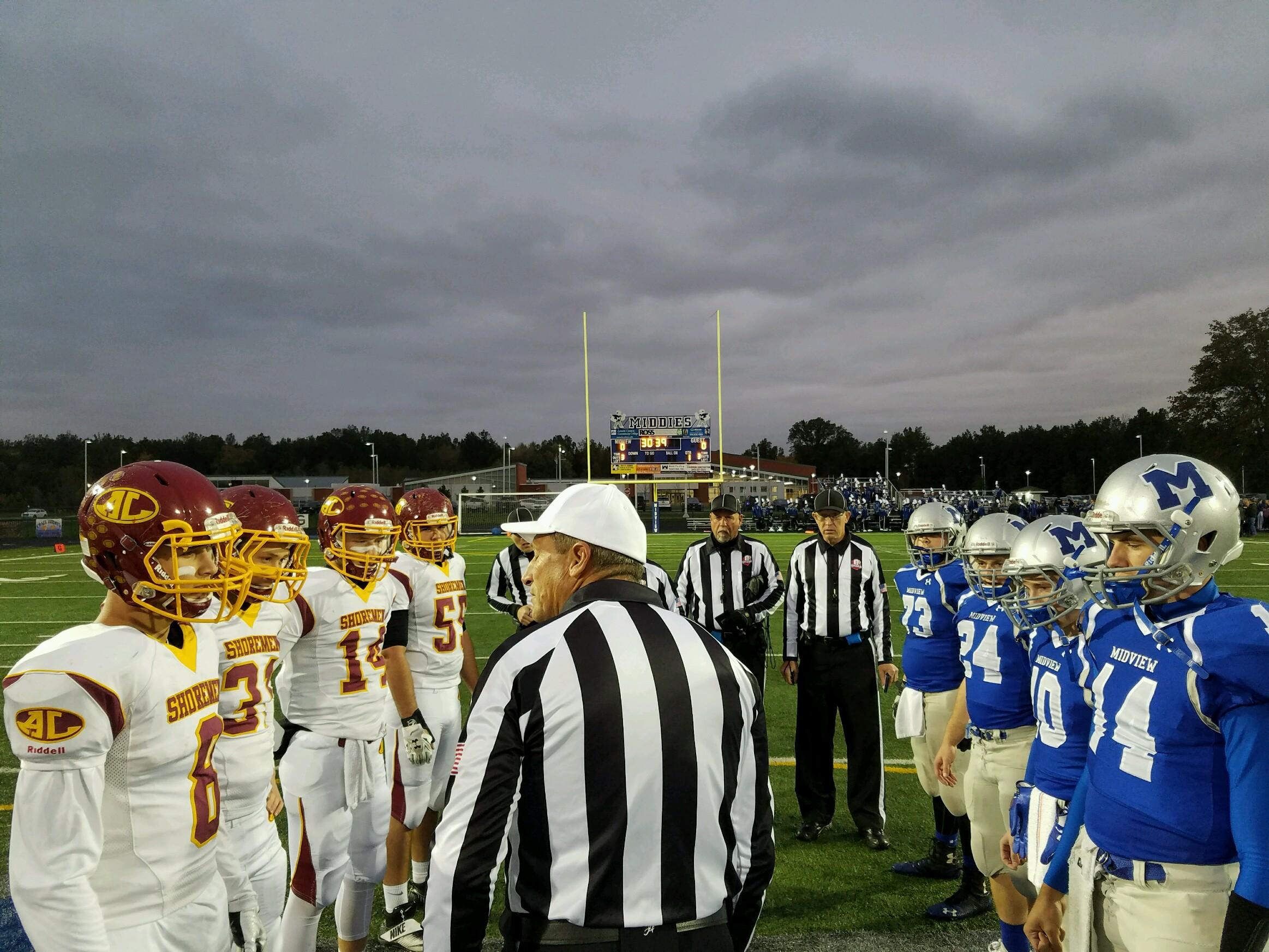 SOT'S Game of the Week
Week 9
Avon Lake Shoremen vs Midview Middies
GRAFTON, Ohio- The Game of the week between the Avon Lake Shoremen and Midview Middies was full of offensive fireworks. The hotly contested matchup between Southwestern Conference rivals was sure to warm up any fan braving windy and cold weather that is typical to Northeastern Ohio this time of year. The plays were explosive and the points were plentiful on both sides of the scoreboard.
The Midview Middies were the first to get on the scoreboard thanks to a 2 yd. touchdown run from Senior QB Dustin Crum, a missed extra point gave Midview an early 6-0 lead. On the next Midview offensive possession Crum hooked up with Senior WR Keith Johnson for a 67 yd. TD pass and Middies increased their lead 13-0 with 2:48 left in the 1st quarter. Avon Lake was able to get on board thanks to a 15 yd. touchdown pass from Senior QB Mark Pappas to Senior WR Carson Toy and the Middies lead was 13-7 as the first quarter came to an end.
The Middies opened the second quarter and it must have seemed like déjà vu for the Shoremen defense seeing Crum connect with Johnson this time for a 58 yard TD pass, the Middies increased their lead 20-7 with 11:50 left in the half. Avon Lake Immediately responded with a 55 yd. TD pass from Pappas to Senior RB David Marsh, the score was 20-14 with 10:08 left in the half. Dustin Crum continued an impressive first half performance with an 36 yard TD run , and an 8 yd. TD pass to TE Seth Frambach as the half came to an end with Midview leading 34 -14.
Midview picked up right where they left off in the first half when Crum found Johnson for a third time for a 54 yd. touchdown pass, Middies led 41-14 with 10:41 left in the third quarter. Avon Lake however showed no sign of giving up as Mark Pappas found Carson again for a touchdown, cutting the Middies' lead 41-21 with 7:40 remaining in the third quarter. The Shoremen scored again on a Mark Pappas 10 yd. touchdown pass to WR Caleb Burr as the third quarter came to a close with Midview leading 41-27.
Midview's Dustin Crum continued to give the Avon Lake Defense fits as he again found the end zone on a 10 yd. touchdown run increasing the Middies' lead 48-27 with 9:04 left in the game. Avon Lake refused to go quietly into the cold evening as Pappas connected with Burr again for a 49 yard TD pass, Midview led 48-34 with 7:48 remaining. Dustin Crum put the final nail in the coffin with an 8 yd. TD pass to Alonzo Banks, Midview increased the lead to 55-34 late in the 4th quarter. Midview was able to recover an Avon Lake fumble in the end zone for a touchback and the middies were able to secure the victory 55-34.
Dustin Crum was the star of the night with 20 carries for 200 yards and 3 Rushing TDs; 20-27 328 yards and 5 Passing TDs. Midview head coach DJ Shaw had nothing but praise for his senior QB " He is the best high school football player I have ever coached, he is always putting the whole team on his back when we need him to"
Midview improves to 8-1 and 7-1 in SWC and will finish the regular season on the road against North Ridgeville, the win also all but assures that Midview will host first round Playoff game in Division II Region 6. Avon Lake falls to 6-3 and 5-3 in SWC, they will end the season at home against North Olmsted. Avon Lake will need to win and hope for Loss by Westlake to make the playoffs in Division II, Region 6.

NEO Sports Insiders Newsletter
Sign up to receive our NEOSI newsletter, and keep up to date with all the latest Cleveland sports news.