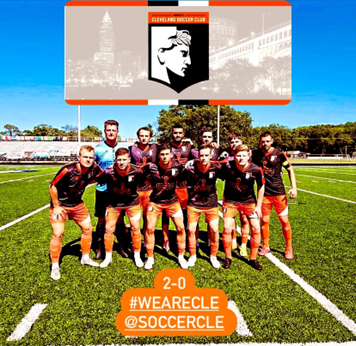 Muskegon, Michigan-
Cleveland SC, the team with the most experience in the NPSL playoffs showcased by their two national semifinal losses in 2019 and 2021, is knocking on the door again in 2022.
Friday afternoon in Michigan, Cleveland, the Rust Belt conference champions, defeated Med City FC, the North Conference champions, 2-0, at Oakridge High School in Muskegon, Michigan.
Full-time in Muskegon

CSC hold on to the 2-0 win against Med City FC

Onto the Midwest Finals!
Well done boys! 👏👏👏#WeAreCLE pic.twitter.com/lx0W0LFfAX

— Cleveland SC (@SoccerCLE) July 22, 2022
Cleveland now faces the host Muskegon Risers (MR) on Sunday at 3:00 PM in the NPSL region championship game. With a win tomorrow, CSC can make it to the final four again!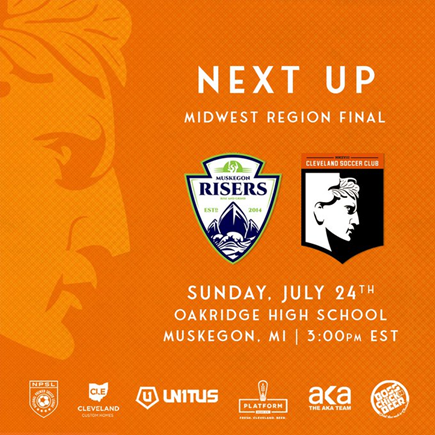 In a strange way, this game Sunday is a fitting match between two teams that have somewhat met already this year! Many Cleveland SC and MR players faced each other in the Major Arena Soccer League 2 semifinals back in April. That game saw the Cleveland Crunch, the Ohio contingent for the MASL2 indoor league, defeat the Risers, 6-5. Surprisingly, also in Muskegon!
Getting underway in Muskegon! Let's go boys! #WeAreCLE pic.twitter.com/hyDdYNRXve

— Cleveland SC (@SoccerCLE) July 22, 2022
Cleveland SC vs Med City FC
Friday's 4:30 kickoff match showcased two of the best in the Midwest for NPSL. Med City's last five games were four wins and a loss, while Cleveland countered with a 2 win, 2 lose and 1 draw record.
One thing Cleveland has is that many of their players have been together for over three years. "The majority of players are back on the team, and having players with experience, know-how, character and big hearts makes my job a lot easier," CSC Coach Vlad Muresan said. "This core group has been around for three or four years, and they've played in big games."
First Half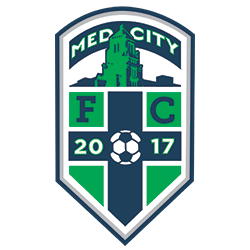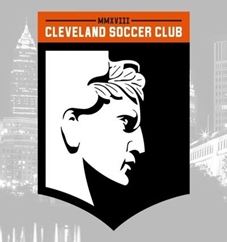 Med City jumped out quickly. Conor Cable, Cleveland's goalkeeper, was busy in the first half. MCFC led with 4-1 shots on goal advantage in the first half. But the first half shutout was preserved by timely saves and solid defense, led by Benjamin Hryszko and Boban Cancar.
Own goal! 1-0 Cleveland
In the 16' Med City goalie, Iker Gonzalez, made what appeared to be a nice stop on a shot by Cleveland but the ball caromed to defender Jake Strachan, who inadvertently kicked it into his own net, giving Cleveland the early 1-0 lead.
Unfortunately, Med City's Andres Garcia, one of the top strikers in the NPSL, suffered an injury in their first playoff game and was unable to suit up for this semifinal match. His presence would have helped the Mayhem in the attacking third, an area where Med City coach, Neil Cassidy, felt they were lacking after the game. "They were pretty well organized, and honestly, I felt we weren't good enough in the final third (of the offensive zone)."
That's the way it stood until the early part of the second half.
Second Half
The second half belonged entirely to Cleveland SC. They controlled the ball and had most of the opportunities for all 45 minutes.
Cleveland goal! 2-0
Around ten minutes in CSC was awarded a corner kick. The ball settled directly to Alec Nagucki in the center of the box, who drove it hard and home into the back of the net. 2-0. "It came right to me and I hit it as hard as I could and luckily it went in," Nagucki said
Get in boys! Nagucki knocks it across the line off the corner from Brennan! Goal!!! CSC lead 2-0 in the '56. Come on boys! #WeAreCLE pic.twitter.com/4zloKKyVVg

— Cleveland SC (@SoccerCLE) July 22, 2022
Mikey Derezic, a Cleveland midfielder, noted: "A lot of the older guys on the team have played together for quite some time. It's truly what makes this group special." Cleveland's stability in their roster and its stout defense made the two-goal lead stand and they are now one game from the national semifinals, again for the third year! In fact, the defense was so dominant that the first shot on goal for Med City didn't come until the 85'!
Sam Seibert, Cleveland SC owner and former intern with the club, was quite pleased with the win.
           We are excited to move onto the Midwest Region Final and credit to Med City FC in a hard-fought match. This was the expectation all season and are thrilled for the opportunity to repeat as Midwest Champions for the third season in a row. The players were professional in the way they carried themselves in yesterday's match and showed the effort we expect from them in achieving our goals. 
Earlier this year in an interview after being named Cleveland's coach in late April, Coach Muresan echoed what Mikey and Sam have worked so hard for these past three years: an NPSL championship.
"We are here to bring a National Championship to the city of Cleveland, and we will not stop until we accomplish this."
Muskegon defeats Duluth
FOCUSED on what's next ➡️ Cleveland HOME tomorrow at 3pm ET for the NPSL Midwest Regional Championship 🏆 https://t.co/qRtKBuDLy4 pic.twitter.com/8ZyE83REIM

— Muskegon Risers (@MuskegonRisers) July 23, 2022
So, Sunday's game will see Cleveland battle the Muskegon Risers, who defeated Duluth FC, 5-2, immediately after the Cleveland game Friday. The Risers spotted Duluth 2 early goals but then went on a five, unanswered goal rampage to snare their spot in the finals. Four of those goals came from the talented Risers attacking midfielder, Vitalis Takawira Jr., who is showcasing his amazing talent the last few games he has started.
Vitalis Takawira Jr🇿🇼 Continued With His Outstanding Performances For #MuskegonRisers🇺🇸 As He Scored A Quadruple To Sent Them To The #NPSL Midwest Regional Finals 👇🏾https://t.co/TJYLRMnHyv pic.twitter.com/JZzeXntIwQ

— Soca263 (@Soca263) July 23, 2022
MASL 2 Semifinal: Cleveland beats the Risers back in April
Each club has eight players that battled each other back in April at Metro Health Arena in Muskegon. In a close affair, Cleveland outlasted the Risers, 6-5, scoring three goals in the last eight minutes of the game!
As these two teams get roughly 48 hours to rest, the spot in the Final Four for NPSL's championship awaits the victor. Will Cleveland and their team of veterans get their third shot at a National Championship, or will Muskegon get to avenge their earlier loss?
The match is scheduled for a 3:00 kickoff. You can watch the game live on CatchMark Sports. There is a fee required for viewing.
If you plan on making the trip up to Muskegon, tickets are available here: Buy here.

NEO Sports Insiders Newsletter
Sign up to receive our NEOSI newsletter, and keep up to date with all the latest Cleveland sports news.