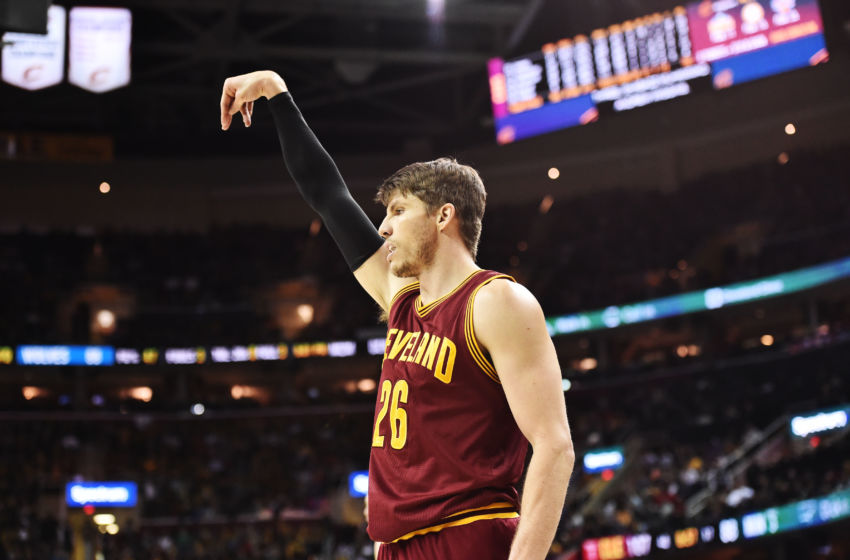 INDEPENDENCE, OHIO – Cleveland Cavaliers shooting guard Kyle Korver is 37-years-old and will be entering his 16th season in 2018-2019. He's firmly in the twilight of his career and, though you might not guess it by the wily veteran's heart and determination on the court or his three-point prowess, he knows the end is near.
In fact, Korver thought that he was ready to retire at the end of the 2018 NBA Finals.
"I was done," said Korver on Media Day.
"I was just done. I took a good chunk of time and kind of got away from the game and really evaluated a lot of things and tried to decide if I still had the desire to play. Talking to my wife, my family, look at my kids, you know… and after doing all that, I wanted to come back and I still wanted to play, still love the game and so I'm excited to be back."
Luckily for the Cavs, Korver's family brought him back down from the precipice of retirement, their blessings allowing Korver to continue playing the game he realized he still loves.
"…I needed to have the blessing of my wife and family. You guys hear this too, surely, you're schedules are tough as well and the older I get, there's a family cost to continuing to play. It's a real thing. So once I felt like my family was in a spot where, even though we went through what we went through, we're good, we can keep going, that gave me the freedom to really decide for myself if I still love the game or not. If I wanted to put the work in. I don't want to just come here and just be around. I want to come here and work, play well, make shots, win games. It's a lot but once my family was good, shortly after that, I still have the desire."
On Monday, Korver appeared reserved and prepared for a potential reality that the Cavs "won't be very good" after four years of being a championship-contender.
However, the Cleveland Cavaliers' best shooter (and de facto shooting coach) is one of the most fiery competitors in the league. As a team leader, his work ethic and competitive fire should be emulated by the young players that he understands need to improve for the Cavs to put a good product on the floor.
His return to the team and the Cavs' potential to be a playoff-contenders go hand-in-hand.

NEO Sports Insiders Newsletter
Sign up to receive our NEOSI newsletter, and keep up to date with all the latest Cleveland sports news.