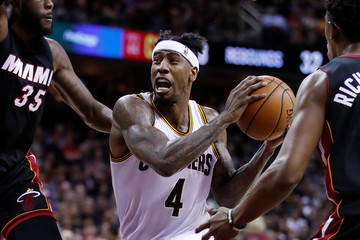 Iman Shumpert hasn't had the smoothest ride since being traded to the Cleveland Cavaliers. Coming into the league as an athletic combo guard, he had shown his potential as a starting-caliber three-and-D shooting guard in his time with the New York Knicks and that was supposed to be his role when he was traded to the Cavs along with J.R. Smith. Instead, injuries forced him out of the lineup for two weeks and Smith immediately shined in a starting role.
The rest was history. Smith became the full-time starter and in the two and half seasons since he joined the Cavs, Shumpert has been a standout defender in the Cavs' second-unit, although he hates being labeled as a defensive player – as he told reporters on Tuesday afternoon.
"I don't like the media and everybody writing stuff like 'he's a defensive [player]'… I don't like it because I know what I can do with the ball."
Hate it or love it, the numbers speak for themselves.
After arriving in The Land, Shumpert would average more steals per 36 minutes (2.0) than any of the Cavs rotation players except for Dion Waiters, had the lowest defensive rating of any Cav in the rotation (104) and had the highest defensive box plus/minus (1.3) of any Cav in the rotation. In the 2015-2016 season, Shumpert averaged a more steals per 36 minutes (1.5) than any of his teammates, had the best defensive rating of any players with the exception of Kevin Love (103) and had the third-highest defensive box plus/minus on the team (1.9).
How Shumpert would reach those numbers is with a mix of physicality, focus and athleticism not many players possess. He's also a master at swiping the ball out of a players hands. As a result, Shumpert has built a reputation as a valuable on-ball defender. That was even the case last year although Shumpert's defensive play regressed a bit. His steals per 36 minutes (1.2), defensive rating (112) and defensive box plus/minus (0.0) left a lot to be desired and his on-ball defense relied on valiant effort but often was undermined by him missing a rotation or his inability to get over a screen.
You could almost see the gears turning in Shumpert's head on offense and defense last season. He had improved his playmaking ability as the lead guard and played the backup point guard role well at the beginning of the season. He showed off a consistent three-point stroke prior to All-Star Weekend, knocking down 40.3 percent of his shots from long-range. However, he shot just 25.3 percent on his three-point attempts after that and began to pass up shots because of his inefficiency, a situation he alluded to.
"I'm just sorta done with the whole letting my emotions, or letting my 'oh I don't want anybody to think I'm shooting too much'… It's like if this is the right play, just make the basketball play… I'ma make aggressive, decisive decisions with the ball and I'ma be more assertive with myself on the offensive end… During the year, at times, I would shy away from it for the concerns of the team."
Shumpert felt like he was putting together his offensive game but the NBA Finals came and went with him standing around rather than shooting it or making a play off-the-dribble. In fact, after taking 3.4 three-point attempts per game in the regular season, Shumpert took 1.8 three-point attempts per game in the 2017 NBA Finals. His field goal attempts per game dropped from 6.4 to 3.4.
Now the Cavs can look forward to Shumpert playing with a free mind. When he just plays, without overthinking, he allows his natural talents to shine. He's a solid pick-and-roll player who can knock down midrange jumpers or get all the way to the rack. He's, of course, functioned as a spot-up shooter in the Cavs offense and he's made a name for himself as a defender. He can play, or at least defend, three positions. The oft-maligned guard has had a roller coaster of a ride since arriving in the Land but this will be the best year of his career if he can put all of his tools together.
He'll have opportunity in the second unit, especially while Isaiah Thomas is out. Even after Thomas returns, Shumpert has the youth and defensive aptitude to make him valuable behind 35-year-old Dwyane Wade and 36-year-old Kyle Korver.
Trade rumors aside, this is a critical season in Shumpert's career, one that could set his value moving forward.
*All stats gathered from www.basketball-reference.com

NEO Sports Insiders Newsletter
Sign up to receive our NEOSI newsletter, and keep up to date with all the latest Cleveland sports news.