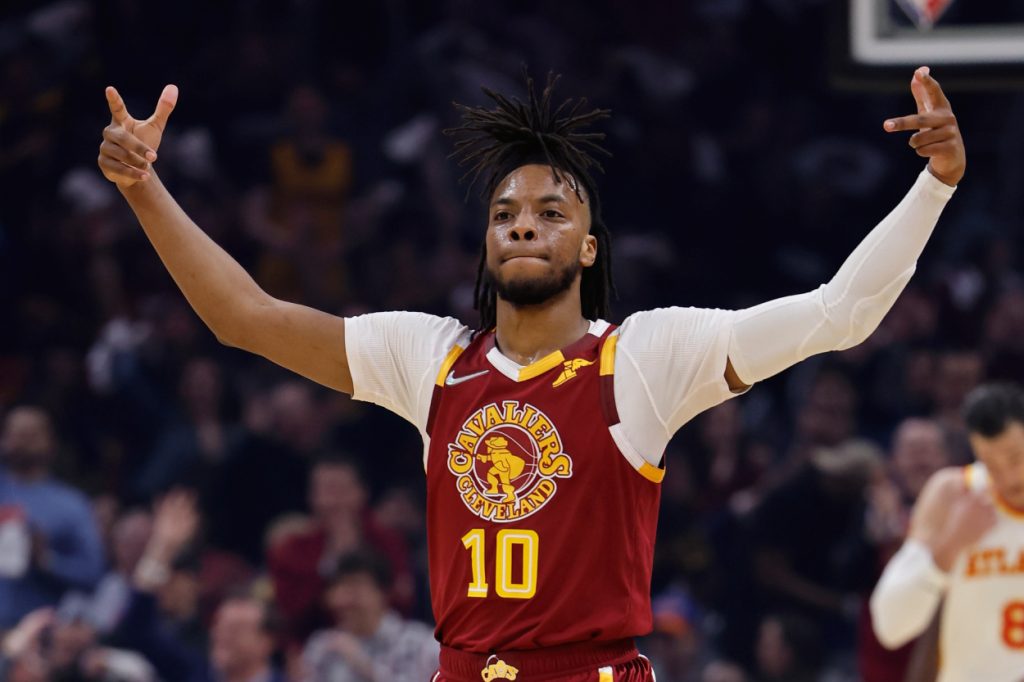 The Cleveland Cavaliers limped to the finish line of the 2021-2022 season, finishing 8-13 in March and April. The Cavs, at one point during the season, were knocking on the door of the #1 spot in the Eastern Conference. They remained solidly in the top six for most of the season. It's no secret the Cavs were rocked by injuries after the All-Star break.
This played a major role in taking the Cavs from a top five team to the Play-In Tournament. The Cavs lost both games in the Play-In tournament. The first on the road to Brooklyn Nets and the second at home against the Atlanta Hawks. There is a silver-lining to the Cavs ultimately not making the playoffs. They'll have the first-round pick due to the Indiana Pacers in the Caris LeVert trade will remain with the Cavs. This can be used to bring in another contributor.
How the season ended is not indicative of its success or failure. This was a team that was not supposed to win more than 30 games. A team whose young core was criticized and placed near the bottom of future rankings by media outlets. That team ended up as the #7 seed in the Eastern Conference. The Cavs were able to experience playing meaningful games in March and April in playoff atmospheres. That is a success. Young teams in any sport will go through growing pains. The Cavs had their fair share this season, but this is necessary and can set a team up for future success.
The Cavs have an incredibly talented young core in Darius Garland, Evan Mobley, and Jarrett Allen. But they need more. Yes, that core will continue to improve, and each has a high ceiling. However, the roster still has a glaring need at the wing.
The bench, beyond Kevin Love who was exceptional as a 6th man, also needs some attention. Before we look outside the organization for help, a strong argument could be made that re-signing Colin Sexton could largely solve the Cavs' issues. Sexton, a 20+PPG scorer, would be tremendous off the bench or could start alongside Darius Garland and push Caris LeVert to a permanent bench role. Sexton and Love, or LeVert and Love, would be the primary bench scorers. Lauri Markkanen would remain a starter at SF in this projection.
This, to me, is the path of least resistance and as of today the most likely outcome. I feel this is most likely because Sexton is already in-house and has expressed a desire to remain in Cleveland. In addition, Cleveland has not historically been a free agent destination. Therefore, any significant addition would come via trade, and that becomes much more difficult to pull off.
The Cavs also have their 2022 draft pick that will be used to add another piece one way or another, but I doubt they actually use the pick. Adding a young rookie to an already young team doesn't seem the like the best use of that asset. I look for the Cavs to use their pick to upgrade their roster with a veteran.
Conversely, new GM Mike Gansey and President of Basketball Operations Koby Altman may feel they want to make a splash and add another star through a trade. Although unlikely, it is certainly possible. The Cavs have assets to use and could decide this is the best course of action. If rumors are to be believed, there should be no shortage of difference-makers available.
Some names that have been mentioned throughout the season that could be moved this summer include Jerami Grant, Donovan Mitchell, Bradley Beal, and Julius Randle. Mitchell and Beal are the ones that jump off the page and will require a King's Ransom to acquire. Multiple first-round picks and players would be needed to even get the attention of Washington and Utah, let alone get a deal done. Conversations about trading for NBA stars makes for great social media discussion, but actually making the deals is far more difficult. The bottom line is that it is highly unlikely the Cavs would give up the compensation necessary to acquire a star such as Beal or Mitchell. I've certainly been wrong before and will be wrong again, but I just don't see it.
So, now what? If the Cavs aren't going to make a splashy move, what do they do? You may not want to hear this, but the Cavs may not do much of anything to bring players in. No massive trades or free agent signings, but that doesn't mean what they do end up doing won't be impactful.
Much can change, but here's how I see things playing out. As I mentioned earlier, re-sign Colin Sexton and push Caris LeVert to the bench. The Cavs need a back-up Point Guard. How about our old friend Ricky Rubio? He fit incredibly well with the Cavs, was a wealth of knowledge and experience for a young team, and highly productive. The Cavs also perhaps look into a guy like Robert Covington on the free agent market. A 3 & D wing they desperately need. If the Cavs look to sure-up the wing position on the trade market or free agency, a 3 & D guy is the way to go.
The Cavs are in a great position to build around their young core, and they will, but Mike Gansey and Koby Altman have to be careful. Disrupting team chemistry and trading away significant assets for a star and a massive contract is a gamble. One I'm not comfortable with, but I'm not making the decisions. Re-sign Colin Sexton, bring Ricky Rubio back, acquire a 3 & D wing and let the young core mature. That's a recipe for a top five team in the Eastern Conference next year.

NEO Sports Insiders Newsletter
Sign up to receive our NEOSI newsletter, and keep up to date with all the latest Cleveland sports news.