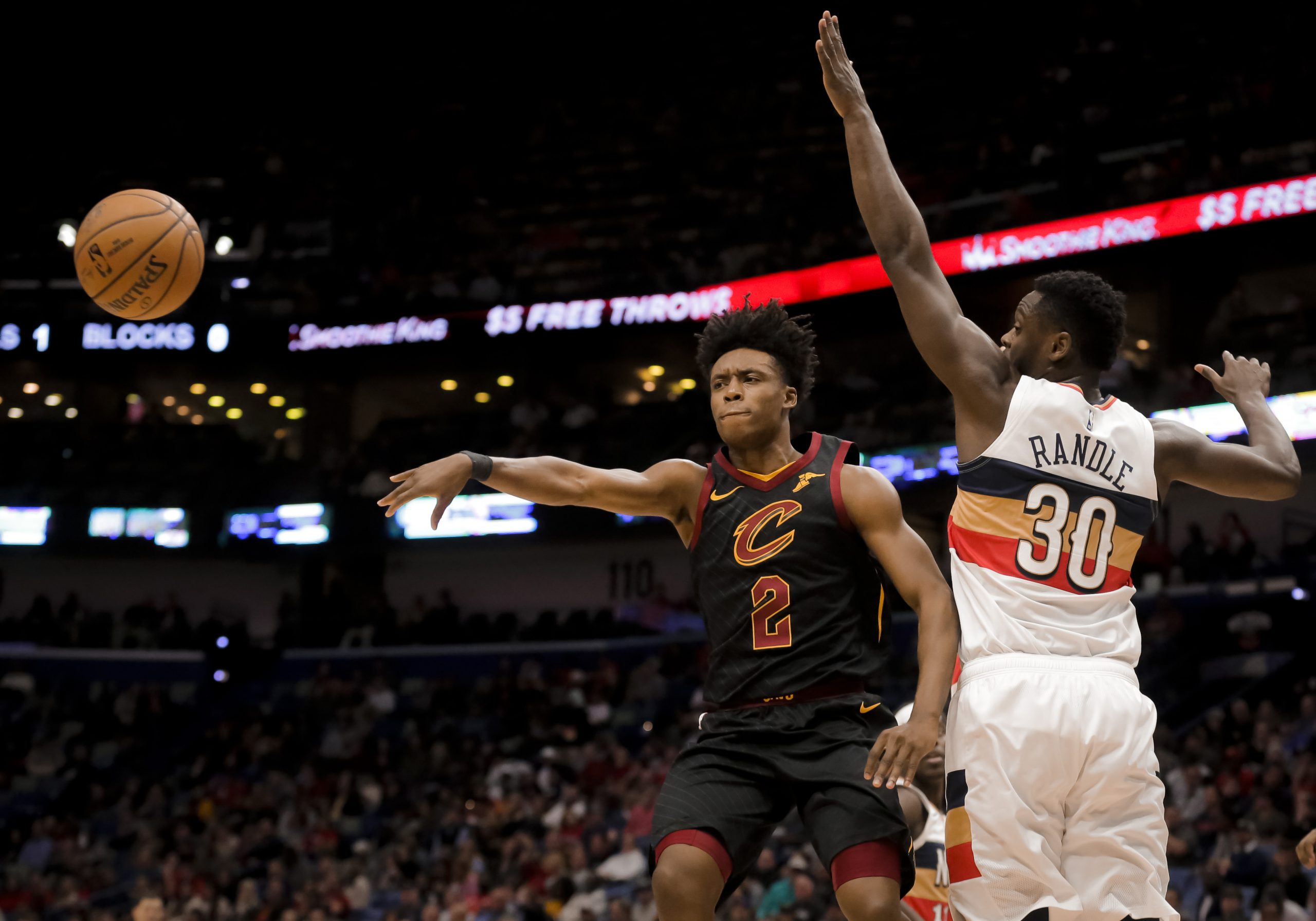 Cleveland Cavaliers rookie point guard Collin Sexton has faced a lot of criticism this season, with questions about his ability to shoot from outside, his basketball IQ and his ability to defend his position.
However, while Sexton has quieted the chorus of critics who doubted that he was worth the eighth overall pick in the 2018 NBA Draft with his ability to shoot 38.5 percent from three-point range and 41.4 percent from the midrange (per NBA Advanced Stats) and has even had a few solid defensive performances against some of the league's top point guards, the questions about his court vision and ability to be a floor general still remain.
Too often does Sexton dribble into the paint with tunnel vision, looking to score with either a pull-up midrange shot or ill-advised shot around the rim rather than looking for an open teammate on the drive.
Cavs head coach Larry Drew has even mentioned Sexton's tendency to be predictable on the move prior to last Saturday's game against the New Orleans Pelicans and cited it as a reason he's had his struggles converting around the rim.
Larry Drew believes Collin Sexton's tendencies— like always wanting to finish at the rim — have become to predictable and have contributed to his struggles during the team's losing streak

— Quenton S. Albertie (@qshironalbertie) January 5, 2019
That said, Sexton often just doesn't put his teammates in position to get a quality shot enough of the time. Rather than calling a set play when an opposing team goes on a run or they've found themselves getting cold from the floor, Sexton settles for his teammates (and himself) dribbling the ball out of the air and passing the ball around like a hot potato as the shot clock winds down because they don't have a quality shot to take.
However, while Cleveland is on a 10-game losing streak and have been challenged by an injury-ravaged roster, the silver lining in this rough patch has been that Sexton is improving as a floor general and learning the nuances of the position.
In this play against New Orleans on Wednesday night, Sexton drove baseline and when realizing he had an elite rim-protector in Pelicans superstar Anthony Davis draped all over him, he smartly whipped the ball to an open Alec Burks in the corner with defensive stud Jrue Holiday leaving Burks in the corner to help box out Tristan Thompson down low (which also drew Holiday closer to Sexton).
It's simple, really. However, for a point guard whose main task to this point in his career has been getting his own shot rather than facilitating for his teammates, having the mindset to make the pass to the open man rather than trying to draw a foul or take what would be a heavily-contested shot around the rim.
Ever-confident in his own ability, that's exactly what Sexton tends to try to do.
Having cited his film study sessions with backup point guard Matthew Dellavedova for his recent improvements as a passer, it was interesting to see Sexton complete a very Dellavedova-like pass to Thompson against the Indiana Pacers on Tuesday night. Dellavedova has a knack for showing his floater but switching it into a lob pass around the rim when would be shot-blockers should they be flat-footed or take a step up towards him.
Sexton completed that same type pass late in the fourth quarter against the Pacers.
Here again is a play that's relatively simple but is more about his growth in mindset than the difficulty of the pass or read. As Utah Jazz point guard Ricky Rubio and big man Derrick Favors look to trap Sexton on the move, likely knowing he's had trouble making quick decisions when trapped, Sexton zips a pass to fan favorite Larry Nance Jr. as he stands unguarded in the middle of the lane.
Nance gets a floater to bounce in and the Cavs get two points.
In this last play, Sexton shows he understands the nuances of passing out of the pick-and-roll, getting his defender (Hawks rookie Trae Young) on his strongside hip and holding him for just a tick before making the pocket pass to Cedi Osman, who was rolling from his weakside. It's just the type of play you're glad to see Sexton make because it shows a growth in basketball IQ, court vision and willingness to facilitate.
He still has to make improvements to his overall floor game and creating counterdribbles in the offseason could do wonders for his ability to create space and catch defenders off-guard. Nonetheless, Sexton's improvements as a point guard have been evident both on film and on the stat sheet, as Sexton has averaged 4.0 assists per game over his last eight games while averaging 2.8 assists per game this season.
The added playing time aids Sexton's numbers because there's been an increase in experience and opportunity and an expansion in his role.
However, 4.0 assists per game isn't bad for a rookie point guard who came into the league with a scoring mindset. For comparison, Dallas Mavericks rookie phenom Luka Doncic is averaging 4.9 assist per game and he's already considered one of the best passers at his position.
*Unless otherwise referenced, all stats gathered from Basketball Reference

NEO Sports Insiders Newsletter
Sign up to receive our NEOSI newsletter, and keep up to date with all the latest Cleveland sports news.