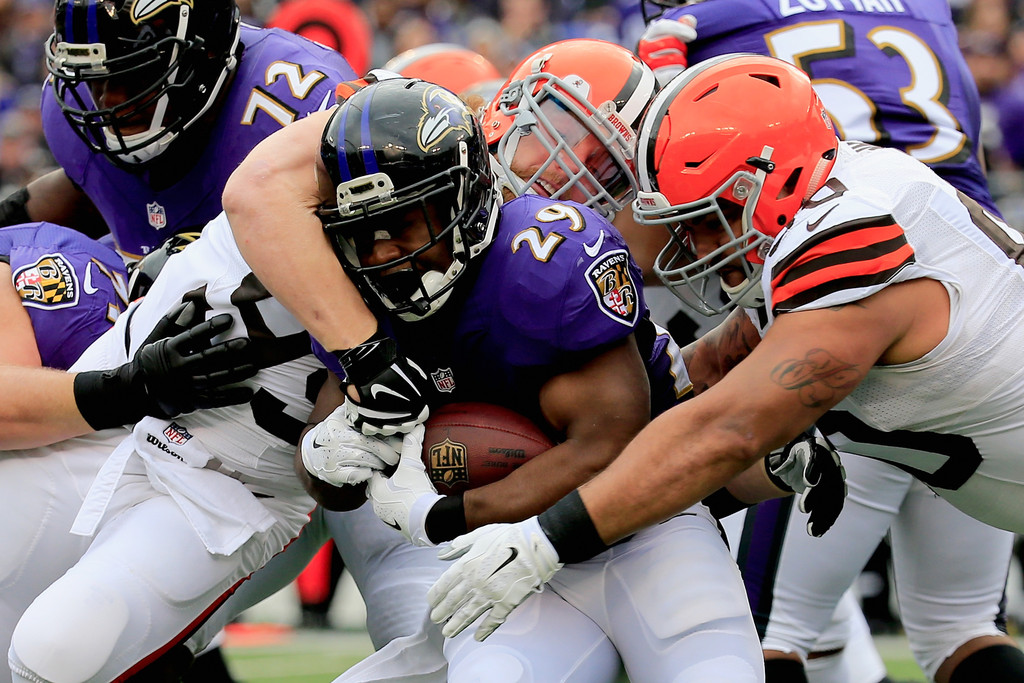 The Cleveland Browns take on the Baltimore Ravens tomorrow afternoon in a divisional matchup for their home opener down at first energy stadium. With Robert Griffin III sidelined for a decent amount of the season due to a sprained shoulder he suffered in the week 1 loss against the Philadelphia Eagles, veteran QB Josh McCown, who started in eight games last year, will be the starter against the AFC North rivals.
Interested when the football game starts? What players to watch and more?
Here are your preseason details:
Game Details:
Date/ Time: Sunday, September 18, 1:00 p.m. EDT
Location: First Energy Stadium, Cleveland, OH
TV: CBS
Announcers: TV – Carter Blackburn, Chris Simms; Radio – Jim Donovan, Doug Dieken, Nathan Zegura (sidelines)
Online Streaming: NFL Game Pass ; NFL Game Center (Scores/ Statistics Only)
3 Things To Look For:
1. Can McCown Repeat? The last time that Josh McCown played against the Ravens, he threw for 457 yards and two touchdowns in a week 5 matchup back in 2015. That was the best statistical game for McCown in his lengthy career at 36 years old. A big factor for McCown doing so well that game was Browns TE Gary Barnidge. He ended up with 139 yards and one spectacular touchdown that he caught with his ankles and backside. A depleted Ravens defense could've been a factor as well as the team was riddled with injuries last year so don't expect them to be as lenient against Browns this time around.
2. Can The Skill Positions Contribute? Last week, the offense struggled for a majority of the game. The receiving core only had 190 yards combined and a chunk of the yards came on two very long bombs to WR's Corey Coleman for 58 yards and Terrelle Pryor for 44 yards. Overthrows and inaccuracy have plagued RGIII ever since his debut in 2012, but the Browns have a history with receivers not living up to expectations either. Not to say they didn't do their jobs, it was just a typical Browns receiving core game last week. Barnidge hat two drops while he was wide open which is uncharacteristic for the Pro Bowl tight end. RB's Isaiah Crowell and Duke Johnson Jr. had decent games but nothing that stood out. Crow rushed for 62 yards and had the only Browns touchdown of the game while Duke had 22 yards rushing but had 28 yards receiving as well.
3. Ravens Passing attack: It's no secret that Ravens QB Joe Flacco can sling the ball and he can sling it well. Last year, Flacco didn't have one starting receiver on his roster by the time they played the Browns in their first match up due to injury and was playing with third team and practice squad players. This year, they have veteran WR bad boy Steve Smith back healthy who is a terror for any DB in the league to cover. Joe Haden and Tramon Williams will have a real test against him along with former Pittsburgh Steeler Mike Wallace, who has given Haden a run for his money in the past. TE Dennis Pitta has been a favorite target for Flacco in the past but didn't have him much the past two years due to injury. When healthy, he can be a top five tight end in this league.
Conclusion:
It's the first home game of the season for the good ol' orange and brown so the fans will be down at First Energy Stadium in full force. This game has the potential to be a classic defensive, low scoring affair that the AFC North used to be known for. If we learned anything from last years Thursday night game between these two teams when the Ravens won on a "Kick six" when they blocked former Browns kicker Travis Coons, its that anything is possible when these two teams plays
Go Browns!