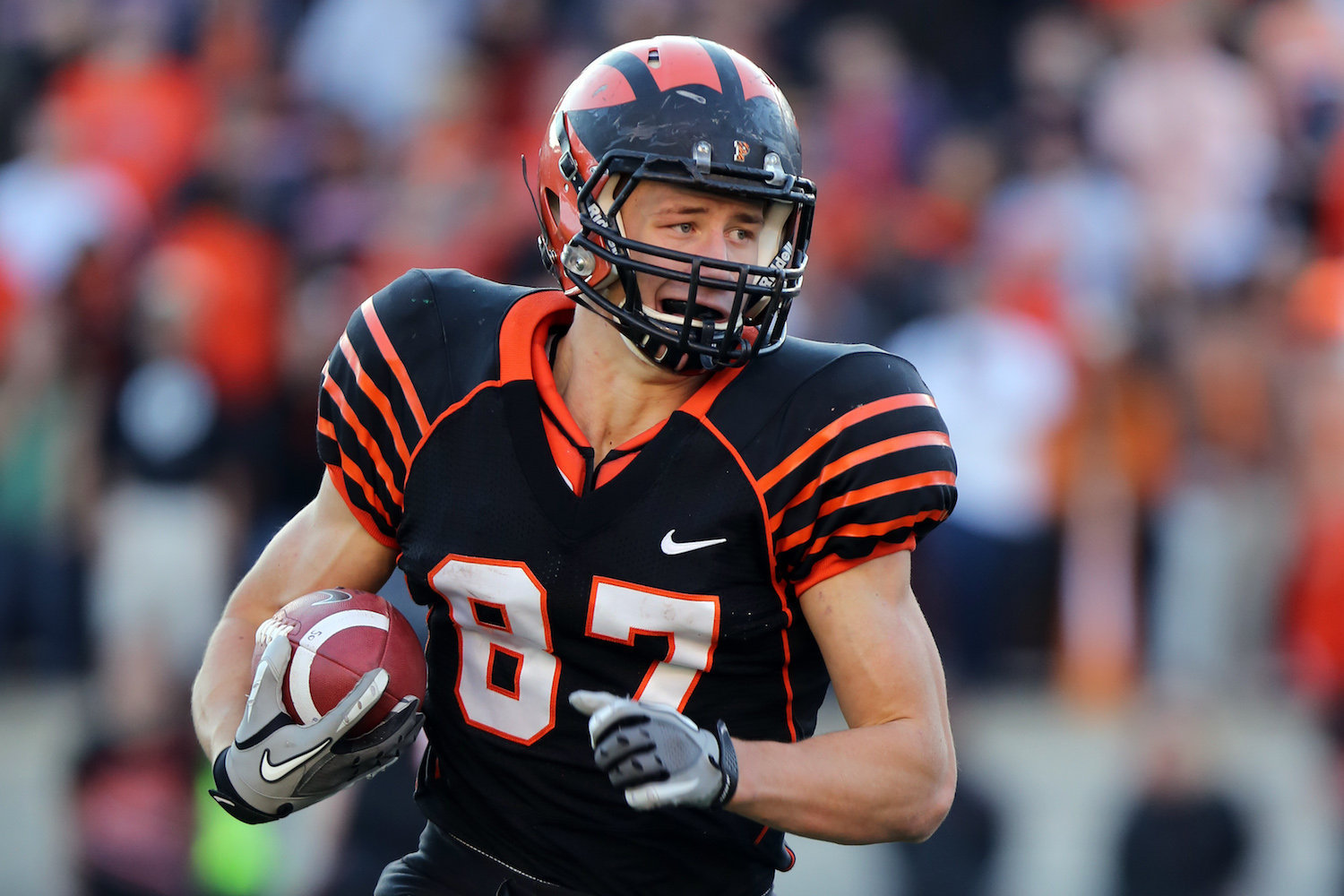 The Cleveland Browns drafted tight end Seth DeValve in the fourth-round of this year's NFL draft. After missing the first 10 days of training camp, the Browns announced his return and activation from the PUP list on Wednesday evening.
DeValve suffered a hamstring injury which made him sit out and recuperate. Head coach Hue Jackson talked to the media about his injury and return to the football field.
If he's healthy, he's a tremendous athlete. He has a chance, just like anybody else. I think he'll hopefully get back out here pretty soon so that we can evaluate him. We haven't seen much of him. He needs to be out there with his teammates practicing.
The rookie tight end didn't let this injury set him back from achieving his goals. He is truly excited to give it all he has this season.
So mentally, I feel very prepared and ready to get in and do everything that I'm asked to do from a mental standpoint. Right now, physically, they're still working me back into things so it'll be an ongoing process however long that takes. But I feel prepared mentally and in my ability to get done what I've got to get done.

The last couple of weeks have been a lot of time spent in the training room, a lot of time spent with the strength trainers, the athletic trainers doing whatever they say however many times a day getting what I need to get done. I've made progress each day to the point where I feel like I can get back and start doing some drills at practice, he said.
He discussed how hard it was to not be on the football field practicing and contributing to his team.
It's very hard to watch. It's very hard to watch. Unfortunately, I've been a spectator for the majority of my time here so far. It's something you have to be patient with because a hamstring injury is not something you can tough through like some injuries where you can just wrap it up and get out there. Hamstring, you'll just keep re-injuring it if you try to do that. I've had to be patient. It's been very difficult, very frustrating at times watching instead of playing, but my time will come.
Veteran tight end Gary Barnidge took the young rookie under his wing and is quite impressed with him so far.
It's an extremely fortunate opportunity that I have, that we all have in that room, the younger tight ends, to learn from somebody that's done it a long time and somebody that's done it very well. He is like a coach. He's very helpful for all of us. He asks really good questions in meetings. He's processing the game on a higher level and sees things that I need to learn to see out of defenses. We've learned a lot from him.
When you have rookie players who have the heart and passion for football and want to succeed, they honestly will. DeValve seems like a great athlete and an even better person. Hopefully he does solid in the preseason and gets some playing time this year.

NEO Sports Insiders Newsletter
Sign up to receive our NEOSI newsletter, and keep up to date with all the latest Cleveland sports news.