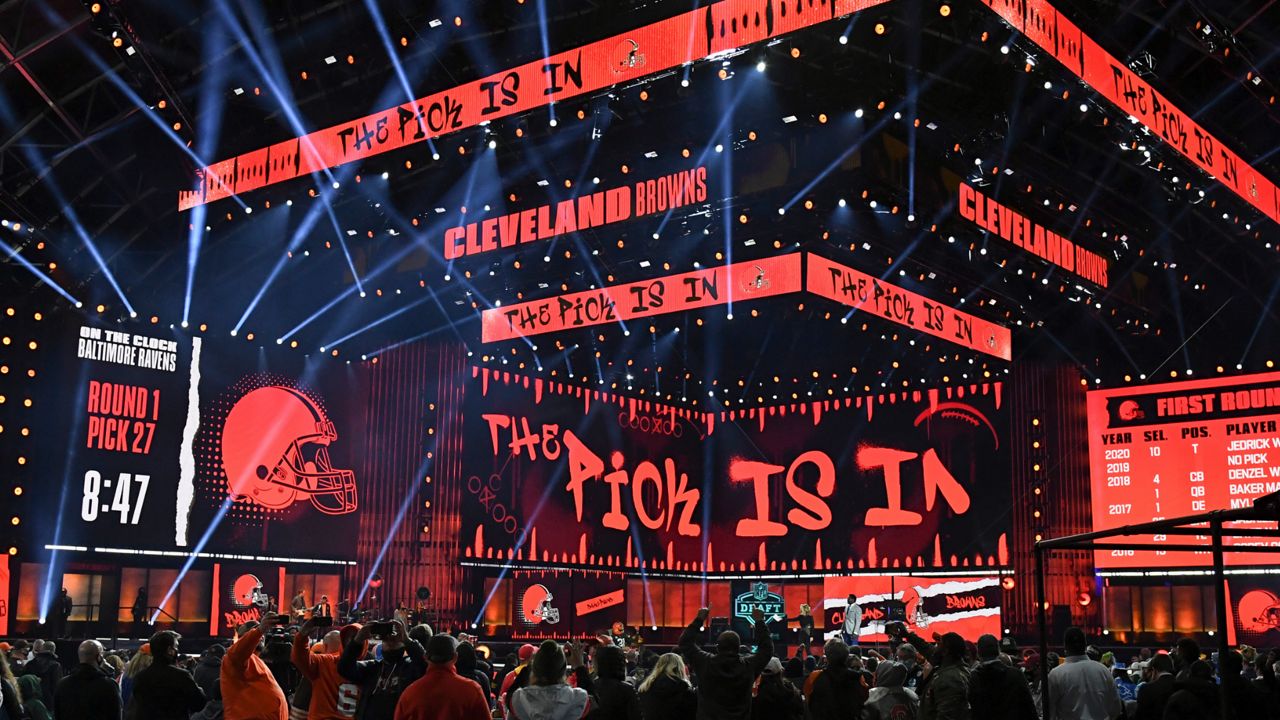 Cleveland Browns GM Andrew Berry will be entering his 3rd NFL draft later this week when the annual event opens in Las Vegas on Thursday. Berry has been exceptional in his first two drafts with the Browns. The 2020 and 2021 drafts have produced starters Jedrick Wills, Greg Newsome, Grant Delpit, Jeremiah Owusu-Koramoah, Jacob Philips and Nick Harris, who will likely start at center this fall for the departed J.C. Tretter. Donovan Peoples-Jones, Harrison Bryant, Jordan Elliot, and Demetric Felton have also contributed with varying levels of success. Berry has shown he will move up and down the draft board when necessary, depending on the value the Browns feel they are getting. Jeremiah Owusu-Koramoah is a good example of this. After JOK fell past a certain pick in the draft, Andrew Berry felt the compensation to move up and draft the linebacker out of Notre Dame was well worth it. He was right. 
Andrew Berry, and Browns Chief Strategist Paul DePodesta especially, have instituted certain "guardrails" for draft prospects and the organization as a whole, the most talked about in relation to the draft is age. For those unfamiliar with the age guardrails (there are others, see graphic below) and why age is important, here is the logic: the younger a prospect is that the Browns draft, the more of that athlete's "prime years" of performance the team will get. Especially if the team re-signs that player to a second contract. Denzel Ward is the prime example of the guardrails. No, Andrew Berry did not draft Denzel Ward, John Dorsey did, but it's still a good example. Ward is 24 years old and was drafted in 2018. He recently signed a massive 5 year $100+ million-dollar contract with the Browns. Even at the end of his second contract, the Pro Bowl corner out of Ohio State will only be 29. The Browns will be getting the best of Denzel Ward for nearly a decade and Ward, as he should, is being paid for his prime years.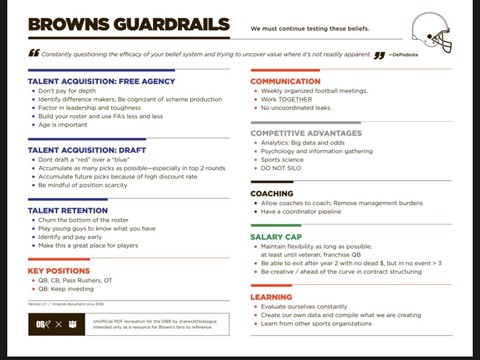 (Credit to Jared Mueller of The Browns Wire for the graphic posted on Twitter 2/17/2021)
The 2022 NFL Draft will be much different for the Browns and offer new challenges for Andrew Berry and his staff. The Browns will be without their 1st round pick this year, as well as one of their 4th round picks, as they now belong to the Houston Texans via the Deshaun Watson trade. The Browns now have the following picks:
2nd Round (No. 44 overall)
3rd Round (No. 78) overall
3rd Round (No. 99 overall)
4th Round (No. 118 overall)
6th Round (No. 202 overall)
7th Round (No. 223 overall)
7th Round (No. 246 overall)
I highly doubt this is what the final draft positions will look like. Chances are the Browns will move around a bit and that may begin with pick 44. There is a chance the Browns could move into the first round, but Andrew Berry said recently this was unlikely. It depends on who falls and how far. My guess is a player the Browns covet would have fall into the mid to late 20's to make a trade-up even remotely possible. If a trade-up of any kind happens, it's much more likely Berry would move up into the early second round or trade up on day 2 or 3. I would much rather the opposite happens. If the board falls in a way that allows the Browns to trade back from pick 44, that would be my preference. The Browns can possibly replace the 4th round pick (and more) they lost this year in the Watson trade by moving into the 50's or 60's in the second round. The 2022 draft is deep in Wide Receivers and Defensive Line help, two major positions of need, so moving back a bit and recovering another pick(s) shouldn't hurt the Browns in terms of selection value. Anything is possible, but the probability is that the Browns will remain at pick 44 or trade back. Also, it may seem counterintuitive right now because the Browns just signed Denzel Ward to an extension and drafted Greg Newsome last year, but don't be surprised if they draft a corner. Or a running back for that matter.
It's nearly impossible to predict what the overall draft board will look like. This year's draft is especially unpredictable because teams seem to differ wildly on prospect grades. I think we will see several surprises of players being drafted significantly higher or lower than has been projected in the media. Be that as it may, I am going to use the PFF (Pro Football Focus) draft simulator and make picks for the Browns at their current slots. This is the best way to somewhat predict with accuracy what the board may look like when the Browns select. Keep in mind, my hands are tied by who is available in the simulation. Here are the results:
2nd Round (No.44 overall):
Jahan Dotson
WR, Penn State
Other possible selections: 
Nik Bonitto- EDGE, Oklahoma. Drake Jackson- EDGE, USC. Josh Paschal- EDGE, Kentucky.
3rd Round (No. 78 overall):
Alex Wright
EDGE, UAB
Other possible selections:
Bryan Cook- S, Cincinatti. Kerby Joseph- S, Illinois. James Cook- RB, Georgia
3rd Round (No. 99 overall):
Matthew Butler
IDL, Tennessee
Other possible selections:
Dominique Robinson- EDGE, Miami OH. Deangelo Malone- EDGE, Western Kentucky. Romeo Doubs- WR, Nevada
4th Round (No. 118 overall)
Justyn Ross
WR, Clemson
Other possible selections:
Daniel Bellinger- TE, San Diego State. Neil Farrell Jr.- IDL, LSU. Kellen Diesch- T, Arizona State
6th Round (No. 202 overall)
Christopher Allen- EDGE, Alabama
Other possible selections:
Curtis Brooks- IDL, Cincinnati. Noah Ellis- IDL, Idaho. Jack Sanborn- LB, Wisconsin.
7th Round (No. 223 overall)
Cole Turner- TE, Nevada
Other possible selections:
Keaontay Ingram- RB, USC. Noah Ellis- DL, Idaho. Jack Sanborn- LB, Wisconsin.
7th Round (No. 246 overall)
Cameron Dicker- K, Texas
Other possible selections:
Vincent Gray- CB, Michigan. Marquan McCall- IDL, Kentucky. Noah Ellis- IDL, Idaho
To show the potential of a few trades, I ran another simulation with PFF. Here are the results:
Pick 51- Jahan Dotson- WR, Penn State
Pick 83- Nik Bonitto- DE, Oklahoma
Pick 85- Greg Dulcich- TE, UCLA
Pick 99- Chris Hinton- DT, Michigan
Pick 158- Tariq Castro-Fields- CB, Penn State
Pick 202- Neil Farrell Jr.- DT, LSU
Pick 223- Jaivon Heiligh- WR, Coastal Carolina
Pick 246- Dylan Parham- G, Memphis
The draft board did not fall how I would have liked, but there's never a guarantee that it will. I wanted to give a decent representation of what it may look like to move around the draft board. I was given a B grade from PFF for both groups of selections. Speaking of grades, I want to ask something to Browns fans and football fans in general: Please do not get caught up in draft grades. I understand debating draft picks is a hot topic of conversation among fans, and "experts" offer grades left and right. I don't give grades out and I don't much care for them. They're just as accurate as they are inaccurate. To me, it takes at least 2 years to appropriately judge a draft class. Labeling a player, a bust or a superstar before a down is played in the NFL is foolish. The most that can be said about a draft class is that it looks good or bad on paper.
This is a different position for the Browns to be in aside from not having a 1st round pick. They don't have many question marks. Granted, the ones they do have are glaring: WR, EDGE, IDL. There is plenty of time to fill those voids in free agency, the draft, and post-June 1st cuts. Jadaveon Clowney is likely to return, although this is not a lock by any means. I could also see the Browns adding a few more veterans on one-year deals or via minor trades. But you never know with Andrew Berry. He has been aggressive in talent acquisition. Buckle up Browns fans and enjoy!

NEO Sports Insiders Newsletter
Sign up to receive our NEOSI newsletter, and keep up to date with all the latest Cleveland sports news.