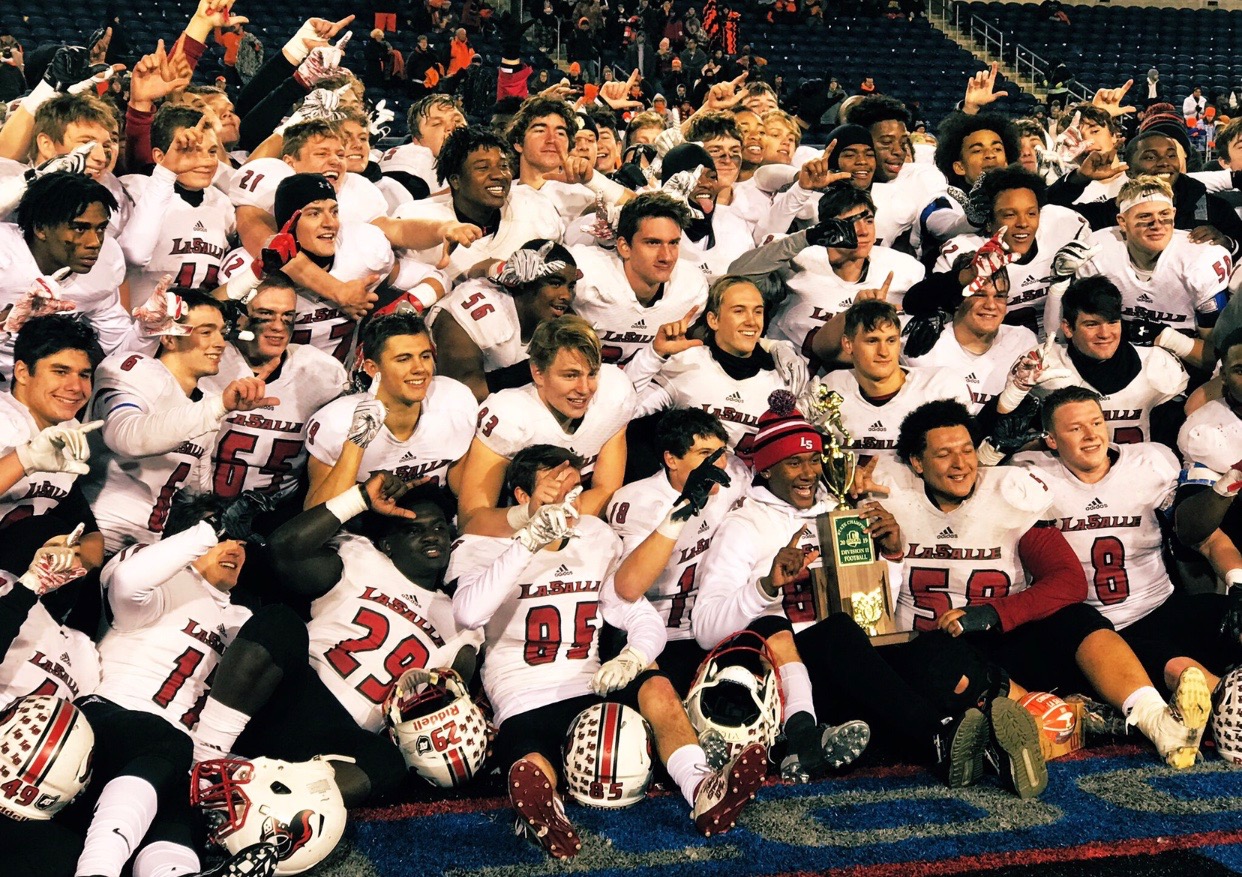 CANTON, OHIO – One of the most storied high school programs in the nation will end another decade without a state title.
Cincinnati La Salle defeated Massillon Washington 34-17 in Thursday night's Division II State Championship, giving the Lancers their fourth state title in six years.
Massillon would take their only lead of the game on a chip shot field goal by Alex Bauer.
Soon after, La Salle would score on a pair of rushing touchdowns by their standout backfield. Sophomore and Northwestern offeree Gi'Bran Payne would score from 6-yards out, followed by Northwestern commit Cam Porter trotting in to make the score 14-3 in favor of the Lancers.
The action packed opening half continued on a 38-yard touchdown strike from Aidan Longwell to Ohio State commit Jayden Ballard. Porter would continue to fuel La Salle's dominant rushing attack, breaking several tackles en route to his second touchdown of the opening half.
La Salle would finish with more rushing yards (335) than Massillon had total yards (325).
Massillon looked like they were ready to hang with the Lancers for the long haul after a momentum shifting 69-yard touchdown pass from Longwell to another one of his Division 1 recruits Andrew Wilson-Lamp to make the score 21-17 at halftime.
It was a "feast or famine" performance for Massillon in the first half. They couldn't sustain this type of play in the second half,  as they would go scoreless the rest of the way, fumbling twice in that span.
Cam Porter's season defining night would continue, as he pushed forward for his third touchdown of the evening. Porter also added 57 yards in the effort.
"We do this for Lancer Nation. We do this for the alumni. We are just so happy and glad we can bring it back to Cincinnati," Porter said.
After a pair of field goals by Jake Seibert iced this game, as La Salle would go on to add another title to their already crowded trophy case.
For Massillon, they finish 14-1 but will end another decade without a state title. The storied program had previously won 24 state championships and nine national titles before the playoff system was implemented in 1970. In the 49 years since the change, the Tigers have been held without a title.
"These guys play for the city of Massillon," coach Nate Moore said after the game, "We really wanted to deliver that to the city of Massillon tonight, and fell short."
As for La Salle, they finish 13-2, ending their season on a six game winning streak. The Lancers will take home their first title since 2016, and their fourth title in six years.
(13-2) La Salle Lancers                        7 14 7 6 34
(14-1) Massillon Washington Tigers      3 14 0 0 17
Top Performers
Passing
Zach Branam (La Salle): 4-12, 60 Yards, 0 TD, 0 INT, 50.7 QBR
Aidan Longwell (Massillon): 12-23, 245 Yards, 2 TD, 0 INT, 118.9 QBR
Rushing
Zach Branam (La Salle): 22 Carries, 166 Yards
Zion Phifer (Massillon): 10 Carries, 58 Yards
Receiving
Jake Seibert (La Salle): 2 Receptions, 43 Yards
Andrew Wilson-Lamp (Massillon): 2 Receptions, 128 Yards, 1 TD
Defense
Luke Thiemann (La Salle): 7 Tackles, 1 Sack, 1 Forced Fumble
Benjamin Krichbaum, Luke Murphy (Massillon): 11 Tackles

NEO Sports Insiders Newsletter
Sign up to receive our NEOSI newsletter, and keep up to date with all the latest Cleveland sports news.