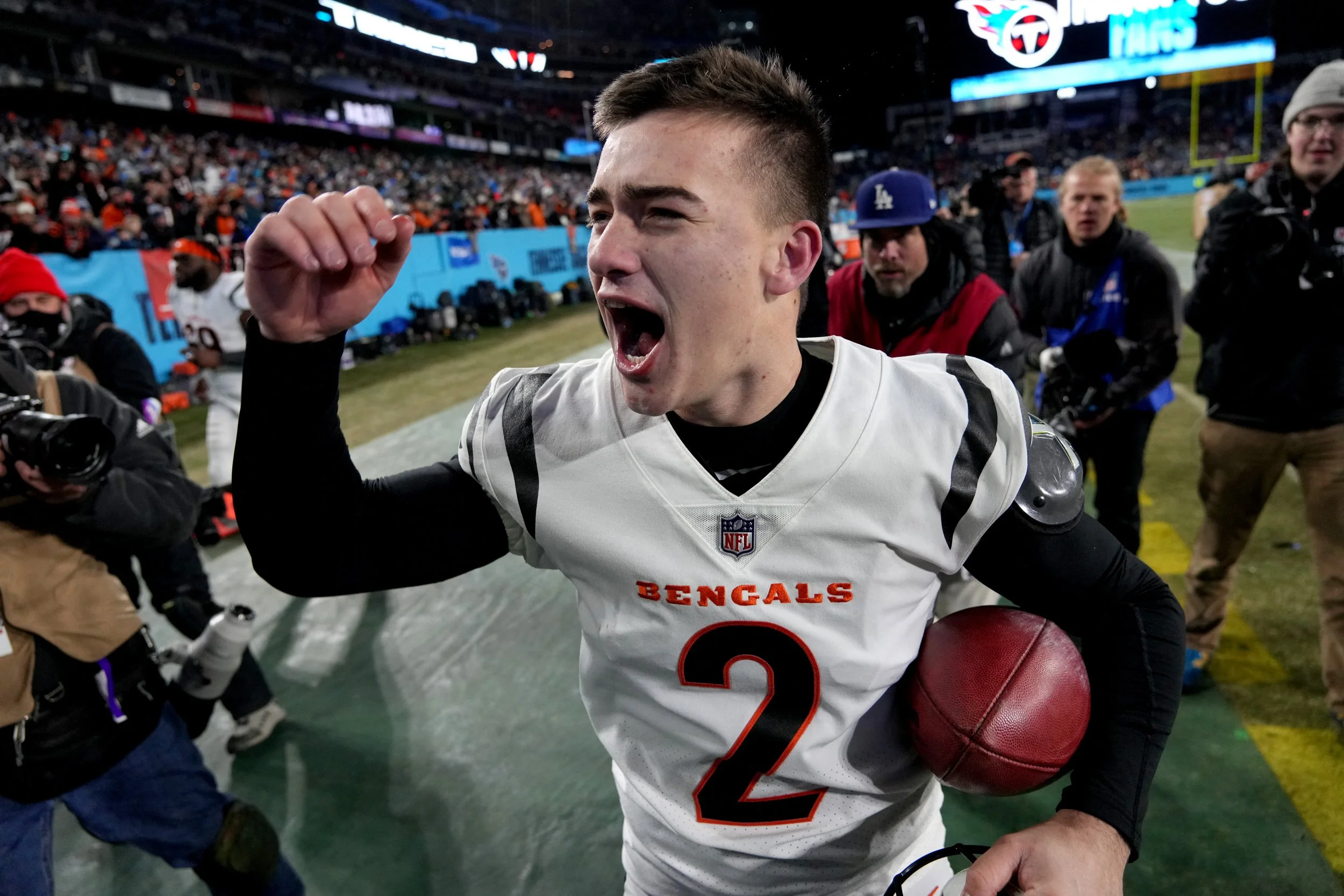 "Looks like we're going to the AFC Championship game!"
With that line, Evan McPherson propelled the Cincinnati Bengals over the Tennessee Titans in the AFC Divisional round. McPherson did so kicking a 52-yard field goal with no time left on the clock. He was the only rookie kicker taken during the 2021 NFL draft in round five. The victory over the Kansas City Chiefs in the AFC Championship game a week later set up the Bengals to face the Los Angeles Rams in Super Bowl LVI.  
So what do we make of this rookie kicker from Florida, with his brash, bold statement to his teammates as he walked out to hit this first playoff game winner?
Well, he is the first kicker in NFL history to kick 11 field goals from 50 yards or more. He's also the first to have at least four or more field goals in multiple games in a single postseason.  Could he be the first kicker in NFL history to be named Offensive Rookie of the Year?  Is it possible he could be the first for something else?  He's been dubbed "Money McPherson for his accuracy. 
The Alabama-born and Florida Gator kicker was a 3-star prospect coming out of high school. He was one of the highest kickers rated in the nation. McPherson initially accepted an offer from Mississippi State. However, when Florida offered him a spot seven months later, he decommitted from the Bulldogs. McPherson went to Gator nation and kicked in The Swamp.  
As a freshman, McPherson was a finalist for the Lou Groza award in college football. He was the nation's top kicker for Florida. McPherson hit all 50 extra point attempts and was 89% on his field goals.  Sophomore year was another solid campaign with 17 out of 19 field goals. More impressively, he was 87.5% on those longer than 40 yards. McPherson holds the school record for four field goals over 50 yards his Junior year.
After McPherson completed his Junior season, he made himself available for the NFL draft. Tony Pauline, a noted NFL draft analyst, said Evan was a "[b]ig legged kicker…drives the ball off his foot …nicely follows through, and consistently puts the ball through the goalposts."
Eric Edholm, of yahoo!sports, interviewed an ex NFL GM on recent NFL studies. Such studies have shown a few quick ways to improve your team. One is to focus on better special teams play. The Bengals selecting McPherson with a fifth round pick was criticized by many as too early. Some suggested he might have been the best selection in the draft's later stages and has shown this recent adage to be true.
Mike Garafolo of the NFL Network even tweeted that the Browns wanted McPherson and were ready to take him in round six.  
"Looks like we're going to the Super Bowl!"
Punter and field goal holder, Kevin Hubler, calmly looked at the rookie and told McPherson that prior to his kick. McPherson, in his white #2 jersey, did what kickers are supposed to do. He drilled the game winner in overtime and sent the Cincinnati Bengals to the Super Bowl. 
How had the 2021 season prepared the youngster from Fort Payne, AL for this success?
McPherson's 2021 rookie season started with an OT winner over the Vikings.  During the game he nailed a 53-yard attempt.  He missed his first kick against Jacksonville in week four.  However, the Green Bay game in Cincinnati was a windy affair.  He missed both his FG attempts.  Including a potential game winner with 26 seconds left and one in overtime.  The rookie his OT kick thought was good thus he jumped into Huber's arms.  Later, McPherson said that the kick was solid but "maybe a big gust of wind caught it at the last second."
During the regular season he kicked in overtime games.  He had successful kicks and one that missed the uprights.  McPherson's game winner versus the Chiefs in week 16, as time expired, was a stunning precursor to what would be a carbon copy win in the AFC Championship game. He had only five misses all year. Each of which were from 40 yards or above. As the youngest starting kicker in the NFL, McPherson has a bright future ahead of him.
The demand for his jersey by Who Dey nation is so high that the team's Pro Shop took to social media. They told fans they're unable to get his jersey in time for the Super Bowl!  There are no men's blank jerseys, so the fans can't use electrical tape to mark the name and #2.  
"Looks like we are going to win the Super Bowl"
Even though Vegas has Cincy as the underdogs, don't be surprised if the final game comes down to a Bengals field goal for the win.  Don't be shocked if Joe Burrow leans into his kicker and looks him in the eye and responds with that line.  It would be another feather in the cap of this rookie kicker. That would be something no other NFL kicker has done before, winning three straight playoff games with a walk off field goal.
Take that NFL draft analysts who said taking a kicker in round five was stupid.  The Bengals are still playing.  The only problem, Cincinnati fans will just have to wait for their McPherson jerseys.

NEO Sports Insiders Newsletter
Sign up to receive our NEOSI newsletter, and keep up to date with all the latest Cleveland sports news.