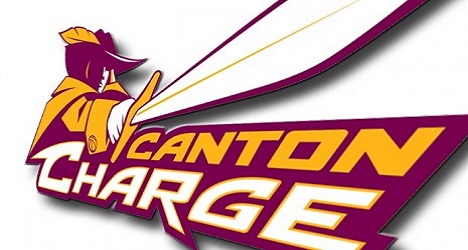 Tonight, the Canton Charge hosted the Delaware 87'ers inside Canton Memorial Civic Center for a special "Cavs Night" show-down.
Both teams scored well through the early stages of Friday night's game. Eric Moreland set the pace for the Charge, scoring nine points in the first quarter. After one quarter of play, the Charge were out in front (30-26).
Moreland continued to play well as the second quarter progressed, tallying 15 points, five rebounds, and three blocks before the break. A 52% mark from the field through the first two quarters pushed the Charge to a five point lead at the halftime horn (53-48).
Coming out of the locker room, the Charge fell a bit flat on the defensive end of the floor. The 87'ers scored 37 points in the third quarter and led by 12 heading into the fourth (85-73).
Despite a valiant come-back effort in the final quarter, the Charge weren't able to overcome their previous miscues on defense. When the smoke cleared inside Canton Memorial Civic Center, the Charge had fallen to the 87'ers by a score of 114-107.
FINAL: Charge (6-8) fall to Delaware (7-6), 114-107. Q led us with 27p/6r/4a.

BOX: https://t.co/3K8uB7W5Mn #ChargeUp

— Canton Charge (@CantonCharge) December 17, 2016
Quinn Cook led all Charge scorers in Friday night's loss, recording 27 points, six rebounds, and four assists.
The Charge (6-8) will be back in action on Friday, December 23rd, when they host the Windy City Bulls (Chicago Bulls affiliate) at 7:00 p.m. EST.