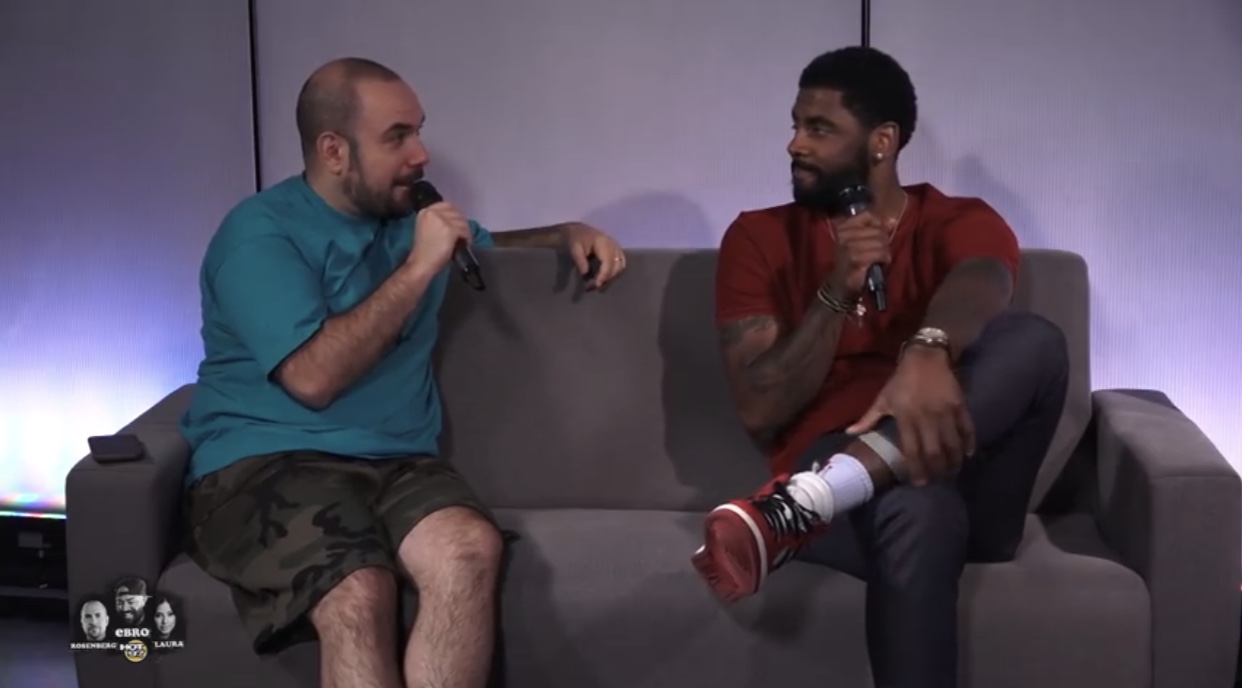 Boston Celtics point guard Kyrie Irving was on HOT 97 on Wednesday morning for a press run about his upcoming movie "Uncle Drew". The summer film hits theatres on June 29th, the same day that is the deadline for LeBron James' decision to opt-in to his contract with the Cleveland Cavaliers or not.
Speaking of James, Irving was asked about the 2018 NBA MVP race ultimately won by Houston Rockets shooting guard James Harden.
"I was happy for him," Irving told the HOT 97 crew upon seeing that Harden won the award.
But then Irving was asked if he felt it was the right call.
"I didn't vote, I didn't vote," Irving stated. "MVP is hard to gauge nowadays because now you have like the people's MVP and you have like the NBA's MVP."
I think the people's MVP was definitely James (Harden) but the NBA's MVP was definitely 'Bron. I mean, if we're talking strictly stats, he checks every box. He's incredible."
Irving, who spent three seasons with LeBron in Cleveland, has been asked countless times about his former teammate since last off-season's trade that sent him to Boston. Irving seemingly wants to buck that trend of having his interviews hijacked by questions surrounding LeBron but couldn't do so here.
HOT 97 took the interview with Kyrie to a route that most like to travel down. Is LeBron better than Michael Jordan?
"No, I would say that he's in his own lane, man, said Irving. "All of those comparisons are fun to talk about. It's just how intense it gets."
Finally, Irving was presented a question about his Celtics team and if they were the favorites to come out of the Eastern Conference next season. Boston, of course, fell to Cleveland in a seven-game Eastern Conference Finals battle.
"We'll definitely be up there. I mean, we definitely have the names on paper. Now it's just finding that cohesion on the floor translating."
One of the show's hosts, Ebros, then reminded Irving about the daunting task of dethroning LeBron, should he stay in the East.
"That also is a thing."

NEO Sports Insiders Newsletter
Sign up to receive our NEOSI newsletter, and keep up to date with all the latest Cleveland sports news.