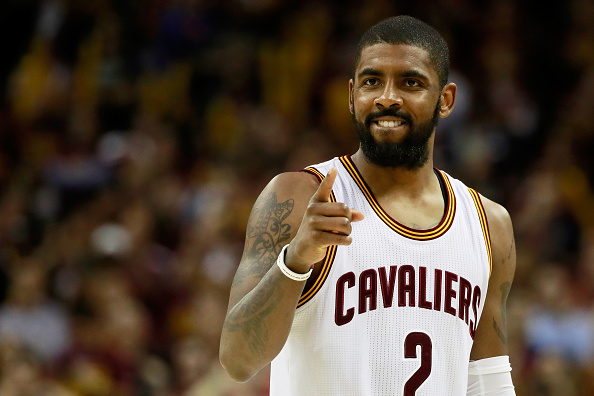 The Cleveland Cavaliers will more than likely not make a trade to move Kyrie Irving unless they feel that the player or players they would get in return can do the things that Irving did for the Cavs.
According to Bleacher Report, this player would have to fearlessly take and make big shots in big moments while on the biggest stage. Almost describing that the player would have to possess the quality of being able to make a clutch shot in Game 7 of the NBA Finals, that eventually wins the series.
There are not many people in the league, if at all any that would fit that criteria. The Cavs would have to judge the player they can get in a trade to match the mentality that Irving has.
A team source for the Cavs had this to say about Kyrie:
"What Kyrie does is a perfect fit for us. That's why we want to smooth this out if we can."
Cavs owner Dan Gilbert will want the move to equal out or have greater value than they had with Irving which will be difficult to find.
A former member of the Cavs organization had the following to say about Dan Gilbert moving Irving to a different team:
"You can be sure Dan wants to win the press conference with whatever trade he makes. Dan always wants to win the press conference."
If Irving does get traded to a different team, the move could impact LeBron James' future with the Cavaliers also. If James doesn't like who the team gets in return for Irving he will be a free agent in the 2018-19 NBA season and has the option to leave Cleveland once again. If James happens to like playing with the player/players the Cavs get in return it could also help the case of LeBron staying long term with the organization.
League Sources are saying that the Cavs are exploring their options in what they can get for Kyrie but there are also those with the team that believes the issues Irving has could be addressed and resolved at training camp next month.
A team source said the following about Kyrie Irving demanding a trade:
"He's an emotional kid."
Lastly, there is another possible solution to this situation the Cavs could make no move at all since they do have Irving under contract for the next 2 years. Irving could be unhappy being forced to stay with the team but in the end, he is under the Cavaliers control.
There are many different things that can happen between now and training camp, so stay tuned.
*Quotes from Bleacher Report*

NEO Sports Insiders Newsletter
Sign up to receive our NEOSI newsletter, and keep up to date with all the latest Cleveland sports news.