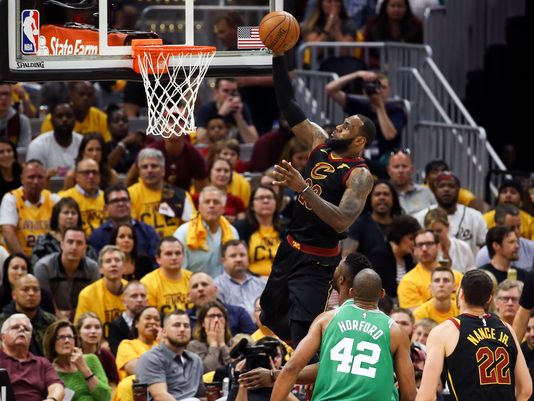 CLEVELAND, Ohio- The Cleveland Cavaliers carried nearly a wire-to-wire victory against the Boston Celtics in Game 4 Monday night, claiming a 111-102 victory. Cleveland's victory evens the Eastern Conference Finals at two games apiece and is Cleveland's second straight win in this series.
LeBron James once again led the way for the Cavs with 44 points, five rebounds, and three assists in the contest. Behind James was Kyle Korver, Tristan Thompson, and George Hill, all of whom had double-digit scoring in the win. JR Smith and Kevin Love both sprinkled in nine points as well.
Boston's woes in this one can be directed to their struggles at the end of the first and third quarters of play. Those moments in time are when Cleveland either went on a huge scoring run or played stout defense to prevent them from climbing back into the ballgame.
Let's take a look at the three takeaways from this one.
1. The King's Court- LeBron James was magnificent in this contest, as he is most nights. James tallied a game-high 44 points but did so in a surprisingly quiet fashion. James didn't have a moment in the game tonight to the degree of having a singular play shown over and over again. But he did execute at will, whether it be in the pick-and-roll game, isolation basketball, or finding teammates for open looks.
"More importantly, My teammates are putting me in position and want me to be in attack mode and trust me to put our guys in position to be successful," James told reporters after the game when asked about the defensive schemes Boston was showing to try and derail the Cleveland offense.
The Celtics will once again have an opportunity to take the series lead in Boston. One thing's for certain, it won't be because they stopped LeBron James in any facet of the game.
2. Backed Into A Korver- Cleveland shooting guard Kyle Korver was stellar on both sides of the ball tonight and has been for most of this 2018 playoff run. The veteran posted 14 points in the winning effort and tallied four rebounds, continuing his stretch of strong performances on that end of the game. But on Monday night, nobody played better defense than Kyle Korver.
Korver ran around like a track star out on the court to chase down guards Jaylen Brown and Terry Rozier while also stepping into the paint to defend Aron Baynes, Marcus Morris, and Al Horford. It was a performance that no one saw coming from a 37-year old at this big a stage.
"I was trying. I'm going to be hurting tomorrow," Korver said after the game. "My back is a little sore and elbow is a little sore. But this is fun basketball. It's the playoffs, we're at home, the crowd was rocking tonight, and it just kind of takes over you sometimes."
The argument can be made that Korver is Cleveland's second option currently, especially with the noted struggles of Kevin Love. Monday helped strengthen that argument and also proved how valuable the sharpshooter is to the squad.
3. Defensive Effort Halts Boston's Flow- The Celtics were getting a ton of good looks offensively during the first two games of the series. With the home crowd behind them, Boston was swinging the basketball all around the court to find the open man for an easy basket or dagger three. That was far from the case in Cleveland for games three and four.
The Cavaliers did an excellent job of putting the clamps on Boston's guards all night. Terry Rozier, Jayson Tatum, and Jaylen Brown had nothing but trouble trying to maneuver around the defense, forcing up poor shots or putting their teammates in tough predicaments to score with shaky passes. It disrupted the flow the Celtics had worked up through the first few contests and may have done a number on the confidence of their backcourt.
"Give them credit. They defend the three-point line very well. But I feel like we still got some really good looks," Celtics center Al Horford said after the game. "Our offense was good. I think it can be way better, and it's something that we'll try to make adjustments and be ready for Wednesday."
Boston came into this series as the superior defensive team. The Cavs may not be able to dispute that, but they can definitely claim that they're the hotter defensive team as of right now.