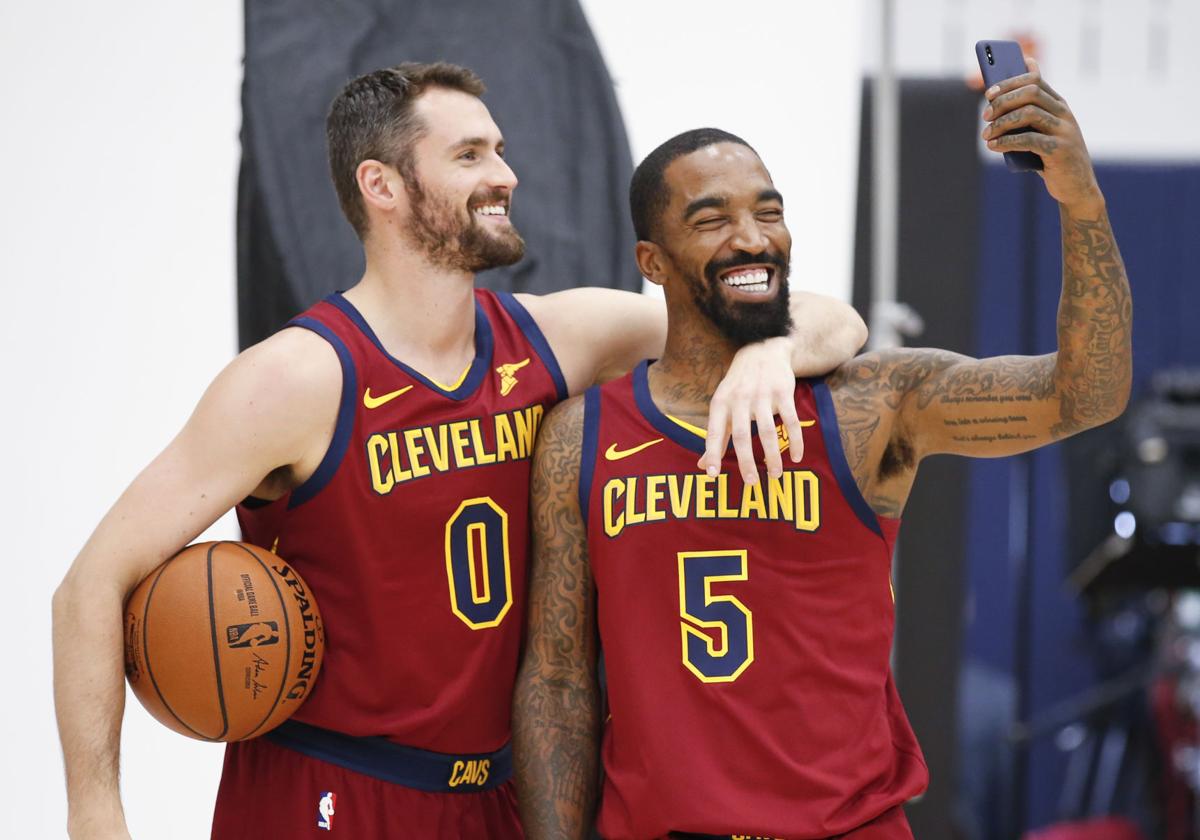 INDEPENDENCE, OHIO – The memo for the Cleveland Cavaliers 2018-2019 season, "New Challenges. New Chapter." That's for everyone that's wearing a Cav uniform and for the coaches that are on Tyronn Lue staff.
The first question to Larry Nance when sitting at the podium on Cavs Media Day, "How you feel sitting under your father's banner?" Nance looked up and his response was, "it's an honor to sit underneath Mark Price's uniform." – Jokingly with a smile on his face.
LeBron James left. Collin Sexton wants to reach his goals. Kevin Love changed his game and likely will be the new leader for the team. But, there's news one day before the Cavs media day that the team is eying Minnesota Timberwolves SG/SF, Jimmy Butler. Question is, is it worth it? Will it be a good trade? What will it cost?
Full Of New Looks
The team will welcome a "newly" Cavs team this season. General Manager Koby Altman drafted Collin Sexton in last June's NBA draft from Alabama. When asked what the goals Sexton wants to accomplish – his response, "Has a lot of individual goals that he won't share. He was also asked about wearing the number "two", Sexton wasn't focusing on that. In eyes, it wasn't about following the footsteps of  Kyrie Iring. "Mo Williams wore the number as well."
In the summer league, Sexton averaged 19.6 points, 3.6 rebounds, and 3.4 assists per game – was named to the MGM Resorts All-NBA summer league first team.
George Hill, Jordan Clarkson, Rodney Hood, and Nance all came on the board in via trade.
Cedi Osman looking to work more on his shots and high expectations for the sophomore player.
Most of the players met in Miami just to get a feel with one another and lots of training.
Signed Sealed Delivered 
In July, the Cavs handed the new face of the franchise to Kevin Love. That means, Love wanted to be here. Love signed to a four-year, $120 Million extension. "
"LeBron James meant a lot for this team and this franchise, but without him, it's a new challenge and we're ready. I think we will surprise a lot of people this season.
Love has become one of the leading voices for mental health awareness and one that open up about his anxiety.
A week ago, Love announced the launch of the "Kevin Love fund" – a program for helping people improve their well beings.
"The idea started organically, just knowing and seeing at least what my father's side of the family had gone through, just knowing what I have gone through on the anxiety and depression side of things, facing this stuff head-on, knowing that this stuff doesn't discriminate and this will be special."
Although it's helping for Love but is very focused on the season.
New Era Begins
The Eastern Conference champs have moved on and a new chapter begins for the wine and gold.
"It's not about wins and losses." Coach Tyronn Lue said. " It's about wins and lessons. I think we can continue to get better every single game and that's what we going to do."
But, a lot of weights was on coach Lue and the front office thinking who wasn't going to come back and who will be the leaders of the team. it's all comes down to competitiveness.
Tristian Thompson broke down every star players who came down to injury when asked about the negativity. The expectations stay the same for Cleveland and with great new young players.

NEO Sports Insiders Newsletter
Sign up to receive our NEOSI newsletter, and keep up to date with all the latest Cleveland sports news.