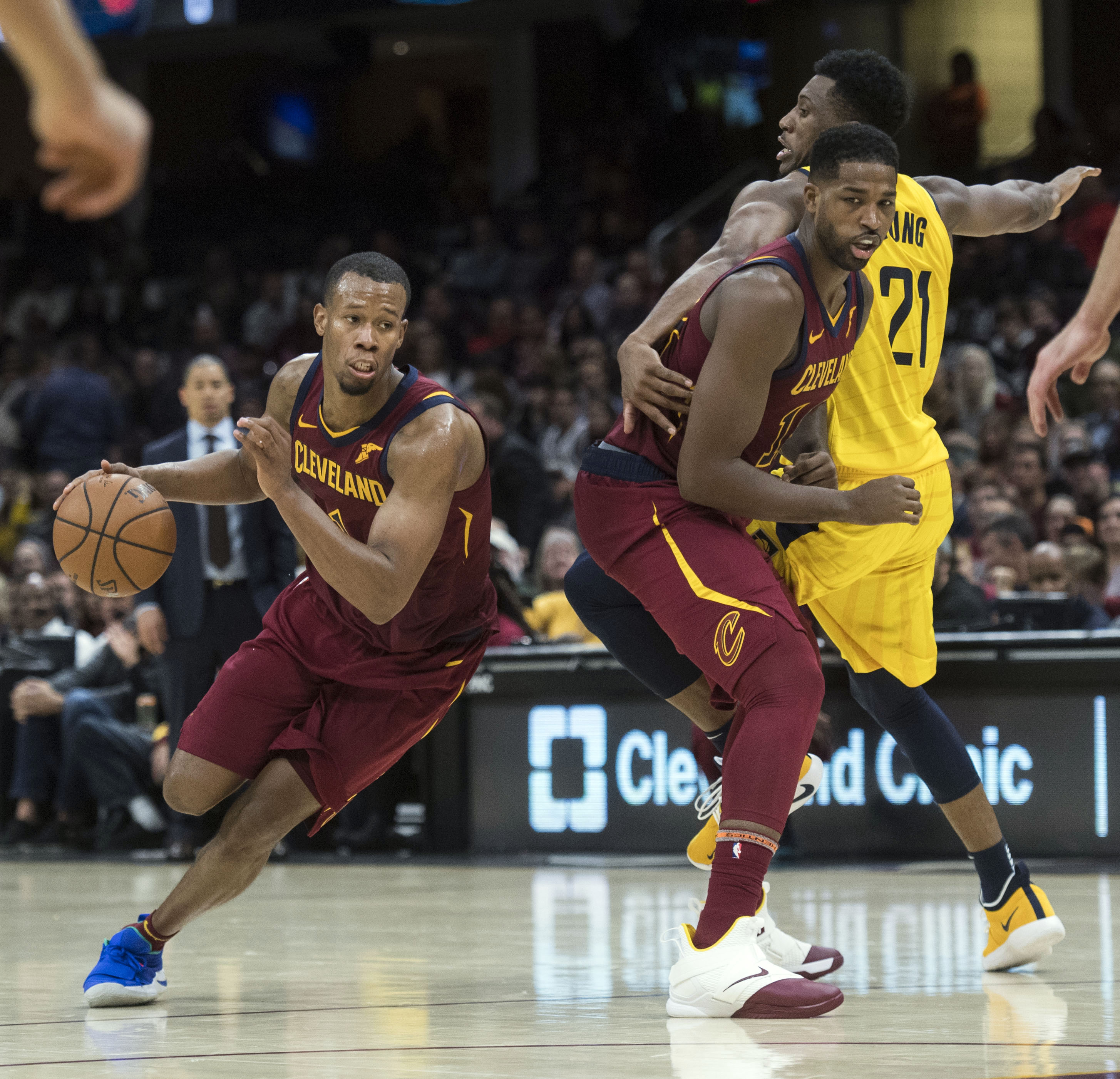 Cleveland- Most every basketball game is divided into to two halves, usually divided by halftime. That was not the case on Tuesday night, as the Cavaliers and Heat match-up was divided into the first quarter, and the other three quarters.
After the game the Cavs locker room saw things change after the first quarter. Holding a 23-22 lead after the first, the Cavaliers were outscored 95-69 in the last three quarters. This was all in en route to another blowout loss (118-94) for the (8-30) Cavaliers.
Tristan Thompson returned Tuesday after missing the previous 10 games, but it didn't matter as once again the Cavs offense struggled against Miami's zone.
"I think in the first quarter, they didn't throw the zone at us. They saw that we were getting what we wanted in the pick-and- rolls and creating triggers, so Coach Sports (Erik Spoelstra) threw the zone back out there. I think it kind of busy made guys a little uneasy and (they) started overthinking the game."
Cavaliers coach Larry Drew was clearly frustrated that his team veered away from the game plan.
"We went through some zone preparation and we missed some shots early and we could not stop them. That's where we got it trouble and got behind. It was one of those situations where we did not allow ourselves to trust, particularly on the things that we worked on it got us a little stagnant and we could not over come it."
Thompson makes presence known early
For the past 10 games the Cleveland Cavaliers have been missing something and Tuesday night Tristan Thompson was able to fill that void. On one of Miami's first possessions of the game Thompson forced the Heat into a turnover then hustled down to the other end and received a nice bounce pass for two points.
WELCOME BACK, @REALTRISTAN13! ??????#CavsHeat on @FOXSportsOH #BeTheFight pic.twitter.com/zvG2Po4wHM

— Cleveland Cavaliers (@cavs) January 3, 2019
The chemistry between Sexton and Thompson was beginning to blossom before Thompson's injury, without Thompson out there Sexton's play has been up and down.
2nd Quarter Troubles
Despite the Cavaliers holding a 18-11 lead midway through the first quarter, the Cavs lead was only one after the first. When the second quarter began Miami used their momentum from a 18-13 run in the first quarter to take over in the second.
The Cavaliers began the quarter with a new group, Alec Burks, Matthew Dellavedova, Larry Nance Jr., Jalen Jones and the newly signed Patrick McCaw. With McCaw making his Cavs debut it was expected to see some unfamiliar line-ups out there, but this one was still a surprise. This group didn't have much success against the Heat, getting outscored 15-10 before Larry Drew made substitutions.
Over the course of the season the Cavaliers have talked about small their margin of error was, and this error snowballed the rest of the quarter. Cleveland ended up being outplayed in every facet during the second quarter, not just on the scoreboard.
After the first quarter the Cavaliers had six rebounds as a team, after the second quarter they only had nine. For comparison Hassan Whiteside had nine rebounds by himself, the rebounding edge was 25-9 in favor of the Heat. The Cavaliers defense allowed Miami to score 36 points in the quarter, including (6-8) from behind the arc. The Heat shot 50 percent from the field in the first, and a very impressive 57.1 percent from three. A lot of those looks were open for Miami in the second quarter, something that bothered coach Drew.
"The one thing you can't do, and I've always said it was mentioned to me years back, is you can't let your defense dictate your defense. You have to be able to get stops. Your offense on nights is going to let you down, you're going not going to be able to make shots every night."
Just in case trailing by 15 points at halftime didn't leave Cavs fans angry, allowing a former player to get hot should. In his first action of the 2018-2019 season, former Cavalier Dion Waiters scored seven second quarter points on (3-5) shooting in just six minutes of action.
After playing for the first time in over a year Waiters was emotional when talking about getting back out there.
"I know it's going to take some time but I was excited just to go out there and play, just step back on the court, absolutely enjoying that moment."
What's next for the Cavs?
The Cavaliers began a stretch of four straight home games last night. Friday night Cleveland welcomes Donovan Mitchell and the Utah Jazz to Quicken Loans Arena. It will be the first time Rodney Hood and Alec Burks will play their former team. Hood is looking forward to playing his old teammates,
"It'll be fun. It'll be fun getting a chance to play against some of those guys. Some of those guys I came into the league with, and it'll be fun to talk a little trash and get a win."

NEO Sports Insiders Newsletter
Sign up to receive our NEOSI newsletter, and keep up to date with all the latest Cleveland sports news.