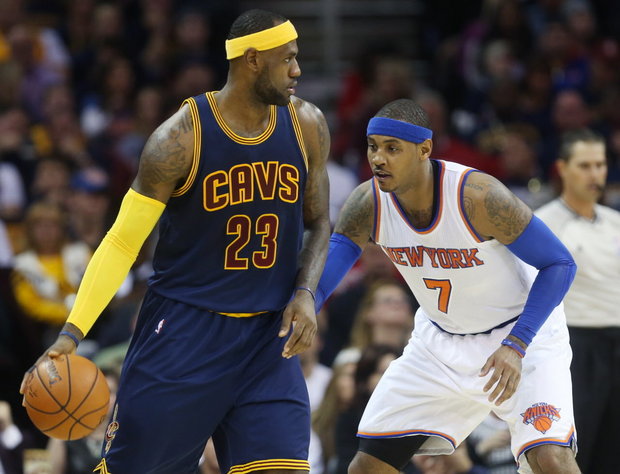 Cleveland Cavaliers (0-0) vs. New York Knicks (0-0)
Tuesday, October 25th, 2016
? 7:30 PM EST
? @TheQArena, Cleveland, Ohio
? @NBAonTNT
? @WMMS 100.7 FM, y La Mega 87.7FM
– Cavs (0-0): Tonight, the defending NBA champion Cleveland Cavaliers are set to begin their title defense against a new-look New York Knicks team.
Fans from around the world will pack the downtown Cleveland area for the opening night ring ceremony and banner raising festivities.
Just across the street from Quicken Loans Arena, the Cleveland Indians will host the Chicago Cubs in Game 1 of the World Series.
Needless to say, this date in Cleveland sporting history will be a legendary one. Fans will be able to share stories of this night for generations in camp-fire tales and family room gatherings.
In a post-practice interview with members of the media at Cleveland Clinic Courts on Monday afternoon, Cavs Head Coach Tyronn Lue announced that rookie point guard Kay Felder will miss Cleveland's season opener.
Felder was involved in an on-court collision with Cavs center Chris Andersen's elbow during Friday's practice and hasn't cleared the NBA's concussion protocol program. Iman Shumpert will likely log some of the backup minutes at the point guard position in Felder's absence.
Shumpert will play some point guard in season opener

— Matt Medley (@MedleyHoops) October 24, 2016
* Cavaliers projected starting lineup (subject to change) *
(PG) Kyrie Irving (6′-3″, 193 lbs)
(SG) J.R. Smith (6′-6″, 225 lbs)
(SF) LeBron James (6′-8″, 250 lbs)
(PF) Kevin Love (6′-10″, 251 lbs)
(PF) Tristan Thompson (6′-10″, 238 lbs)
* Cavaliers injury report *
– (PG) Kay Felder (concussion protocol): Out
– Knicks (0-0): New York will have a sense of higher expectations this year after aquiring Derrick Rose and Joakim Noah in the offseason.
Cavaliers point guard Kyrie Irving recently spoke to members of the media with regards to New York's addition of Rose, saying:
"It's definitely a different dynamic. What's been interesting is over kind of the last five years that I've been in the league, me and him haven't necessarily matched up as much as everyone would've liked to see – whether I've been injured or he's been injured. Seeing him in a different uniform, obviously, it will be a little weird at first, but he's in a great position in New York. This is a chance for him to be successful and lead that team."
New York's front-court could prove to be a formidable opponent for any opposing side this season.
7′-3″ Latvian power forward Kristaps Porzingis will be seeking continued growth as an NBA player in his sophomore season. In New York's final preseason tune-up victory over the Brooklyn Nets, Porzingis tallied five points, five rebounds, and three emphatic rejections in 22 minutes of playing time.
The Cavs have quite a history with New York's newly-aquired center, Joakim Noah. Over the years, Noah has become vilified in the eyes of many Cleveland fans. However, Cavs Head Coach Tyronn Lue had high praise for Noah and the new-look Knicks, saying:
"Noah, he brings great energy every single night. He's a great defender, can pass the basketball, and D-Rose, if he's healthy, is one of the most unstoppable guards in the league. So, add that to Carmelo (Anthony), who is already unstoppable, and you have a pretty good team."
* Knicks projected starting lineup (subject to change) *
(PG) Derrick Rose (6′-3″, 190 lbs)
(SG) Courtney Lee (6′-5″, 200 lbs)
(SF) Carmelo Anthony (6′-8″, 240 lbs)
(PF) Kristaps Porzingis (7′-3″, 240 lbs)
(C) Joakim Noah (6′-11″, 230 lbs)
* Knicks injury report *
(None to report)
* All stats and information via www.basketball-reference.com, www.rotoworld.com, www.nba.com, www.espn.com, Elias Sports Bureau, and The Associated Press *
Follow @Kenwald83, @MedleyHoops, and @NEOSportsInside on Twitter for Cavaliers updates all season long.