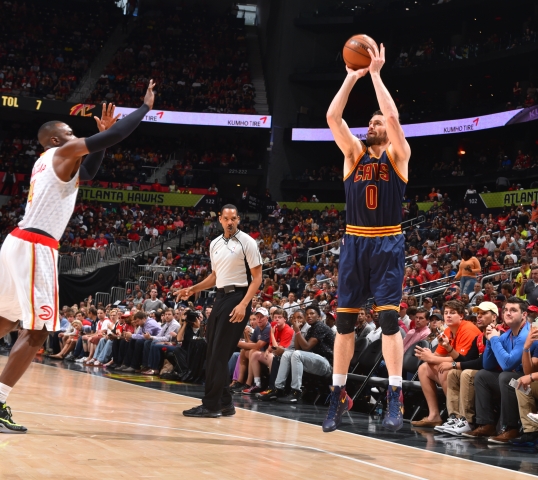 The story of the Cavs-Hawks Eastern Conference Semi-Finals in 2016 is one of different guys stepping up every night.
Of course LeBron James did his usual extraordinary work.
Of course Kyrie Irving showed why he is one of the best point guards in the league.
But it was the lesser-praised players who delivered on the big stage.
In Game 2, J.R. Smith knocked down seven of the Cavs' record-breaking 25 three-pointers.
In Game 3, Channing Frye had arguably the best game of his life, scoring 27 points off the bench to help the Cavs avoid defeat.
In Game 4, it was Kevin Love, having one of the best games of his career since joining the Cavs, who helped Cleveland secure the sweep.
Love scored 27 points, knocking down eight three-pointers. 15 of his points came in a pivotal third quarter.
Here are some of Love's highlights from the close out game.
Love scored the first basket of the game for Cleveland, knocking down his first of eight threes.
Love would miss his next six field goal attempts before starting to heat up.
He would follow up that corner three with another on the next possession.
The Hawks must not have caught on that Love was feeling it.
If they didn't catch on in the second quarter, they were all too aware of it in the third.
It started to turn into shootaround for Love.
This one was for his momma.
This one was for all the haters who said he was overrated after being traded from Minnesota.
And just in case people thought all Love does is make wide open threes.
The Cavs would hold off Atlanta by a score of 100-99.
Despite not scoring in the fourth quarter, if it wasn't for Love heating up, especially in the second and third quarters, the Cavs might be heading back to Cleveland for a Game 5 on Tuesday. Instead they'll get over a week to rest and relax.
Game 2 on Wednesday night will be remembered as the 3-Point Night.
Game 3 on Friday night will be remembered as Frye-Day.
Game 4 on Mother's Day will be remembered as the Love game.
It's also worth noting that Love dished out four assists and hauled in 13 rebounds.
Love has now recorded a double-double in all eight playoff games. Not bad for a third star.
By the way, Kevin Love is undefeated with a record of 12-0 in his playoff career.
The Cavs now wait to see who will win the other Eastern Conference Semi-Final matchup between the Toronto Raptors and Miami Heat. Toronto leads 2-1.

NEO Sports Insiders Newsletter
Sign up to receive our NEOSI newsletter, and keep up to date with all the latest Cleveland sports news.