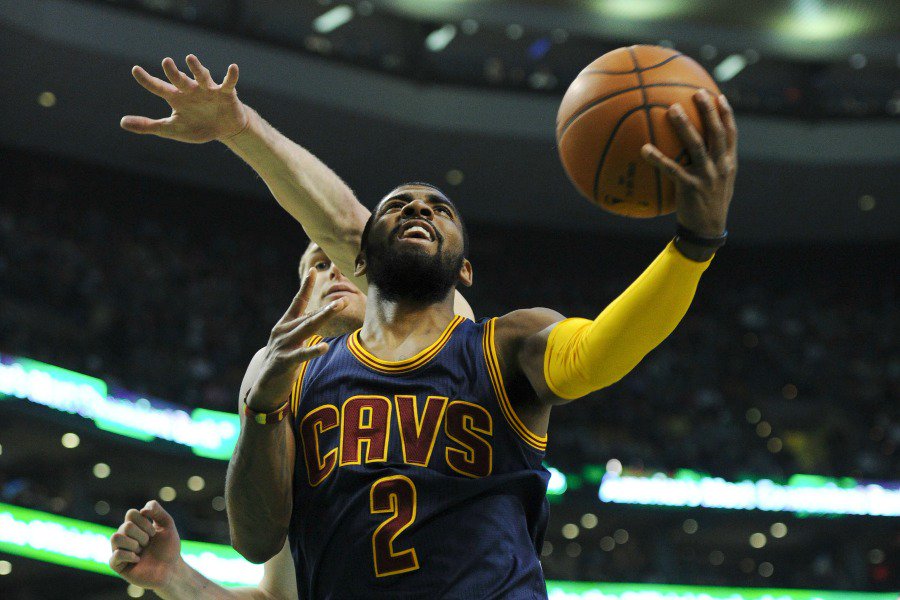 The Cavaliers crushed the New York Knicks 126-94 at Madison Square Garden on Wednesday night, stamping their foot down from the second the game tipped off.
Cleveland scored 22 points in less than six minutes, never letting New York rally back from an early deficit.
The Cavs would knock down 22 three-pointers on 40 attempts,
LeBron James scored 25 points in 32 minutes on 7-of-10 shooting, sitting most of the fourth quarter.
Fellow 2003 draft pick and close friend Carmelo Anthony scored only eight points, while his young sidekick Kristaps Porzingis was held to only 12 on the night.
Kyrie Irving scored a game-high 28 points in just 30 minutes, knocking 9-of-17 shots down.
Kevin Love put up 21 points.
The next highest scorer in J.R. Smith's absence was Iman Shumpert with 14 points against his old team, nailing four three-pointers.
Our Role Player of the Game is Tristan Thompson, who snagged a season-high 20 boards, only scoring three points, but playing his role perfectly.
Shumpert deserves to be thrown in the category of great supporting cast contributors along with DeAndre Liggins, who started for Smith and played 21 minutes.
Liggins only scored six points, grabbed two boards, and dished out two assists, but is most known for his defense and proved why for the second consecutive game.
Liggins could be using this opportunity to earn a more consistent role, as he can defend multiple positions and could give a lift to a second unit that has struggled at times early in the season.
Keep an eye on Liggins going forward as a candidate to play more minutes that were expected to be distributed to Mike Dunleavy and Richard Jefferson – both of whom have gotten off to slow starts.
Liggins is a potential versatile option for matches against teams with length, such as Boston and Golden State.
It would only be fitting for the final man to make the cut to make big contributions, given the team's history of next man up and under the radar role players pitching in with their own specialties.
Shumpert and Liggins could both be defensive stoppers down the road, but the bench lacks scoring threats aside from Channing Frye – who can get hot on any given night, but also has quiet games.
If the Cavs are comfortable going with that mix of bench players, it could mean more minutes than expected for the Big Three, which will be a situation to monitor next week when a wide range of players become tradeable on Dec. 15.
Don't be surprised if the Cavs add a rim protector, backup point guard or a player who can add some instant offense in exchange for a trade exception and/or Jordan McRae.
It's worth noting that Kay Felder played 10 minutes, mostly when the game was out of reach.
By the way, Quinn Cook set the Canton Charge franchise record with 49 points on Wednesday and has been on a tear, possibly working his way to an NBA job.
He shot 15-of-21 from the field and also made 15-of-16 free throws. Cook also added 11 dimes.
If a guard were to go down for an extended period of time, Cook could be one of the options the Cavs turn to.
The Cavs host the Miami Heat on Friday and for once, it will not be a reunion of LeBron, Dwyane Wade and Chris Bosh.
The Cavs have won back-to-back games on the road following up a three game skid, silencing whatever concerns surrounded the team's mentality and pretty much proving that lack of energy was the main reason to blame for the losses.
It may not mean the Clippers, Bulls and Bucks lucked their way into wins, but they all happened to catch the Cavs at a convenient time when the fresh glow of the new season had worn off and the "boredom" of 1 of 82 starts to set in.
The Cavs may need to remember that every other team is playing like these games mean something and defeating the defending champs is a notch on their belts, so the Cavs can't always coast to success.
The Knicks didn't receive great play from anybody, but it didn't help that Derrick Rose (17 ppg) was out with a sore lower back.
The way New York played, it may not have mattered if he was on the court, but it changes the complexion of their team with three great scorers.
Rose may need to be healthy for close to a full season for the Knicks to hang around the playoff mix, but he does appear to have been worth the trade to make the team relevant.
If Rose plays in their future meetings, look for a more-inspired Melo to come out of the gate and put up a fight. No one likes losing to their good friend, in blowout fashion, and Melo is still capable of putting up 35 point nights when he gets rolling.
As for the Heat, Dion Waiters has missed the last three games with a torn pectineus muscle and will not get the chance to receive the warm welcome from Cleveland fans that remember the good ole' days,
The Cavs will have their hands full with Hassan Whiteside, but aside from the big man, their main options to work with in Cleveland are limited to Tyler Johnson, Goran Dragic, Josh Richardson, and Rodney MacGruder, who all have played well individually at times, but rarely on the same night.
Justise Winslow, Waiters, Luke Babbit, and James Johnson all stayed in Miami with injuries, leaving the Heat short five players including Bosh.
If the Heat are able to pull of a short-handed win in the middle of a road trip, it probably means the Cavs hand the game away.
The only active player currrntly on Miami's roster from the four-year stretch with LeBron is Udonis Haslem, who has appeared in only seven games playing six minutes per contest.
At least LeBron will have a friend to welcome to his home leading up to what appears to be lining up for one-sided affair, as Haslem played a much bigger role for the Heat in their four straight Finals appearances, and even further back, winning three titles, the first of which came in 2006 with Shaquille O'Neal, Alonzo Mourning and Wade.
Now, at 36, Haslem is one of the longest-tenured players in the league with a team, playing in his 14th season since signing with the Heat as an undrafted free-agent in 2003.
It looked like LeBron and the entire team may have been on a mission to send a message with their play to one of LeBron's critics, Phil Jackson, in New York
We'll see if LeBron has any statement to make against his old team and another one of his critics, Pat Riley, or if he enters the game on autopilot..
Riley has a history of conflict with LeBron and also Wade – who might not be upset if LeBron decides to stick it to the Heat after a rough summer of contract negotiations, what could be intrepreted as a lack of respect and gratitude for three championships to the face of the franchise.
The last thing LeBron needs is extra motivation to fuel his desire to win and he may have thaf in mind, even for a December game.
After Miami missed out on Kevin Durant, this season appears to be an example of how fast the mighty can fall with the departure of three stars.
Whiteside is an All-Star caliber player, but is better suited as a second or third option at this stage of his career.
His ceiling might be an Andre Drummond type 20 point 20 rebound game waiting to happen with better shot blocking ability, but a worse post game and not as efficient finishing at the rim.
If the Heat are unable to move up in the standings anytime soon, they'll be a team in trade conversations regarding Dragic and possibly other pieces to acquire young assets and draft picks to build around Winslow, Johnson, Richardson and Whiteside.
After four straight trips to the Finals, the Heat may wind up in the bottom of the conference, in store for a high pick, just two years removed from LeBron's homecoming.
The Cavs (15-5) have only lost twice at home, while Miami is 5-7 on the road, opposed to 2-8 at home.

NEO Sports Insiders Newsletter
Sign up to receive our NEOSI newsletter, and keep up to date with all the latest Cleveland sports news.