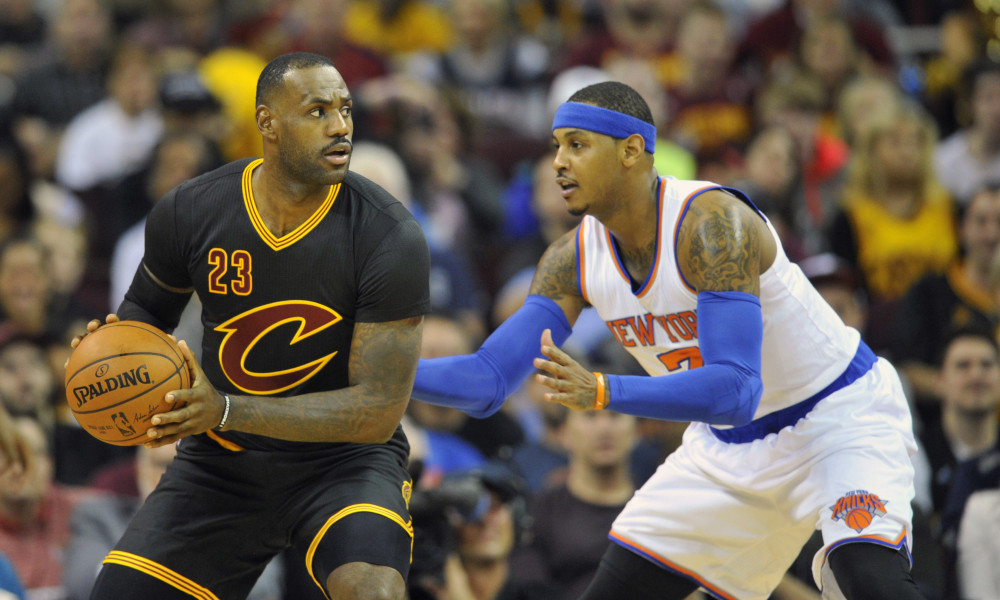 Wednesday, December 7th, 2016
WHEN: 8:00 PM EST
WHERE: @TheGarden, New York, New York
WATCH: @FOXSportsOH & @ESPN
LISTEN: @WMMS 100.7 FM, @wtam1100, La Mega 87.7FM
– Cavaliers (14-5, 1st in Central): Cleveland will be seeking continued success in The Big Apple after snapping their three-game losing skid on Monday night with a 116-112 victory over the Toronto Raptors inside The Air Canada Centre.
Cavs shooting guard J.R. Smith left Monday's game late in the first quarter due to a hyperextended left knee. Smith's MRI results showed no signs of structural damage, so he'll be listed as day-to-day for now.
Despite their recent set-backs, the Cavaliers are still holding serve atop the Eastern Conference standings.
Per Cavs.com, the Cavs are averaging 110.3 points this season (2nd in the East, 4th-best in NBA). The Cavs have scored at least 100 points in 16 of their 19 games.
Tonight, the Cavaliers will be looking for an eighth straight win over the Knickerbockers (5-0 at the Garden).
* Cavaliers projected starting lineup (subject to change) *
(PG) Kyrie Irving (6′-3″, 193 lbs)
(SG) DeAndre Liggins (6′-6″, 209 lbs)
(SF) LeBron James (6′-8″, 250 lbs)
(PF) Kevin Love (6′-10″, 251 lbs)
(PF) Tristan Thompson (6′-10″, 238 lbs)
* Cavaliers injury report *
– (SG) J.R. Smith (knee): Out
– Knicks (12-9, 2nd in Atlantic): Tonight, the Knicks will be facing the defending NBA champions in the second game of a back-to-back set. As a result of their 114-103 victory over the Miami Heat last night (Tuesday), led by Carmelo Anthony's 35 points, the Knicks are riding a four-game winning streak.
Knicks point guard Derrick Rose left Tuesday's game against the Heat in the third quarter due to back spasms. In New York's win over Miami, Rose logged 22 minutes of playing time and scored 10 points. His status for tonight's game is unclear.
Carmelo Anthony leads the Knickerbockers in scoring through the early stages of this year's NBA season. The former Syracuse University stand-out and number three overall pick (Denver) in the 2003 NBA Draft is averaging 23.0 points, 6.1 rebounds, and 2.5 assists per game.
Joakim Noah leads the Knicks in the rebounding department. The former University of Florida star and ninth overall selection (Chicago) in the 2007 NBA Draft is averaging 4.2 points, a team-high 8.0 rebounds, and 2.9 assists per game.
Kristaps Porzingis continues to play well for the Knicks. The 7′-3″ Latvian power forward is averaging 20.2 points, 7.6 rebounds, and 1.4 assists per contest.
Jeff Hornacek, New York's new Head Coach, has his team playing well through the early stages of this year's NBA season.
Tonight's matchup is the second of four meetings this season between the Knicks and Cavs (February 4th at New York and February 23rd at Cleveland).
New York is 0-4 this year on the second night of back-to-back sets.
* Knicks projected starting lineup (subject to change) *
(PG) Derrick Rose (6′-3″, 190 lbs)
(SG) Justin Holiday (6′-6″, 185 lbs)
(SF) Carmelo Anthony (6′-8″, 240 lbs)
(PF) Kristaps Porzingis (7′-3″, 240 lbs)
(C) Kyle O'Quinn (6-9″, 250 lbs)
* Knicks injury report *
– (PG) Derrick Rose (back spasms): Probable
– (SG) Courtney Lee (ankle): Questionable
– (C) Joakim Noah (ankle): Probable
* All stats and information via www.basketball-reference.com, www.rotoworld.com, www.nba.com, www.espn.com, Elias Sports Bureau, and The Associated Press *

NEO Sports Insiders Newsletter
Sign up to receive our NEOSI newsletter, and keep up to date with all the latest Cleveland sports news.