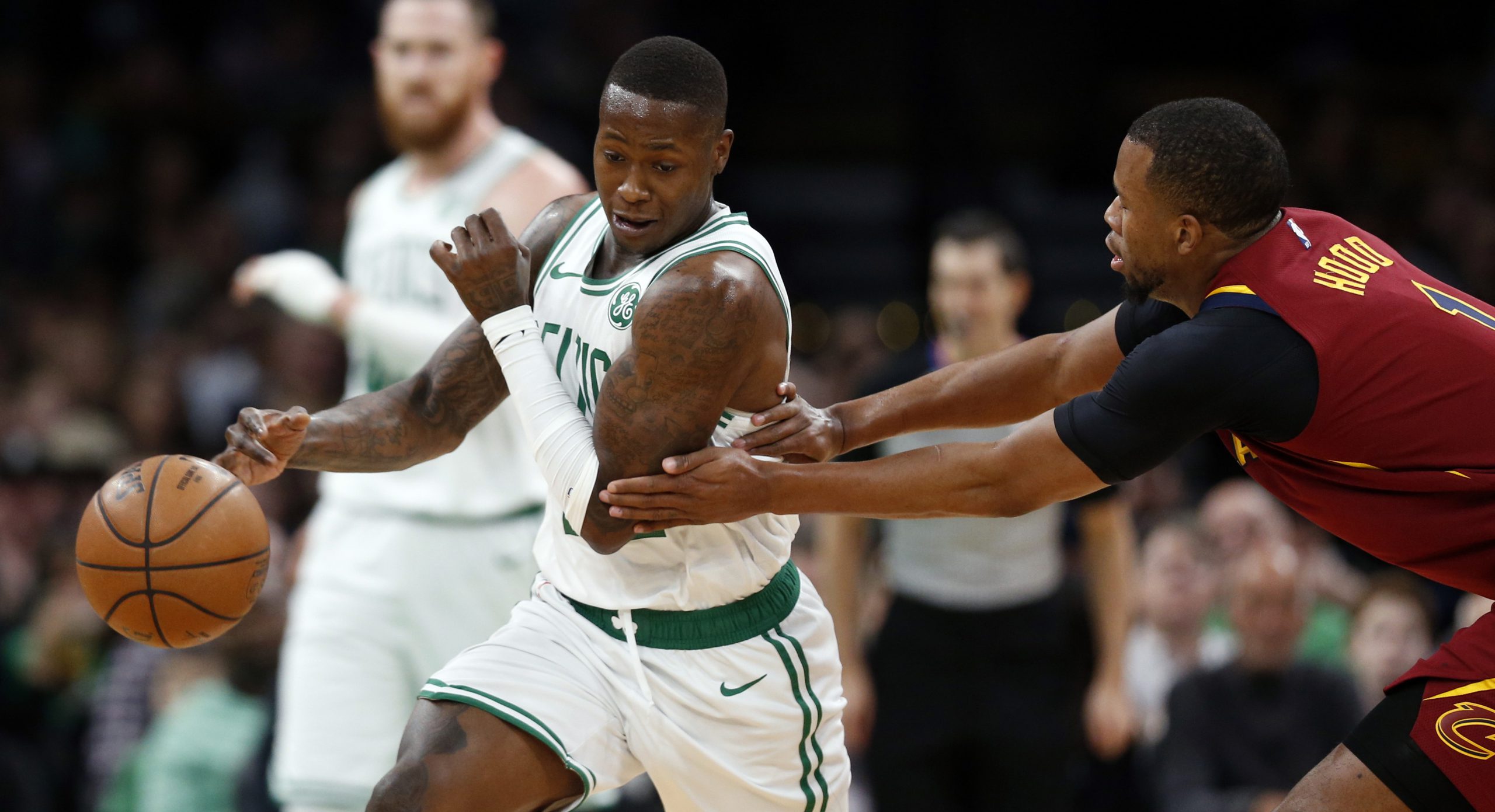 Although the Cleveland Cavaliers got off to a great start against the Boston Celtics, playing physical defense and amassing a three-point lead after the first quarter (27-30) behind solid offensive play from most of their starters and sixth man Jordan Clarkson, they fell to the Celtics 123-102 on Wednesday night .
Center Ante Zizic was a terror in the low post. Cedi Osman was on his way his best three-point shooting night of his career. Rookie point guard Collin Sexton was effective from behind the line as well, while making solid passes to Zizic.
However, in the second quarter the wheels fell off for Cleveland as turnovers and poor perimeter defense led to Boston eventually getting out on a 32-14 run in the final 8:41 of the half. Zizic, who was one of the stars of the first quarter, was the major culprit as he found himself unable to keep his grip on a number of passes.
He finished with five turnovers on the evening.
Though the Cavs shot 44.2 percent from the field and 44.3 percent from three-point range, ineffective offensive possessions — particularly from Sexton, Jordan Clarkson and shooting guard Rodney Hood — doomed their offense.
Sexton and Clarkson finished a combined 12-28 from the field, they were streaky scorers with Sexton unable to draw fouls when seeking contact and coming up short around the rim and Clarkson clanking three-ball after three-ball (he finished 2-9 on the evening.
Hood was only 1-9 from the field, looking aggressive but unable to get going when hounded by the Boston's defensive stars in Marcus Morris and Marcus Smart. Celtics head coach Brad Stevens even opted to double Hood at some points, which was an interesting strategy.
The fifth-year guard also appeared to get banged up a couple of times on Wednesday, landing awkwardly on his foot in the first half and having a head-to-head collision with Celtics forward Gordon Hayward late in the fourth quarter. Although he would remain in the game on both instances, his status moving forward is worth monitoring.
In the end, Osman would finish the game with a team and career-high 25 points on 8-11 shooting from the field and 6-7 from three-point range. His six made threes also represented a career-high.
Unfortunately, Osman — like Sexton, Hood and Channing Frye — was one of the team's worst defenders on Wednesday night too.
For Boston, Celtics point guard Terry Rozier — who started for Boston in place of Kyrie Irving (flu-like symptoms) — led the team with 26 points, eight rebounds, six assists and one steal. He had 22 points on 8-8 shooting from the field at halftime. Third-year guard Jaylen Brown would join him in the 20-0int club, as he amassed 23 points (on 8-12 shooting from the field and 2-3 shooting from three) and six rebounds.
Hayward (18 points) and Jayson Tatum (15 points) were solid on both ends for the Celtics while Morris and rookie guard Brad Wanamaker combined for 22 points.
The Cleveland Cavaliers next game will be against the Miami Heat at Quicken Loans Arena on Friday night (7:30 P.M. ET). The Cavs have now lost five straight games and 17 of their last 18 contests.

NEO Sports Insiders Newsletter
Sign up to receive our NEOSI newsletter, and keep up to date with all the latest Cleveland sports news.