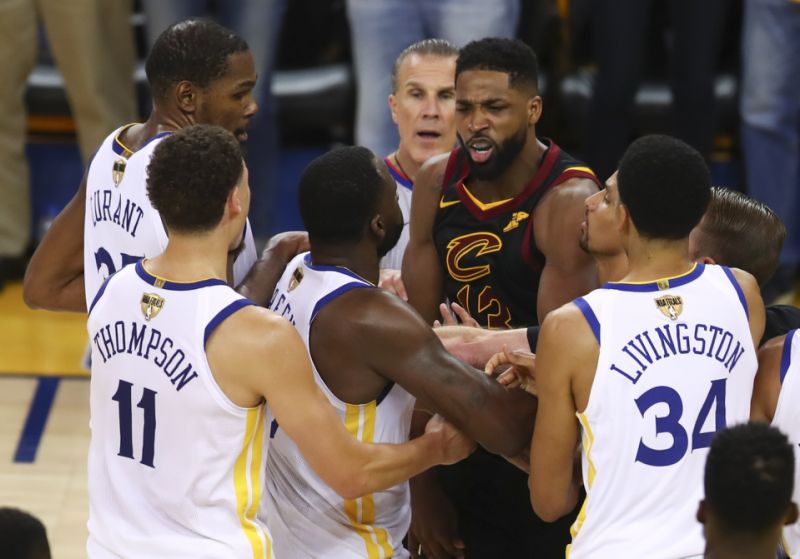 Location:
Quicken Loans Arena, Cleveland, Oh
Probable Starters:
Cleveland:
Collin Sexton
Rodney Hood
Tristan Thompson
Cedi Osman
George Hill
Golden State:
Steph Curry
Klay Thompson
Kevon Looney
Kevin Durant
Andre Iguodala
Cleveland- Over the last few seasons, the Cleveland Cavaliers and Golden State Warriors playing would dominate the headlines. Although when the two teams Wednesday night there is a much different level of anticipation surrounding the game. The Cavaliers and Warriors are now two organizations going in different directions, so Wednesday night expect less tension. At least according to Tristan Thompson.
"Another game. Good challenge for us," Thompson said. " Good players. Klay. Steph. KD (Kevin Durant). It's a good test for our guys to compete against three All-Stars."
After the Cavaliers defeated Brooklyn 99-97 on the road Monday night, improving Cleveland to 3-4 in their last seven games. Playing much better basketball lately, specifically on the defensive end. The Cavaliers struggled on defense to begin the season, allowing an average of 118.5 points in their first six games. The improvement was slight at first, as the Cavs were still allowing 111.7 points per game after 16 games. In the last six games the Cavaliers defense has been playing its best of the seasons, allowing only 107.6 points.
A few Cavs players played in the Finals last season, but only Tristan Thompson remains from that core group. Kevin Love was also a huge part of the Cavaliers success, but he is still out with an injury until at least mid-January. Over the last eight games, Thompson has averaged 14.7 points and 13.3 rebounds. Thompson has been consistent all season, but a new piece has been a steadying force. Against Brooklyn the Cavaliers had an 11-point lead with minutes remaining, after allowing a Nets comeback the Cavaliers needed a hero.
That hero was, Alec Burks. Burks was acquired in the Kyle Korver trade from the Utah Jazz. Burks scored when the Cavaliers were tied at 97 late in the game Monday. After receiving a screen at the top of the key, Burks drove with poise. A simple behind the back dribble created enough space for the athletic guard to dunk the ball with authority. The play probably survived most fans, but Larry Drew was not of those people.
"The execution on the play was good," Drew said. "He just made a fantastic, athletic play. It was a clear out for him and he made a terrific move."
Since joining Cleveland, Burks has been playing alongside Jordan Clarkson, a back court that coach Drew believes compliments each other well. " I think Alec complements Jordan. And I think Jordan complements Alec. There are some good combinations there we jut have to put it all together."
Thompson made it clear that this version of the Cavaliers is much different than the one who met the Warriors four straight seasons in the NBA Finals. " it's in the past. New season. New team. Our ball club is different and they've made some changes, but predominately the same. That's all the last four years, Thompson said following shootaround Wednesday. "That was great for the NBA, that was great for you guys to talk about. That great for you guys to show old highlights and stats or whatever you want to do with it. It's in the pat. It's a new team now. We're in a new chapter for our organization. You guys can put that for ESPN Classics."
The Warriors have been off to a slow start, at least according to their standards. Golden State comes to Cleveland with the fourth best record in the Western Conference, sitting with a (16-9) record. Wednesday night Warriors guard Steph Curry will be playing his third game since being sidelined with a groin injury. Since returning last week Curry has scored 57 points, on 54% shooting (18/33.) While Curry was out, Kevin Durant lead the Warriors in scoring, as the former MVP has scored 20 points in 13 straight games.
Durant spoke about the fluidity of Golden State's offense with Curry on the floor. " We have great offense where we emphasize ball movement, body movement, making the right play and trying to find a great shot every time down," Durant said Monday night.
Golden State was able to snap a six game road losing streak Monday night, with a 128-111 win against Atlanta. While Curry has returned the Warriors are still without All-Star C/F Draymond Green. Green has missed nine straight games with a toe injury, Golden State is starting Kevon Looney in his place. Looney is a UCLA product, in his fourth season averaging 6.1 points and 5.2 rebounds this season.
While Tristan Thompson says the Cavs have moved past the rivalry, Warriors guard Klay Thompson made it seem like their was still bad blood.  Recently in an interview with the Athletic, Thompson made quite a stir with his comments.
"Look how that turned out. Pssh. Bums. That was crazy. I forgot about that. Well, look at what pettiness gets you. Gets you 1-8 in the Finals. Idiots."
Regardless of how the players feel about one another, the fans remember the battles of the past. Quicken Loans is expecting a blackout, as the team will wear the black jerseys inspired by the 2016 championship run. The crowd will remind players of both teams, the bad blood still exists, even if a certain player is in Los Angeles.

NEO Sports Insiders Newsletter
Sign up to receive our NEOSI newsletter, and keep up to date with all the latest Cleveland sports news.