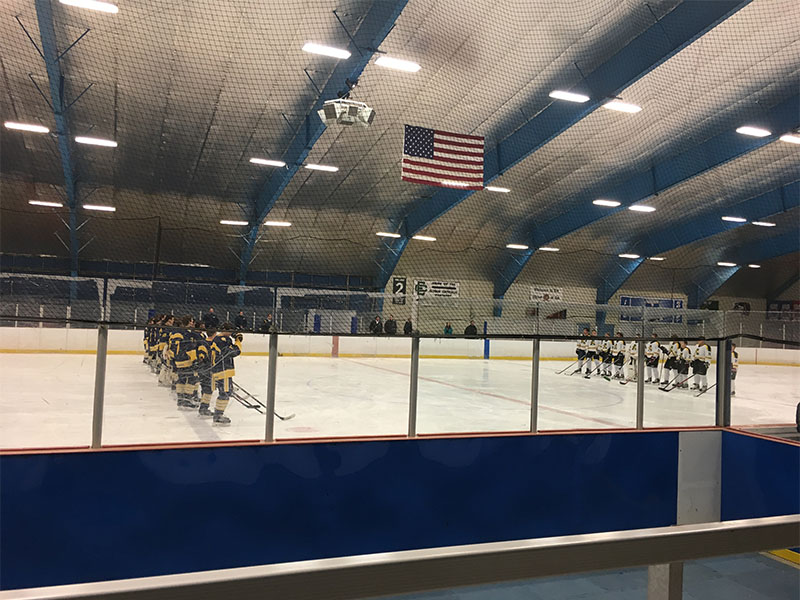 By Jacob Black
ELYRIA, OHIO – Tonight's Olmsted Falls Bulldogs, Amherst Comets game is a league game. Amherst is still looking for its first win of the season they come in with a record of (0-1-0) and Olmsted Falls comes in with a record of (1-1-0) so far in this early season showdown against two white division rivals.
During the first period of the Olmsted Falls, Amherst game, the Bulldogs were able to score the games first goal do to a tripping penalty committed by the Comets Tyler Waldecki. The goal was scored by Dominic Conte who was assisted by Bailey Carson, and Jacob Kerkey.
The majority of the first period was very sloppy and inconsistent; neither team was able to take many shots on goal because they couldn't keep the puck in the other teams zone. However, the Comets outshot the Bulldogs 4–2, but Olmsted Falls has the lead 1–0, going into the second period.
At the start of the second period Amherst tied the score at 1; goal was scored by Tyler Waldecki, assisted by Jacob Fekete. Olmsted Falls committed three penalties in the period, but the Comets were unable to score another goal.
The Bulldogs retook the lead 2-1 with a goal scored by Jacob Kerkey, assisted by Will Moyse and Mikey Kirth-Gruczszynski. Olmsted Falls outshot Amherst 11–4 during the second period even though they were shorthanded for most of that period.
In the third period Amherst controlled the puck for most of the period, Olmsted Falls goalie, Zach Snyder seemed to have gotten injured when an Amherst player collided into while he was in the crease, but stayed in the game.
Olmsted Falls was able to take control of the game late when Patrick Kerr scored a goal, it was assisted by Jackson McMahan to make the score 3–1.
Amherst pulled their goalie at 2:30 left in the period Olmsted Falls was able to score two goals in less than 30 seconds. The goals were scored by Carson and assisted by Conte and Kerkey scored and unassisted goal to make the score 5–1. Olmsted Falls outshot Amherst 5–4 in the period
Olmsted Falls was able to come out with a 5–1 win, keeping Amherst winless on the season. The Bulldogs goalie saved 13 shots, and the Comets goalie, Zach Boesel made 17 saves.

NEO Sports Insiders Newsletter
Sign up to receive our NEOSI newsletter, and keep up to date with all the latest Cleveland sports news.