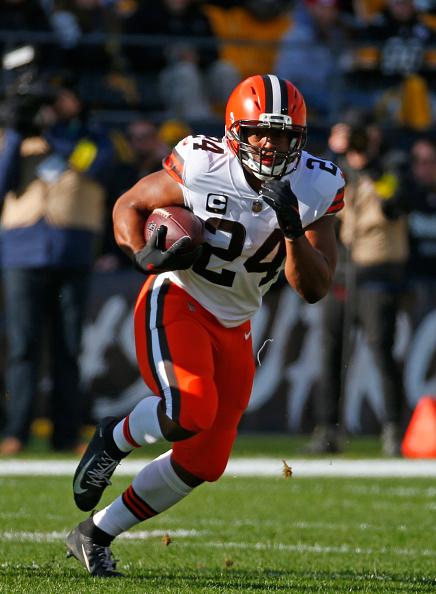 Nick Chubb will be entering year six as a member of the Cleveland Browns and currently ranks in fourth place amongst all past great Browns running backs in terms of overall yards gained on the ground. With the recent death of the legend Jim Brown, who sits atop these team rankings with 12,312 yards, there have been conversations among Cleveland fans of how good Chubb is and could he reach the high marks that Brown set in his time.
The short answer is probably not, for a number of reasons, including the biggest factor which is whether his current team will give him a well-deserved third contract. Many that follow the team don't believe that they will extend Chubb one more time because he's a running back and they can be replaced easily according to some opinions.
Chubb though is no ordinary running back. He may not yet be at the level of Jim Brown, but he's quickly rising to be in the conversation.
The former Georgia Bulldog sits with 6,341 yards today. He's only 200 yards from passing former Cleveland back Mike Pruitt in third place and then 934 yards from passing legend Leroy Kelly for second place.
Barring an injury, this time next year, Chubb will only have Brown ranked ahead of him. Today, Chubb needs 5,981 yards to pass Brown. Considering where he is today in yardage, Chubb will need at least another five seasons to catch him.
If you look a little deeper, you see that Chubb has a 5.2 yards per carry average over these past five years which is extremely impressive. He has carried the ball 1,210 times. Brown carried the ball 2,359 times in his career. By that standard, the projections for Chubb to catch Brown are very possible.
This possibility though is contingent on the Browns giving Chubb another multiyear contract and that is definitely not something that one hears the team chatting about now.
Chubb's contract is good through 2024 before becoming a free agent in 2025. In his 2024 season, the team has put in a $25,000 active per game bonus which says the franchise doesn't trust Chubb even at the young age of 29 in 2024.
I would believe that the team recognizes what Chubb has accomplished in only five seasons with the team but the in the NFL, I don't get the sense that these franchises and the league care much anymore about loyalty.
I don't care for this popular take that running backs in the NFL really don't matter anymore because it's a passing league. When a Nick Chubb comes along, fans and others need to take a step back and appreciate what they see in front of them.
When Jim Brown was playing in his prime, fans then and even more now appreciate the greatness that was the legend. Chubb may never claim the Cleveland rushing title, but he certainly needs to be recognized more from the fans, but especially from those that that are blind to his uncanny talent.

NEO Sports Insiders Newsletter
Sign up to receive our NEOSI newsletter, and keep up to date with all the latest Cleveland sports news.