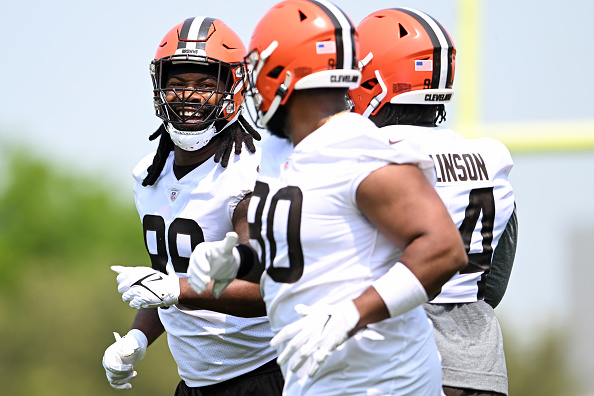 The Cleveland Browns welcomed many new players and veterans back to Berea this week at their OTA's. These next couple of weeks are optional for players and one big named player, defensive end Myles Garrett and symbolic leader of the defense has been a no show. That has ruffled a few feathers amongst some local media and fans too. We will share a bit more on this hot topic in a moment.
Newly traded for players, like defensive end Za'Darius Smith and wide receiver Elijah Moore have been present and getting much of the attention. Deshaun Watson is also at camp and from the sounds of it he continues to be immersed in the team's playbook.
That's just refreshing to know, considering how this team once had a knucklehead quarterback named Johnny Manziel, who didn't know there was a Browns playbook because he was partying in Las Vegas most of the time.
So back to reality, the team has been preparing this week and players are excited to be back in town. All signs point to a very good season ahead, but it's May and not November of the football season, so we should pace our enthusiasm.
With that, let's take a look at a few other stories about the Browns this week.
Coach Kevin Stefanski recognizes the late Jim Brown
Earlier this week the Browns coach recognized the late Jim Brown who died last week. The Cleveland running back legend was the backbone of this organization for almost a decade back in the 1950's and 60's and had remained a symbolic leader of the squad.
Stefanski shared a story of his first meeting with Brown, when the coach began in 2020 with the team. He recalled he had called his dad immediately after the encounter to tell him. Stefanski's dad, like many others in the previous generation, admired the greatness of Brown back in the day.
Stefanski went onto to say:
"It's my job to continue to educate our guys on what he's meant to our franchise, to our league," he said. "You stand on the shoulders of giants, and that's Jim Brown."
The importance of this key figure in the Browns' history will continue. It will be interesting to see how the franchise honors him this season and, in the years to come.
Myles Garrett is MIA from OTA's 
The Browns have a new defensive coordinator in Jim Schwartz coming aboard this season and the team has added several new defensive players to the team including Za'Darius Smith, Juan Thornhill, and Rodney McLeod. They are learning a new defense, but one key player and leader of the pack has been missing from action in Myles Garrett.
While these are voluntary practices in Berea this week and next, the fact that Garrett is not in attendance has some questioning the move by the veteran.
It was recently brought up by Browns beat writer Tony Grossi from ESPN Cleveland, who discussed it on a recent radio program on 850 Cleveland.
"I do think the leader on the defensive side should be involved with the new defense," – @TonyGrossi.

Are you concerned that Myles Garrett isn't at OTAs? pic.twitter.com/E9Pv1pl69H

— ESPN Cleveland (@ESPNCleveland) May 25, 2023
There are numerous other players of note absent from these practices including Nick Chubb, David Njoku, and Joel Bitonio so this shouldn't come as a huge surprise, however because the team is learning a new defense under Schwartz's vision, it doesn't exactly give a good look for Garrett.
Thursday Night Football flexing and an emergency QB rule
This past week the NFL owners passed a few new rule changes that you may notice. The first has to do with teams in the league allowed to have a third quarterback available on game days. The rule is as follows:
The rule applies only to quarterbacks who are on a team's 53-man roster. Practice squad players are not eligible to be emergency quarterbacks, not even if they are elevated for that week's game. But it allows a team to avoid counting the emergency quarterback as one of its active players on game day, a modest incentive for teams that otherwise would have chosen to go into a game with only two available quarterbacks.
The emergency quarterback would be eligible for in-game activation if the rest of a team's quarterbacks are unable to participate due to injury or ejection, but not as a result of a benching. If one of the other quarterbacks is cleared to return to the game, the emergency quarterback must be removed at that time and can return only if there is once again no other option.
The other new rule has to do with flexing Thursday Night Football which could have a bearing on the Browns and New York Jets game scheduled in Week 17.
The new flexing states the following:
Thursday games can only be flexed between Weeks 13 and 17, with a four-week notice required. Only two Thursday night games can be flexed per year, and the resolution notes that the flexible scheduling for TNF is on "a trial basis."
[…]
Clubs may be required to switch Sunday afternoon regular-season games to approximately 8:15 p.m. (ET) on Thursday (and vice versa), upon at least 28 days' notice from the league office. The league's late-season, fluid scheduling mechanic – in which games are listed with a time and date of "to be determined" – can be used to fill Thursday games as part of the flexing possibilities. In this scenario, for example, the Pittsburgh Steelers Week 15 game at the Indianapolis Colts could be a candidate for flexing into Thursday night.
So, for that Browns and Jets game in December, if both teams are struggling the NFL will now move that game out and replace it with a better matchup.
Stay tuned for more Cleveland Browns news as we go into Week 2 of OTA's

NEO Sports Insiders Newsletter
Sign up to receive our NEOSI newsletter, and keep up to date with all the latest Cleveland sports news.