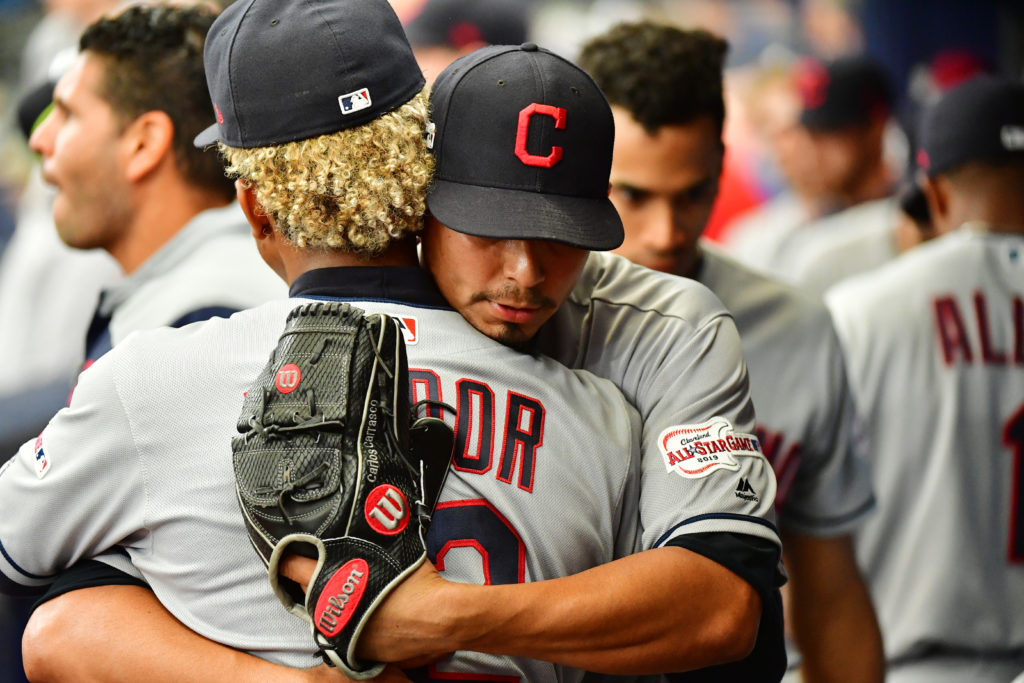 CLEVELAND – Emotions were running high on Sunday in Tampa for Carlos Carrasco, and the moment he was told that he was up next for the Indians on the mound, he quickly had to get those nerves back in check.
"When they told me, 'Get ready, you've got the next inning,' I was just, like, 'Oh my God.' I couldn't control myself," Carrasco said Monday to the media prior to the Indians game against Chicago.
"But as soon as I released the first pitch, everything went away."
Carrasco got a nice ovation from not only his teammates, but also the fans and the Rays players when he took the mound Sunday, the first time he's been on the hill in a Major League game since first being diagnosed with a treatable form of leukemia in June.
The Tribe starter worked one inning and gave up two hits, including Travis d'Arnaud's run-scoring single, but his appearance on the mound meant a whole lot more than a game.
Now back in Cleveland, things will slow down for Carrasco as he tries to get a sense of normalcy. He told the media on Monday that while many think that getting such a diagnosis would turn their lives upside down, he's used it to hopefully inspire others.
"I'm really happy this happened. It's gotten me closer to a lot of people," Carrasco said.
After pitching Sunday it doesn't appear that Carrasco will be back on the mound at any point of tonight's game against the White Sox.
Terry Francona stated that he did not want Carrasco going back-to-back so soon after coming back to the team.
"I don't think we'd do that right away," Francona said Monday.
"I bet you he could. I don't think that's in his best interest. … We'll use judgement there. We'd certainly like to get to a point where we can. Just not the first week."

NEO Sports Insiders Newsletter
Sign up to receive our NEOSI newsletter, and keep up to date with all the latest Cleveland sports news.