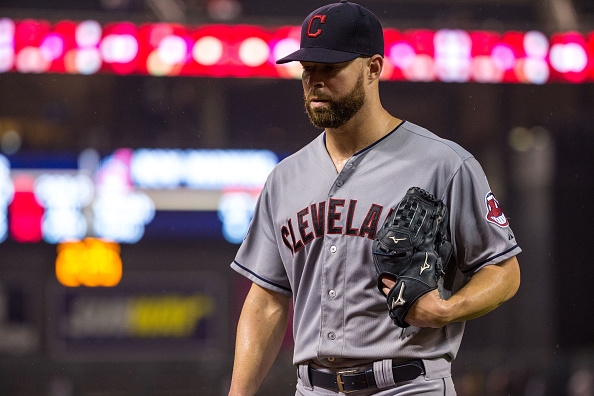 Starting in early November the ongoing saga of the potential trade of ace pitcher Corey Kluber has been the biggest story of the offseason for the Indians and their fan base.
From rumors by most of the national media saying that a deal by the Indians for Kluber or fellow pitcher Trevor Bauer was inevitable, to the various list of teams including the Yankees, Dodgers, Reds and Padres, it's been agonizing for fans as they wait either for a deal to be made or for the Indians to shut down the rumors and that they were not going to deal either one of the two pitchers.
While the team has yet to come out and state that (makes sense as to why they would), the growing sentiment is that the two pitchers are not going anywhere, and that despite the team still needing help both in the outfield and bullpen, they biggest bargaining chips by the team are both staying in Cleveland.
Jon Morosi, who has been on the Kluber rumor mill from day one, stated on Thursday that a deal by the Indians involving Kluber is "becoming less likely by the day."
The reason why no deal for the two-time Cy Young award winner has yet to take place is rather simple – no team has stepped up with enough of a return to make the deal worth it for the Tribe to move their ace.
From day one if the Indians were going to move Kluber, they were going to have to get in return one of the top prospects in baseball like Alex Verdugo, but the Dodgers, who were in the mix more than once for the Indians ace, never came up with enough of an offer.
Teams like the Reds and Padres also were mentioned, but again those teams have had busy enough offseasons making trades and free agent moves to eventually dismiss the notion of trading for Kluber and giving up a ton in doing so.
The stalemate has left Indians fans in complete fret of what is to come in Goodyear or even opening day when they roll out an outfield that right now looks like Jordan Luplow in left, Tyler Naquin in right, and Leonys Martin in center.
Things in baseball, as we've seen many times, can change in a hurry, but for now, the Indians look like they will enter spring training stacked with a starting five that would rival any team in baseball, but they have an outfield and bullpen that are in a word – ugly.
So will the Indians actually still pull the trigger on a deal for Kluber or even Bauer?
It doesn't sound like it's going to happen, but never say never, and if there's still a team willing to give up a lot for one of the two pitchers, the Indians will surely listen.