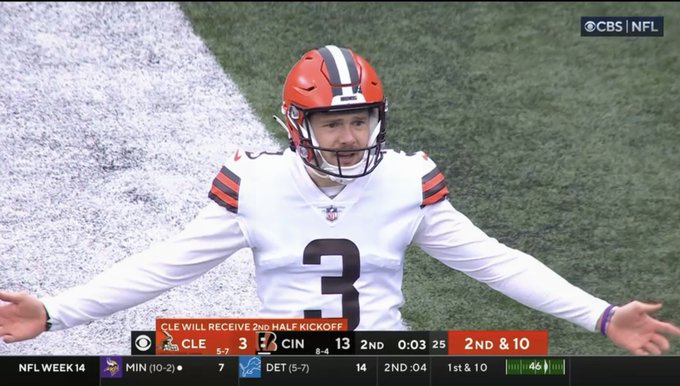 Cincinnati, OH-
With three seconds left in second quarter, Browns kicker Cade York, was pleading for a chance to get through the uprights. His frustration was on display for everyone watching the game on tv.
Cade York begged to get to try that 68 yard field goal attempt and wasn't happy he didn't get the chance: pic.twitter.com/chCQdnIzWh

— Jared Mueller (@JaredKMueller) December 11, 2022
York, former LSU kicker, was selected in the fourth round by the Browns in the 2022 draft. He immediately began to turn heads during preseason as he drilled 70-yard field goals.
Hey @Browns fans, you excited for your kicker yet? Cade York from 70!!!!!!!! pic.twitter.com/u7jKjOb7ET

— Chris Rose (@ChrisRose) August 27, 2022
The rookie holds the current record for longest field goal in LSU history at 57 yards. York actually owns the three longest field goal kicks in Tiger's history He's showed consistency at the college level making 54 of his 66 FG attempts and 164 of 168 PAT.
York was instrumental in Cleveland's season opener against Carolina, by kicking a 58-yard FG in the last seconds of the game. This is why the Browns drafted him. The rookie is no stranger to making pivotal kicks in high pressure situations. His 57-yard FG with LSU upset Florida and more impressively the conditions were dense fog.
Cade York was chompin' through the fog after LSU's win over Florida 😆 pic.twitter.com/L5GNJkU8wB

— ESPN College Football (@ESPNCFB) December 13, 2020
York overlooked
After Sunday's loss to Cincinnati, Browns head coach Kevin Stefanski told the media,
"First drive, we've got to come away with points there."
On the aforementioned first drive, Cleveland found themselves sitting fourth-and-1 on the Bengals' 25-yard line.  Stefanski doesn't look to York for a FG, yet instead attempts to bluff the Bengals. He brings in backup quarterback Jacoby Brissett. Assuming Cincinnati would be looking for a QB sneak with Brissett, he instead attempts a long pass into the endzone. The backup overthrew intended receiver, Donovan Peoples-Jones, and the Browns came up empty.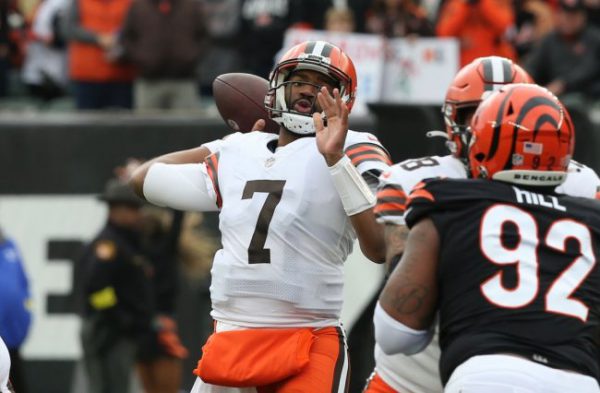 Going for it on fourth down has become more the norm than not for Stefanski. In turn, underutilizing the leg power of York. Yes, the rookie has had several misses this season. The worst game came against the Chargers where he couldn't get it between the uprights twice. York said after the game "One thing I've always prided myself on is not missing twice. It sucks, but gotta show people what I'm made of, come back and just keep doing what I need to do."
The 67-yard field goal that York was lobbying for Sunday, would have been a record in the NFL. Justin Tucker currently holds the longest FG at 66-yards. Why not give the kid a chance to make the record? The argument can be made that going for the Hail Mary there was less risky. However, on the other hand, letting York attempt to clear the crossbar, in that situation can change the momentum.
Regardless, York's desire and confidence to have the ball shows his drive as an athlete. Hats off to him for that. A team wants a kicker that has the faith he can make a record long FG. Perhaps if York is given more chances on fourth downs the frustration he had yesterday wouldn't be there.

NEO Sports Insiders Newsletter
Sign up to receive our NEOSI newsletter, and keep up to date with all the latest Cleveland sports news.