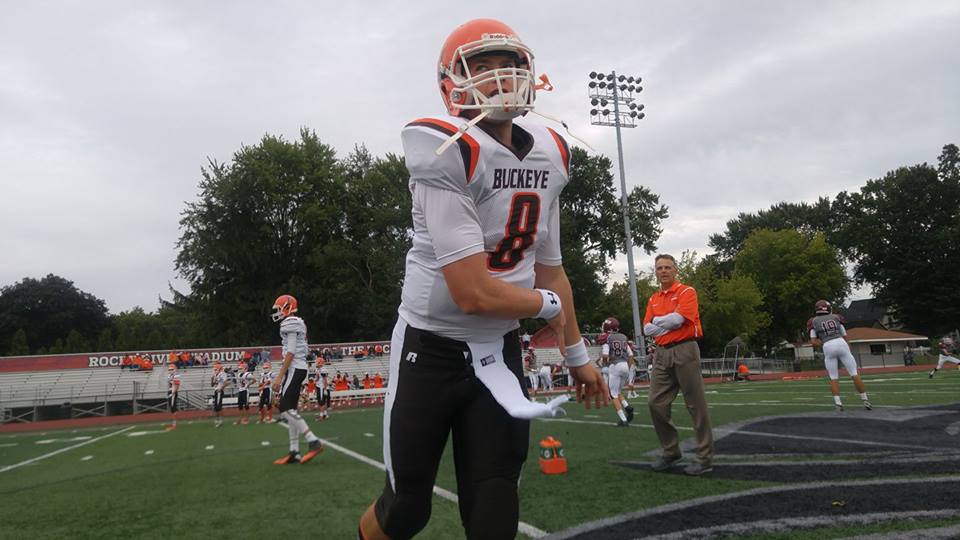 This game recap is brought to you by Setta Trophy.
You can visit them at http://settatrophy.com/
ROCKY RIVER, Ohio – It was the battle of the unbeaten tonight as the 1-0 Buckeye Bucks came to Rocky River to take on the 1-0 Sons of Blackbeard, the Pirates. In the end, it was the Bucks making the trip worthwhile with a 35-16 victory.
It was classic old school football for Buckeye tonight, run the ball and play defense, and they did plenty of both early and often. The Bucks amassed 303 yards on the ground and kept the high-flying River offense in check all night sacking River quarterback Michael Finnegan 4 times and holding him to a paltry 78 yards in the air.
Buckeye started with the ball at their own 10-yard line and put together an impressive 90-yard drive to draw first blood. Justin Canedy was a one man wrecking crew as he accounted for 30 yards rushing, and 31 yards receiving.
The Bucks punched it in with a 6-yard touchdown run by Dominic Monaco who had 3 carries on the drive for 18 yards total. All in all, it was 90 yards on 10 plays soaking up 5 minutes off the clock.
After forcing a River punt on their only first quarter possession, the Buckeye offense was right back at it. A 9 play 83-yard drive, taking 6 minutes off the clock resulted in pay dirt. This time it was a 4-yard Austin Bir scamper set up by an Adam Fauver pass of 20 yards, and a run of 48 by the quarterback to set up the scoring strike.
The Buckeye defense was suffocating during this stretch, holding the Rocky River passing attack to only one completion for 3 yards, and two sacks of quarterback Michael Finnegan. The Pirates got their first bit of offense towards the end of the second quarter thanks to penalties on Buckeye.
An interception was wiped out on 3rd and 18 as roughing the passer was called. Two plays later another costly penalty moved the ball inside the 30-yard line, this time a pass interference.
Despite the help, the Rocky River offense couldn't do much and had to settle for a beautiful 38-yard field goal by Mike Conrad. The drive was 9 plays for 43 yards taking 2:43 off the clock. The rally for Rocky River would not last long as Justin Canedy would continue his big first half with an 82 yard kickoff return for a touchdown.
All of this was part of an impressive first half that saw Canedy go for 47 on the ground, 41 through the air and the massive 82-yard kickoff return. Canedy racked up 170 all-purpose yards to pace the Bucks.
The Pirates managed to find the end zone themselves for the first time as the first half concluded. This time it was a 9-play drive capped off by a great corner fade from quarterback Michael Finnegan to Ryan O'donell. The scoring strike gave the Pirates life as they headed to the locker room only down 21-10.
The Buckeye Bucks picked up where they left off as the second half opened up. Scoring the first time they touched the ball. Following a long 40 yard strike from Fauver to Logan Schulz. It was Dominic Moncaco punching it in from 3 yards out to make it 28-10 Bucks. It was the only score that the third quarter would see.
Buckeye would punch it in on the first play of the fourth quarter however. Justin Canedy continued his huge night with a 5-yard touchdown run to put the game out of reach at 35 – 10. The Pirates would tack on six points late, but it wasn't nearly enough.
Next week Rocky River will try to get back on the winning end as they host Collinwood, while Buckeye travels to Cloverleaf.
Box Score
Buckeye 7 14 7 7 = 35
Rocky River 0 10 0 6 = 16
Scoring Summary
1Q 6 yard TD run Monaco. XP good. @ 7:05
2Q 4 yard TD run Bir. XP Good. @ 11:54
2Q 38 yard FG by Konrad @ 3:15
2Q 82 yard Kickoff return TD Canedy. XP good. @ 3:05
2Q 12 yard TD pass from Finnegan to Odonell. XP good. @ 0:29
3Q 3 yard TD run Monaco. XP Good. @ 7:35
4Q 5 yard TD run Canedy. XP good @ 11:53
4Q 14 yard TD run Crawford. XP no good. @6:20
Player of the game honors go to Justin Canedy who had 2 touchdowns and 215 all purpose yards. 

NEO Sports Insiders Newsletter
Sign up to receive our NEOSI newsletter, and keep up to date with all the latest Cleveland sports news.