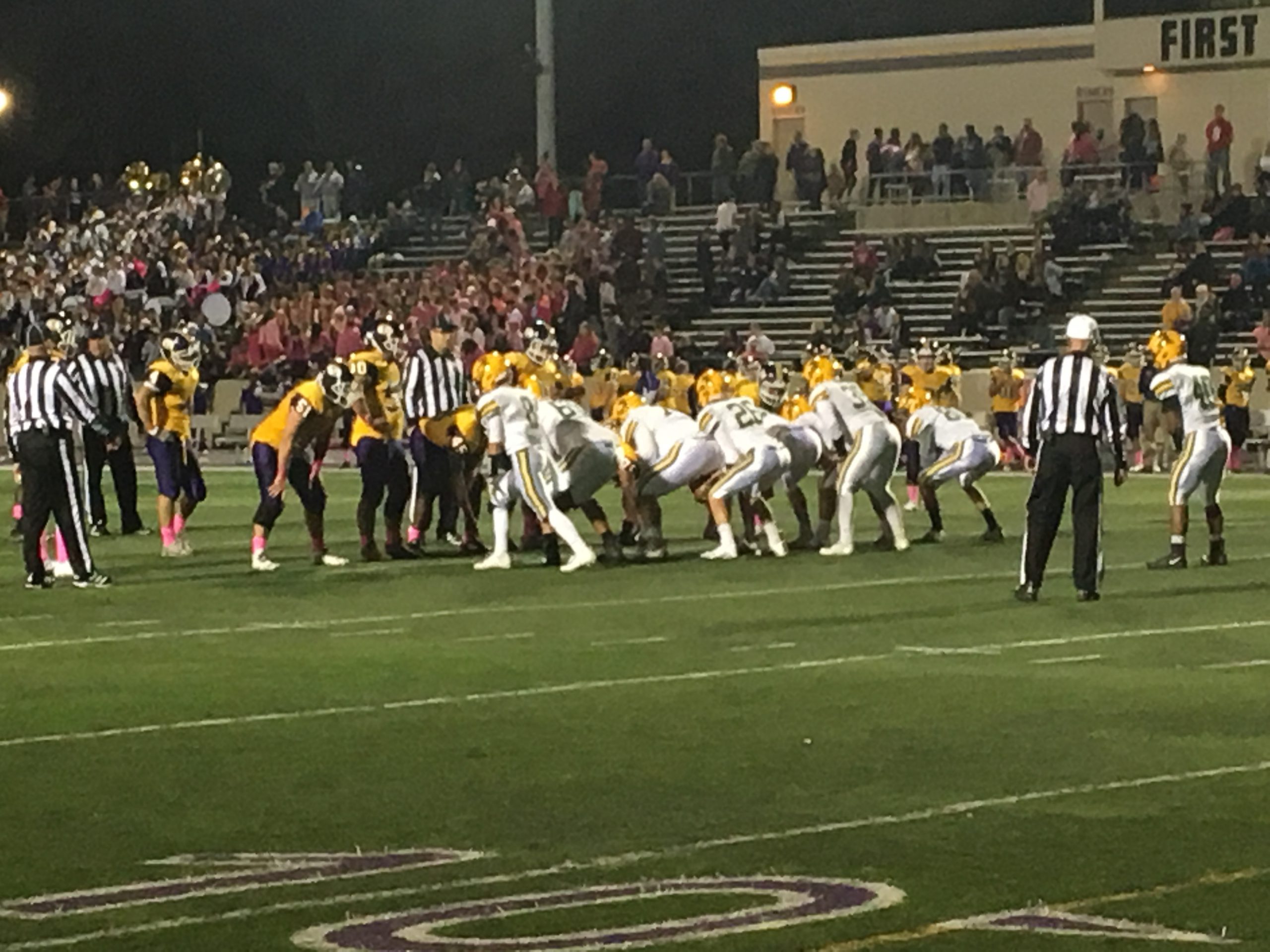 ***This recap brought to you by YUZU Lakewood, which you can visit here
LAKEWOOD, OH– Last Friday against the Clearview Clippers, the Amherst Comets struggled to get any kind of offense going.
This week that was not the case, as Amherst started strong and topped the Lakewood Rangers, 35-18. The Comets led the Rangers 35-3 heading into the final four minutes before Lakewood scored a couple of late touchdowns.
Amherst head coach Mike Passerrello acknowledged the team's improvement, and said that while the Comets made mistakes at times during tonight's game, he felt like the team took a step forward.
"I think we were more consistent, we definitely started off and then we took a step backwards, and came out in the second half and did a lot better job," he said. "So, it was a little sporadic, but it was a much better job."
Offensively, the Comets came out strong during their first drive of the game that included three first downs from junior running back Khennedy Scagliozzo, and ended in a 21-yard touchdown pass from junior quarterback Matt Fairchild to junior wide receiver Max Stauser.
Fairchild would continue to come into his own, and in the next drive threw a 54-yard touchdown pass to Devin Holmes. About 20 of Holmes' yards came after the catch. The drive itself lasted all of two plays and 45 seconds, and before the Rangers knew it, they found themselves in a 14-0 hole.
Each game is undoubtedly a confidence builder for Fairchild, who started just his second varsity game tonight after missing all action in 2016 due to an ACL tear.
"I'm getting really more confident. I like the system we've got here, I'm trusting our line," Fairchild said. "I think this game we came out firing, and during the Clearview game we kind of got our feet wet, but I think we're getting more confident as a team."
"Each week Matt's continuing to grow up and gain experience at the varsity level, and he's going to be asked to make more and more plays each week," Passerrello added. "I'm just happy to see him keep progressing."
Fairchild ended the night completing two-of-seven passes, with two touchdowns and 75 yards. The Comets went into the locker room with a 14-3 lead after Lakewood's Attila Nagy booted a 38-yard field goal. In the second half, however, Scagliozzo would really come to life.
While he had 75 yards on 10 carries in the first half, Scagliozzo didn't score his first touchdown until the opening minutes of the third quarter. He began his touchdown drive with a 50-yard punt return to get things started, and then ran for 20 more yards in the next play to complete the touchdown, giving the Comets a 28-3 lead.
Khennedy Scagliozzo with a 20 yd TD run. 28-3 @SteeleComets lead Lakewood @NEOSportsInside pic.twitter.com/1RxzTjq5Qh

— Ashley Bastock (@AshleyBastock42) September 2, 2017
In the next Amherst series, Scagliozzo would cap the eight-play, 81-yard drive off with another 11-yard touchdown run to give Amherst a 35-3 lead. He ended the night with 199 yards and two touchdowns on 20 carries.
"I think Khennedy came out strong making cuts that we haven't seen yet," Passerrello said. "He made some cuts that were pretty special, and they were simple plays and he turned them into big gains. That's the type of player he is, and I hope that he wants to continue and stays hungry with that."
Another TD run for @SteeleComets Scagliozzo, 11 yds. Comets lead Lakewood 35-3 4:39 to go in 3Q @NEOSportsInside pic.twitter.com/5awLnWkdSW

— Ashley Bastock (@AshleyBastock42) September 2, 2017
"It's amazing, Khennedy can do anything," Fairchild said. "He can catch balls in the backfield, he can run, he can do just about anything. So it's really nice to have a versatile threat out there."
Evan Shawver was another bright spot for the Comets on defense and special teams. He had two interceptions, one that he ran back for 20 yards, and recorded a touchdown on a 94-yard kick return to open the third quarter.
Lakewood scored two late touchdowns to narrow Amherst's lead to 17 points. The first came on a one-yard run from senior running back Basho Khawam, while the second came on a four-yard run from Jared Naida in the final minute of the game. Lakewood quarterback Austin Mahar ended the night going 10-for-20 with 80 yards and two interceptions.
The Comets improve to 2-0 while Lakewood falls to 0-2. Amherst will take on North Ridgeville next week, while the Rangers will face Berea-Midpark.
PLAYER OF THE GAME:
For the second straight week, Khennedy Scagliozzo earns the honor after 199 yards on 20 carries and his two second half touchdowns.
***This recap brought to you by YUZU Lakewood, which you can visit here

NEO Sports Insiders Newsletter
Sign up to receive our NEOSI newsletter, and keep up to date with all the latest Cleveland sports news.