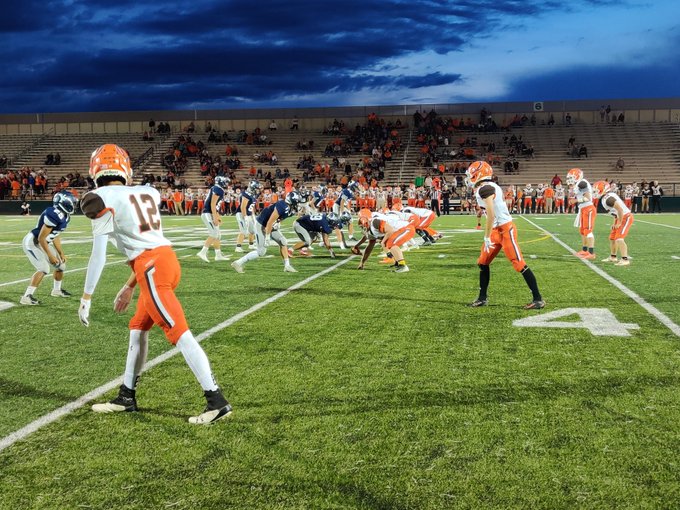 By Mark Perez
Valley Forge's Zack Ansbro connected with Senior Mike Pappas with a 59-yard touchdown on the third play from scrimmage to take a quick 7-0 lead, but the Buckeye Bucks' did not let that intimidate them as their ground game paved the way for the 35-23 victory over the Patriots.
"We are pretty resilient and that comes from our Senior Class," Buck's head coach Greg Dennison said after the win.
"We talk about (resiliency) all the time. In a football game, bad things are going to happen. How you respond to it is going to determine how successful you are and offensively, we got a good drive together and we were able to come back. We have good leadership and that helped."
Buckeye (4-1, 3-0) remains undefeated in the Great Lakes Conference and extend their winning streak to four games. Valley Forge's record is currently 3-2 (2-2) after losing their second straight game. Both of those games were against teams in the Great Lakes Conference.
"It's a great feeling and it's astounding how well we have been doing and how our guys responded to the challenge and taken on," Bucks' Senior quarterback Jacob Doerge said.
"Most teams would probably shy away from (the conference). This is a big conference with a lot of really good teams and I think our boys have really done a good job of making our way through it."
Doerge led the way for Buckeye as he rushed 29 times for 180 yards and two touchdowns. Both touchdowns happened in the second half after they generated a 14-10 lead at halftime.
Buckeye as a team, rushed for 306 yards as the creatively found new ways to carry the ball down the field.
"We have a lot of different plays that all look the same," Doerge said.
"Our whole offense, I call modular, where we can run anything out of almost anything. It's really dangerous for defenses, because we can give so many fake reads, or different looks up front that's so difficult to prepare for."
Their creative run plays boosted their presence but didn't hesitate to pound the ball up the middle.
"We have two really good skill kids on the perimeter," Dennison said. "Zach Weber and Kaymen Marshall. We have used some of those guys on some jet sweeps and then we fake it. Bottom line though is that we do a good job upfront… That's the key to the whole thing."
Running the ball effectively can keep the opposing offense off the field and that was one of their goals.
"(Chewing the clock) was our plan coming in," Dennison said.
"We knew we had to keep the offense off the field, because their offense is really good at what they do. We knew we had to keep that off the field because it is tough to stop. It's different from anything we have seen."
Seldom, the Buck's threw the ball, but when they did, they threw the ball deep to keep the secondary on their toes. They used play action to get the linebackers and safeties to bite when they stacked the box.
Doerge only threw the ball three times and completed two passes. One completion was 30 yards and the other was for 12 yards.
Even with Valley Forge's defense struggling to stop the run and kept the offense on the sideline, the offensive stars on for the Patriots still found a way to shine, one being Pappas.
Along with a 59-yard touchdown on Valley Forge's first drive, Pappas found his way into the endzone two more times the fourth quarter to keep them in the game.
One was a 35-yard rushing touchdown to have them trail by 11 points and the other was a 14-yard touchdown reception thrown by Ansbro.
The valiant effort wasn't enough as the Buckeye offense scored 21 second half points. The Bucks scored on three of their four drives in the second half. The one they didn't score on because their last play was a victory formation kneel on the 1-lard as a show of good sportsmanship.
Next week, Buckeye will be hosting Fairview and Valley Forge will go on the road to face Elyria Catholic in a Great Lakes Conference battle.

NEO Sports Insiders Newsletter
Sign up to receive our NEOSI newsletter, and keep up to date with all the latest Cleveland sports news.