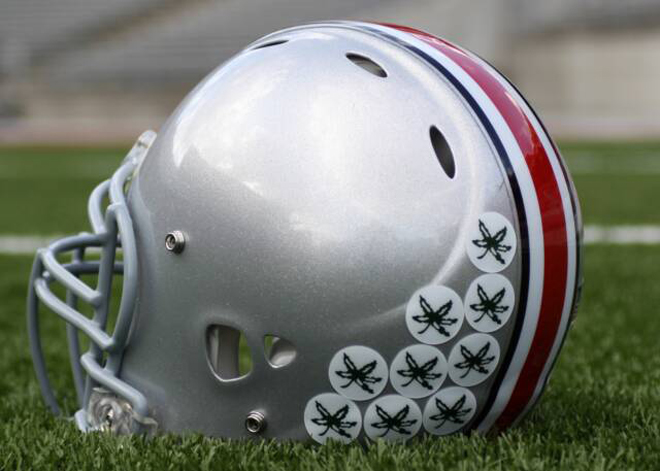 NEOSI's Spencer Davies and Jeff Seemann break down Saturday's game between the Buckeyes and Northern Illinois.
Jeff: Last week was the ugliest 38-0 win in the history of Ohio State football. Why do you think the team looked completely different than they did vs Virginia Tech?
Spencer: Maybe it was Hawaii's rainbow uniforms. I mean, those jerseys were pretty intimidating.
But in all seriousness, it was probably because of the short week. The Buckeyes only had five days to prepare for this game, and yes, even the mighty may struggle if there's a tighter gap between games.
Also, Ohio State opening up at home in front of a sold out Horseshoe and thousands watching at home expecting them to be up by six touchdowns at half–that's a lot of pressure in week two of the season.
From what I understand, too, Cardale Jones had only played in one day game before Saturday's opener against Hawaii. The Bucks just played sloppy and shot themselves in the foot too many times.
Spencer: What I think is hilarious is that there are people out there questioning the elite status of Ohio State after a blowout shutout. Why has college football gotten to the point where 38-point victories aren't enough to satisfy?
Jeff: I have a theory about sports and the people who ruin them. I call it "The X-Box Theory"
This team brought nearly everybody back from a team that defeated the current #2, #4 and #12 programs. They were playing a team from Hawaii that lost 9 games last year and is rarely a threat to an elite squad like the Buckeyes.
Add to that a very vocal minority of fans that jumped on the bandwagon (despite leaping off it a year ago when the Bucks were 1-1), and you have the makings of my X-Box Theory.
The theory is simple. When fans have high expectations, they start to let their minds run wild with what their team is capable of. Is a 4-touchdown win enough? It should be. But some of these fans, who you can easily identify on Twitter – they're the ones with 20,000 Tweets, and 94 followers – start imagining huge scores. They fall back on what they did on X-Box NCAA College Football, playing on the Freshman level and only throwing deep passes on every down.
So when the final score isn't 94-0 and the QB didn't throw for 700 yards, they immediately get angry. They are the Hirams of Columbus.
We got our first taste of these people when we heard about the death threats sent to Ryan Hamby after the loss to Texas in '05. It comes and goes, but when it gets thick, it's very ugly.
The X-Boxers need to be tuned out. It ain't easy, but it needs to be done.
Jeff: Northern Illinois has won 11-12 games each of the last five years. After seeing Toledo beat Arkansas, does a MAC frontrunner give you pause about what might happen this weekend?
Spencer: Certainly a shocker to see one of the mighty SEC's best fall to the Rockets, a team that was already missing its best player in Kareem Hunt. Let's not forget that both Auburn and Missouri each squeaked one out against FCS teams either. But anyways….
I went to a MAC school (The University of Akr….errrr Ohio Tech?), so I love this conference with a passion. It really is an underrated group of teams, some of which should definitely be turning heads.
Here's my take: Northern Illinois is always a threat. They are by no means a doormat opponent. The Huskies have strung together six consecutive winning seasons, and the program is certainly one of the nation's best in the mid-majors.
Yet, three seasons ago, NIU and its golden boy Jordan Lynch (who I loved watching) got its opportunity to shock the world in a major bowl game: The Orange Bowl. Their opponent? None other than Florida State, and we all saw what happened in that game, it was a slaughtering–which brings me to this weekend.
The rosters and years are different, yes. But that result is how it should be when a mid-major team faces a Power-5 conference team, and in this specific case, it's the number one team in the nation.
After a "disappointing" five-touchdown win against their previous opponents, expect some fire out of the Buckeye offense and a rough go for Rod Carey's Huskies.
Spencer: That being said, how do you think the the flow of the offense will be on Saturday? How will Cardale Jones react to facing his spectators' first moment of "doubt" (I guess you could say)?
Jeff: I'd like to be worried about how Cardale handles the doubt, but deep down we already know how he will deal with it.
All of our hearts sank last year when we saw J.T. Barrett on the ground against That Team Up North. Plenty of us thought the season was over.
Cardale didn't care.
We all know what he did next, and he's got my confidence. He might hit speed bumps, but the kid doesn't seem to let anything get to him. He's grown up under Urban Meyer's guidance, and if he has an issue, it won't last.
I expect smooth sailing against a struggling NIU defense. (They surrendered an average of 28 points per game to UNLV and Murray State, so yeah that's struggling).
Also, Ohio State is 13-0 lifetime when Meyer and I are in the building at the same time. I'll be there Saturday. #Guarantee

NEO Sports Insiders Newsletter
Sign up to receive our NEOSI newsletter, and keep up to date with all the latest Cleveland sports news.