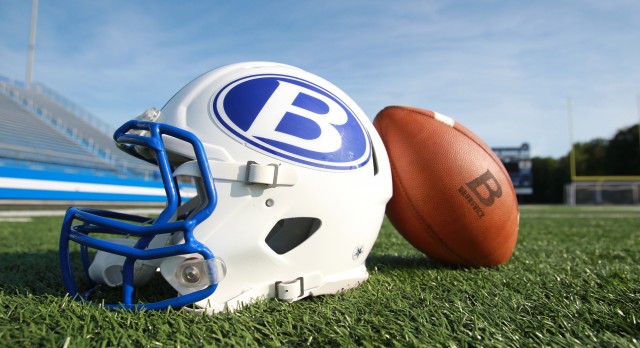 My weekly Brunswick Blue Devils football coverage is sponsored by MDG Flooring America in Medina. Click on the link HERE to browse their site and download their coupon for either $100 off your purchase or 12 months special financing.
MENTOR, OHIO– On a very warm late September evening, both Brunswick and Mentor came into tonight's matchup with identical 3-1 records, including both being 1-0 within the Greater Cleveland Conference.
Not only was tonight's game huge in the GCC standings, but both teams also came into tonight's game in playoff contention with hopes that a win would help solidify their midseason hold on that playoff spot they so much cherish.
Mentor proved right away that they are by far the better team and did not slow down as they walloped Brunswick, 62-0. The Blue Devils were just plain over-matched in this game as Mentor looked like they were in a completely different league, and remain winless in team history against the Cardinals of Mentor.
After a very short Brunswick opening drive, Mentor's Tadas Tatarunas used his arm to help give Mentor a 7-0 lead after passing for 43 yards and then ran the ball himself for a one-yard touchdown.
Mentor would add their second score of the first quarter after a very sloppy Brunswick three-play drive. Mentor's Chris Edmond ran the ball for all three plays on the 50-yard touchdown drive. He had runs of 21, 28 and then the one-yard TD plunge, giving the Cardinals a 14-0 lead with 7:00 left in the quarter.
After a couple of costly Brunswick penalties, Mentor's Logan Shea scored for the Cardinals' third touchdown of the first quarter. He scored on a 25-yard jaunt with just over two minutes left in the opening quarter, (and without a Blue Devil getting a finger on him) giving Mentor a 21-point lead at the end of the first quarter.
Mentor did not take their foot off of the gas as Elijah McDougall took the ball and raced 42 yards for Mentor's fourth score of the game. He as well went untouched all the way to paydirt. It took a whole 86 seconds for the Cardinals to score.
Tatarunas made the score 35-0 on a perfectly thrown 49-yard bomb to Derek Kleinhenz as the ball sailed just over the hands of Brunswick defenders, proving that even good defense is not good enough against Tatarunas and company.
Up 35 points halfway through the second quarter, Mentor coach Steve Trivisonno still did not let up and McDougall went in from six yards out to put the Cardinals up by 42 with just over six minutes left in the half, as Mentor was obviously looking to gain even more computer points with the higher score.
Mentor went in the end zone once again with 41 seconds left in the half as Luke Floriea, who took over the quarterback duties for Mentor, ran it in for a one-yard touchdown.
To start the third quarter another quarterback, Ian Kipp, was in the game. After a 42-yard run, Kipp then ran in from seven yards out to make the score 55-0 Mentor. Kicker Sophie Kaplan was in for her second action of the season to kick the extra point, but a high snap prevented her from adding to the score.
Mentor once again scored on a two-yard run from Varney Spansel, and this time with a successful kick from Sophie Kaplan to bring the score up to 62-0 with just over two minutes left in the third quarter.
In the end, not even the running clock would help Brunswick in the second half of this game, as one of their few drives that had the potential for success ended after a fumble was recovered by the swarming Mentor defense.
Mentor ran out the clock to end the game as the home crowd celebrated a blowout win.
Scoring Summary:
1st quarter:
M- Tatarunas 1 yd TD run (Kick good)
M- Edmond- 1 yd TD run (Kick good)
M- Shea- 25 yd TD run (Kick good)
2nd Quarter:
M- McDougall 42 yd TD run (Kick good)
M- Kleinhenz 49 yd TD pass from Tatarunas (Kick good)
M- McDougall 6 yd TD run (Kick good)
M- Floriea 1 yd TD run (Kick good)
3rd Quarter:
M- Kipp 7 yd TD run (Kick no good)
M- Spansel 2 yd TD run (Sophie Kaplan kick good)
4th Quarter:
None
Player of the game: Mentor female kicker Sophie Kaplan (1 extra point made)
| | | | | | |
| --- | --- | --- | --- | --- | --- |
| |        1 |         2 |         3 |        4 |    Total |
| Brunswick |        0 |         0 |         0 |         0 |         0 |
| Mentor |        21 |         28 |         13 |         0 |       62 |
Please visit MDG Flooring America for all of your flooring needs. They are located at 3812 Pearl Road Suite C in Medina. They can be reached at (330) 391-7184 or online at the link on top of this page.
Please help the Red Cross help victims of the recent hurricanes. Text REDCROSS to 90999 to make a $10 donation today.

NEO Sports Insiders Newsletter
Sign up to receive our NEOSI newsletter, and keep up to date with all the latest Cleveland sports news.