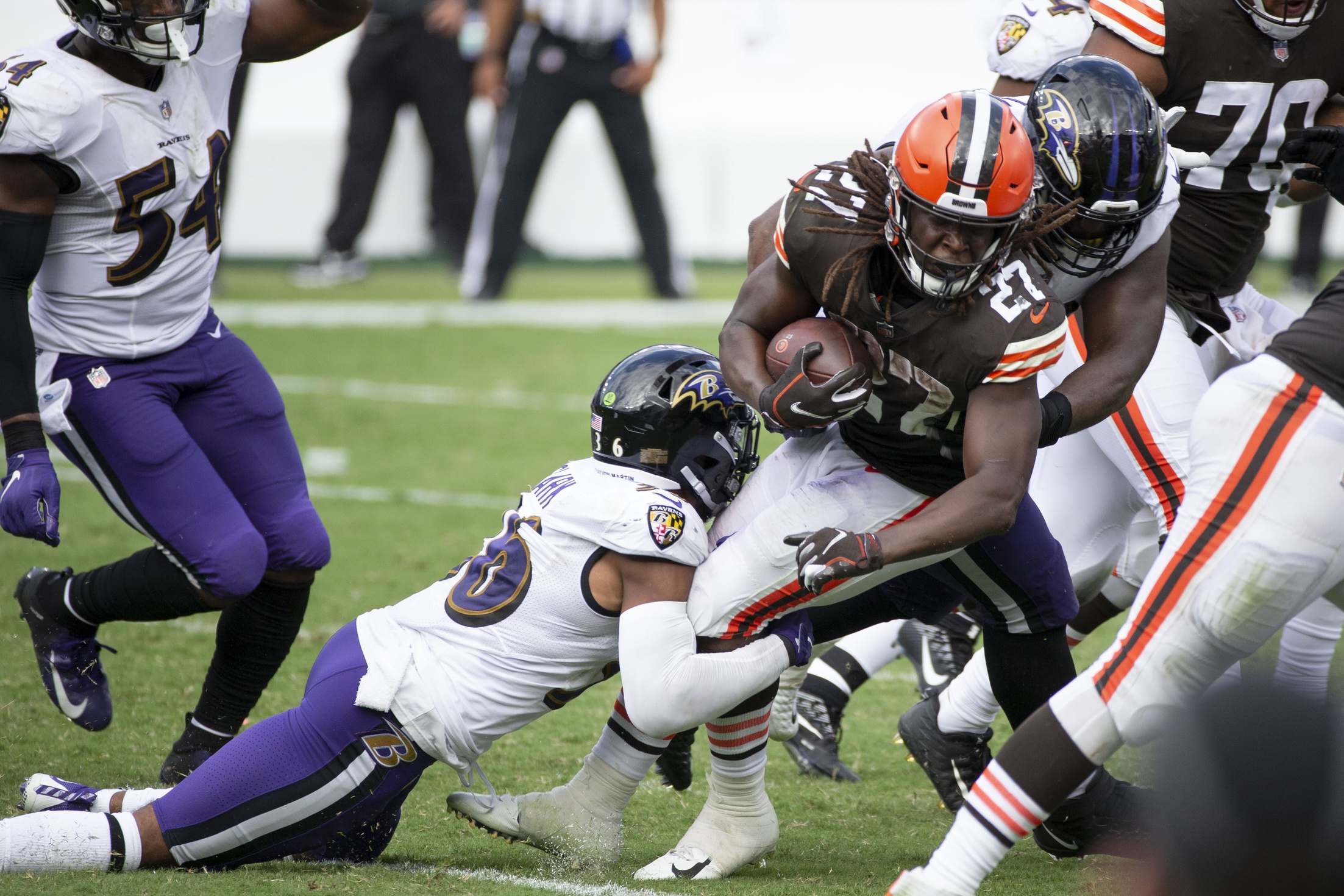 By Jared Edwards
It was a very long Sunday for the Cleveland Browns as they get dismantled by the Baltimore Ravens in Baltimore 38-6.
Lamar Jackson looked like the reigning league MVP going 20/25 with 275 yards and 3 touchdowns, he also added 45 yards rushing.
Baker Mayfield struggled all day to move the offense going just 21/39 for 189 yards 1 TD and 1 INT.
The loss was Cleveland's 16 straight loss in a season opener. The last time the they won was with Jeff Garcia as the starter in 20-3 win against the Ravens.
The turning point of the game was a third-down drop by Odell Beckham. The catch would have given the Browns a first down with 46 seconds left inside the Ravens 30 yard line. Instead, Austin Seibert missed the ensuing field goal. Baltimore then went 69 yards in 35 seconds to make it a 24-6 lead at the half.
This drop absolutely decimated the morale of the Browns. Instead of having an opportunity to put points on the board, you give up a touchdown and start the route. Beckham had little involvement in the game up to that point with one catch prior to that.
Beckham had nothing but a negative impact on this game and I blame that on the coaching staff as much as him. He is a payer that you have to get involved early or he will become disinterested, I believe this happened in this game.
To add insult to injury, Cleveland's first-round pick Jedrick Wills had a leg injury in the third quarter and did not return to the game. Announcers said he was barely putting weight on his leg.
The only thing to make the day hurt a little less is the fact Baltimore is probably the best team in the NFL. Yes, the Browns defense is really bad right now but we will get a better idea of that this Thursday when they take on Cincinnati.
I anticipated the defense being terrible and not being able to stop Baltimore. I thought the offense would perform a lot better tho. Nick Chubb and Kareem Hunt both had good games with 60 and 72 yards respectively but the Brown's have to keep these games close to be able to utilize both of these weapons. They are also going to have to find a way to get receivers open down the field. The longest pass was just 28 yards.
When you are down 24-6 at halftime, there is not enough time to run the ball down the field. I fully expect Cleveland to come out with a gameplan Thursday to run the ball all over The Bengals and keep it close so they don't rely on Mayfield to do everything.

NEO Sports Insiders Newsletter
Sign up to receive our NEOSI newsletter, and keep up to date with all the latest Cleveland sports news.