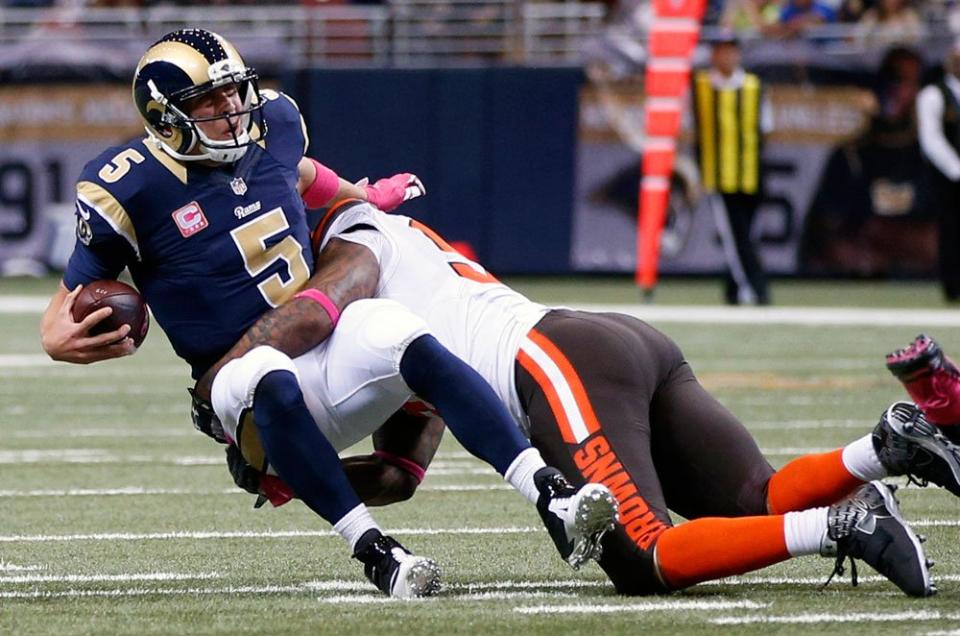 Random thoughts from a random mind following the Browns' dismal 24-6 loss to the St. Louis (with a foot out the door to Los Angeles) Rams …
1.  It's Groundhog Day in Berea
The Browns can change owners, team presidents, general managers, coaches, coordinators, quarterbacks, heck even stadium names, and the results remain the same … losing, losing and more losing.
At this stage, it appears that the Browns are line for yet another housecleaning when this season is done, maybe even sooner if the trend continues. General manager Ray Farmer's track record in two years speaks for itself – he actually makes Mike Lombardi seem like a competent GM in comparison (albeit not by much). And, ever since he's come back from his 4-game suspension for illegally texting assistant coaches during games last season, he's taken up residence in the Mike Lombardi Memorial Closet, never to be seen or heard from by the local media other than a generic statement about Johnny Manziel's latest run-in with the law.
Head coach Mike Pettine ended last season on a five-game losing streak and has only one two games this season in seven weeks – that's 2-10 over his last 12 games if you're mathematically-challenged. His team is undisciplined, repeatedly making dumb penalties at inopportune times. His defense has regressed to one of the worst in the league despite a league-high $74 million invested in it. He and his buddy and overmatched hand-picked defensive coordinator Jim O'Neil challenged their unit to not allow rookie Tori Gurley to embarrass them, and he wound up gaining 128 yards and two TDs. It looks like this team has tuned him out. I wouldn't be surprised if he resigns before he gets fired.
At this stage, it looks like Jimmy Haslam will be hiring his third-different GM and head coach in his fourth year of owning the Cleveland Browns, and, in turn, they'll be looking for the 24th or 25th different starting quarterback in the hopes that this one is the "franchise" guy we've been seeking. One of these days the merry-go-round has to stop, doesn't it?

NEO Sports Insiders Newsletter
Sign up to receive our NEOSI newsletter, and keep up to date with all the latest Cleveland sports news.