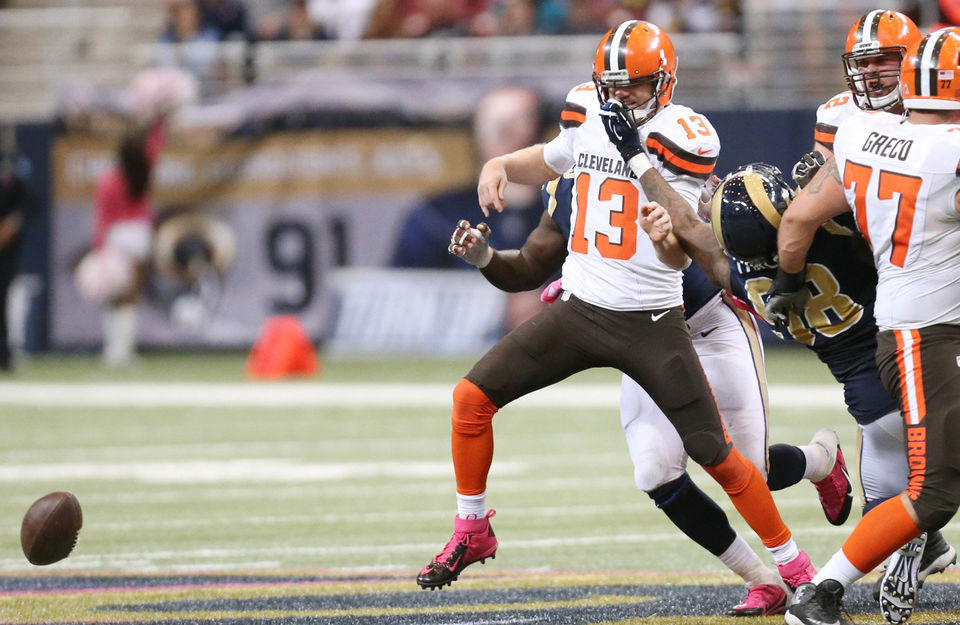 After watching the Browns' in one of their worst performances of the last decade it is time to take a look at some hard truths not a lot of people have been willing to discuss. Browns fans like to lie to themselves, and here are five truths they better get used to…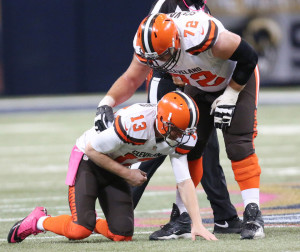 Joe Thomas is more reputation than execution. He has become one of the most overrated players in the NFL.
Thomas has been a favorite in Cleveland since being drafted third overall in the 2007 NFL Draft. He is tough and resilient…tough enough to have played every snap of every play during his NFL career.
At one point Thomas was an elite left tackle. At this point he is all reputation.
Thomas is frequently beaten by quick defensive ends or outside linebackers. While run blocking has never been his strong suit, this season the Browns never seem to gain many yards when they run left.
Thomas' holding penalties are down this season. He was flagged for four offensive holding penalties in each of the past two seasons and the questionable holding call he was flagged for against the Rams was his first of the season. Thomas has three pre-snap penalties this season already…not acceptable for a so-called "hall of fame" lineman.
The Browns offensive line is awful. The team has just 633 rushing yards in seven games and has given up 26 sacks. Thomas is the anchor of this putrid unit.
Thomas had a great run. He makes a ton of money and would bring a nice return if put on the trading block. The Browns are going to win as many games without Joe Thomas as they would with him. Time to send him to a contender, for the good of the franchise and for his own sanity.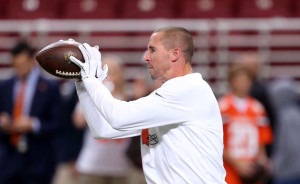 Brian Hartline is getting a free pass.
Dwayne Bowe was inactive, again, against the Rams. Time to cut him and move on…eat the $9 million in guaranteed money he was given and get the headache out of the building in Berea. His presence should be a constant reminder of abject failure.
At the same time, Brian Hartline has been given a free pass by the media and fans. Why? Hartline has been awful this season. He has caught a whopping 12 passes in 23 targets this year for a paltry 150 yards. On the field this season, Hartline has had NO IMPACT. NONE. Two years, $6 million, with $3 million guaranteed, for what Hartline has produced is a joke. The Bowe contract was awful…the Hartline contract is almost as bad.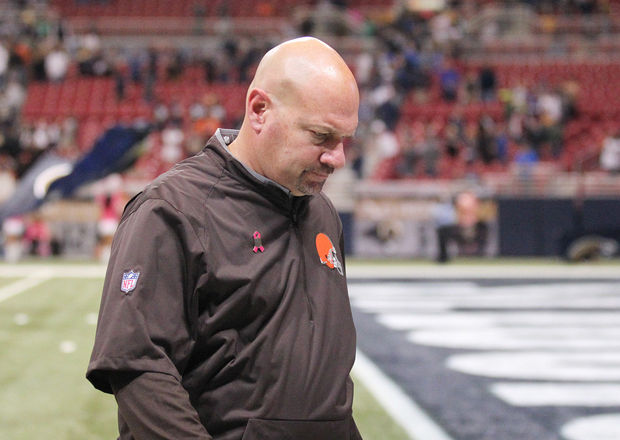 Mike Pettine is in so far over his head it's almost sad. He has no business being an NFL head coach.
Of all the things that has turned this Browns season into a car wreck, Mike Pettine has been the biggest disappointment. I have given him the benefit of the doubt from the day he was hired because, to be honest, I respected the fact that he was willing to step up and take the job that seemed, at the time, so toxic.
I am done with him at this point. He has no fire or passion. There were a few critical moments in the Rams game that showed how little he actually cares. The first was on the Taylor Gabriel fumble. While probably a good call there was more than enough reason for the video replay team to take a second look. A player has to possess the ball, take a step and make a "football move." Did Gabriel do that? Maybe yes, maybe no…but there was no replay while Pettine stood there, working his gum, saying nothing.
The second was the horrible holding call on Joe Thomas that killed a huge play…the long pass down the right sideline to Travis Benjamin. The camera cut to Pettine on the sidelines, watching the play on the Jumbotron. He didn't bat an eye…just kind of shrugged and went on with his life.
His decision to stick with Josh McCown as the starter for so long, even though McCown is a career loser with no actual future in Cleveland, is quite telling. Starting McCown was a penny-wise, pound-foolish decision. While he probably gives the Browns the better chance to win right now, at what point do we find out what Johnny Manziel can do? Apparently now that McCown was pretty much physically destroyed.
The team is also undisciplined. Turnover, penalties, coverage mistakes, missed assignments, etc. Week after week the Browns are the second-best prepared team on the field. That falls on Michael M. Pettine.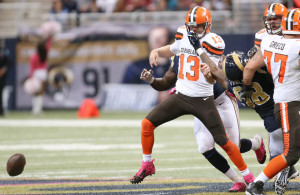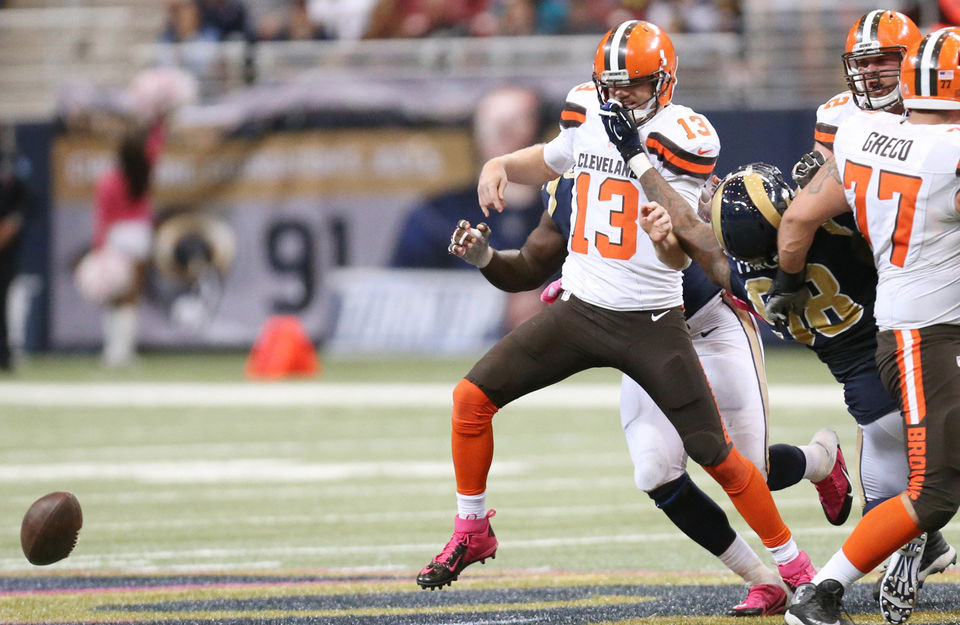 Josh McCown is a sub-par quarterback, but there probably isn't a quarterback in the entire league that could win consistently with this roster/coaching staff/game plan. Regardless, the time to end the McCown era has come.
I don't care about the statistics. I don't care about the 400-yard game or the fact that he threw for 270 yards against the Rams before getting injured…Josh McCown is not going to take the Browns anywhere, and it was foolish to think that he was. McCown is a guy that loses over 90 percent of his starts. He has one win this season, five losses. In life there are winners and losers and, as an NFL quarterback, McCown is an established loser. That being said, Joe Montana in his prime could not win with this organization right now. There are no playmakers on offense, the offensive line is inept and the defense porous. There are a handful of legitimate NFL players on the roster, and a collection of has-beens and never-will-bes. The Browns Pro Bowl cornerback is on pace to miss more games because of a concussion and injured finger than he missed for an Adderall suspension. The Pro Bowl left tackle is discussed above. The receivers are small, as are the linebackers. The one legitimate star on this team, tight end Gary Barnidge, is in a contract year. He will probably leave skid marks getting away from this team next year. I know I would.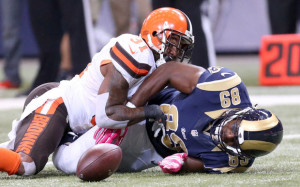 Donte Whitner is no longer an above-average defensive back. In fact, he hurts the team when he's on the field.
There is a lot to like about Donte Whitner the person and leader. He takes accountability for his mistakes and recognizes his shortcomings. There isn't much to like about his play on the field this season. Whitner has lost a step and is having major problems in coverage. His run support is solid, but unspectacular. He can still hit and tackle, but if your strong safety is leading the team in tackles you have major problems. Whitner is not a three-down player anymore, but lack of secondary depth has him out there for pretty much every defensive snap. There are some players that, when they slow down, seem to lose a great deal overnight. Unfortunately, Whitner is one of those players.

NEO Sports Insiders Newsletter
Sign up to receive our NEOSI newsletter, and keep up to date with all the latest Cleveland sports news.