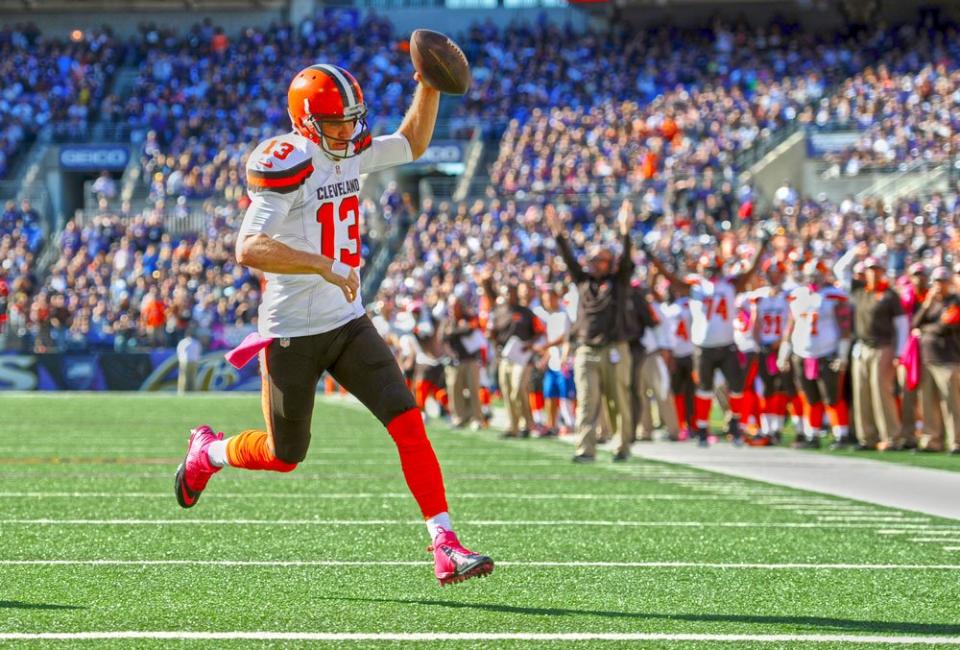 Browns quarterback Josh McCown has been around the block many a time, and he's fully aware of the ongoing chatter by the media when it comes to the Dallas Cowboys possibly looking at him to try to bring him to Big D to play backup quarterback to Tony Romo.
The Cowboys were hit hard with an injury to backup QB Kellen Moore on Tuesday, and then lost out on possibly getting Nick Foles under contract when Wednesday he signed with the Kansas City Chiefs.
So now, that leaves McCown as a player that suddenly has a suitor, even if he's not all that happy about getting the attention.
"For me, my job and my heart (are) here, doing everything I can to help the Cleveland Browns be good," McCown said Thursday at training camp in Berea.
McCown wasn't afraid to hit the Cowboys rumors head on Thursday, and despite growing up a fan of the Cowboys, right now he's looking forward to another season with the Browns.
"My family is from Texas, as you guys know. As much as you try to not be aware of things, they make you aware of things," McCown said. "I'm aware of it, but my focus is here and what we have to do with this football team."
Last season, his first with the Browns, McCown played in eight games, going 1-7, but was impressive from the standpoint of he threw 12 touchdowns to just four interceptions.
With the way NFL quarterbacks have a tendency to get injured these days, it would be in the Browns best interest not to just move McCown because another team has interest.
"I think when this stuff starts happening, the assumption is that there are conversations going on all along," McCown said of the rumors.
"I am just coming to work and it's business as usual for me. I think when that buzz starts happening, they feel like you're involved in it. You're not involved in it as a player.
"That in it of itself makes it immediate, but for me, it's separate, because I come to work and I'm worrying about the checks that we have in practice, the two-minute drill that we're going to do in practice and those things. That's where my focus is."
It looks more and more like Robert Griffin III is going to get the first crack at being the Browns starter at QB when the preseason opens next week.
For McCown and the team though, they should do the right thing and keep him in a Browns uniform, and not mess with what could be a major shakeup in the locker room this early into the season.

NEO Sports Insiders Newsletter
Sign up to receive our NEOSI newsletter, and keep up to date with all the latest Cleveland sports news.