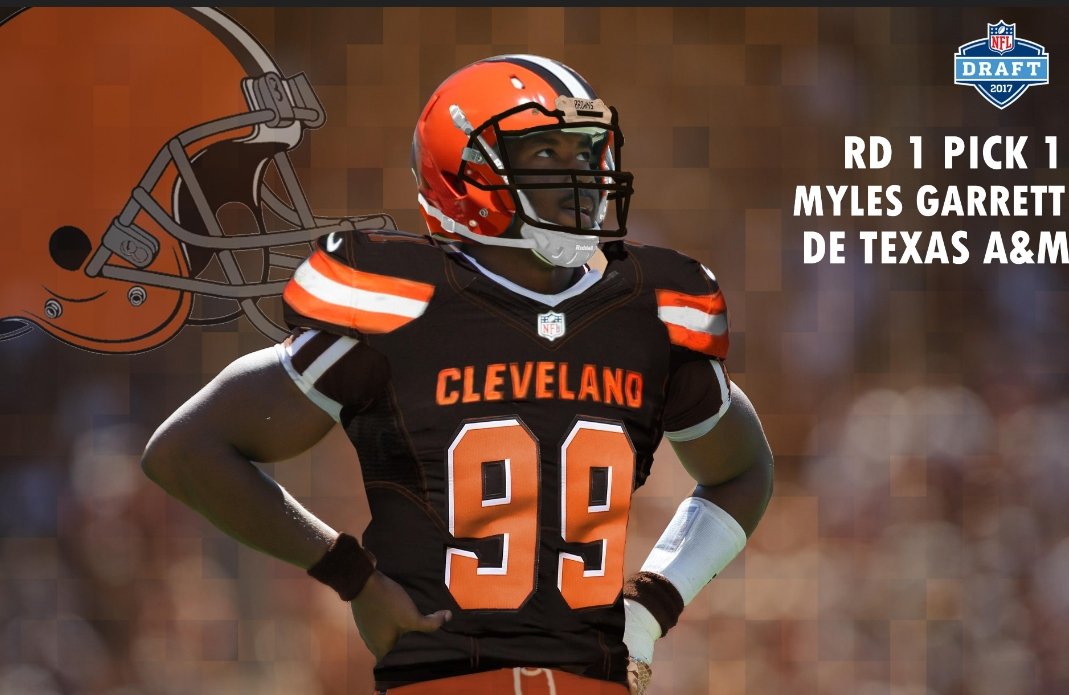 On Thursday night the Cleveland Browns selected defensive lineman Myles Garrett with their first pick and number one overall in the 2017 NFL Draft.
Here are some quotes from the conference call that was released with Garrett speaking about joining the Cleveland Browns and more.
Garrett had this to say about his first reaction and emotions when the Browns selected him:
"It was really just a weight off of my shoulders to finally just get the announcement that what I have been working for is finally came to fruition and I can actually know where I am going, know who I am going up against and know the schedule. Now, it's time to put in that work so I can be prepared to go against the best."
Garrett talked about his phone call with Browns Executive Vice President Sashi Brown and the Browns:
"He had to call my mother's phone. My phone kind of disappeared throughout the night, and I finally got it back. He asked if it was me, and I was like, 'Yeah.' He was like, 'Congratulations on being a Cleveland Brown.' I knew it was that time. They had not announced it yet, but I knew it was coming. Then he handed the phone to Hue Jackson and he was like, 'I told you that I wouldn't leave you hanging. I told you that you were my guy.' That made my night. Now, I'm just ready to go to work."
The Browns new defensive lineman also commented on being a part of the new Browns foundation:
"They picked me because they think they see something in me, and they know that I can help them rebuild and turn this program around. That's the mindset that we have to have. Starting next year, we can put the pieces together, not only the players but with a mindset that we can actually do this. I know that the players there have that same mindset. I am going to keep that feeling contagious. I'm just prepared for that."
Garrett also spoke about his goals in the NFL and how great he wants to be:
"I want to be the best. The only thing holding me back is me. I have to learn from the veterans, just pick everybody's brain to know what they did and to stay on track, to stay focused and not get off track at all with their goals and their dreams. Going for the rookie sack record and those lofty goals is something that I want to do, but I just want to be the best from Day 1. That takes hard work. That takes going against the best like (OL) Joe Thomas and listening and learning from your mistakes from the day before and picking up tips from him, the offensive tackles and my fellow D linemen."
Lastly, Garrett gave his reaction to Warren Sapp's comments and if criticisms in the pre-draft process motivate him, as well as his mom's comments on them:
"It definitely does. It adds more fuel to the fire. It is burning hot right now. Everybody thinks that they can count us out or count me out. That is not true for either of those statements. It does not matter what they say. It matters what the pads say, what the grind says when we finally get to the season – how much work you want to put in, how hard you want to prepare. That will speak volumes when you finally get there. It is another season, and nobody is the same."

NEO Sports Insiders Newsletter
Sign up to receive our NEOSI newsletter, and keep up to date with all the latest Cleveland sports news.