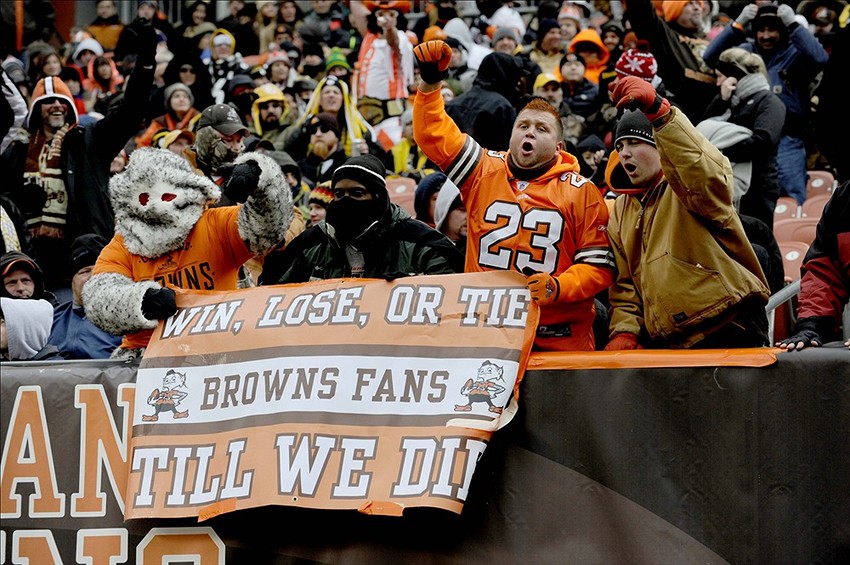 Loyalty is defined as The state of being loyal or faithful to commitments, obligations, or to people.
As with any relationship, loyalty is better if both parties are being loyal to each other and it's nearly impossible to stay loyal if it's not being returned.
Browns fans have been loyal from day one. We are the ones who buy the game tickets, all of the Browns clothing, and show up to most of the games (late December not included) to cheer our team on, no matter how bad the team is.
If there is such thing as loyal to a fault, that would be the definition of a Browns fan. However, I hear more and more people say that they stopped caring and won't waste their time and money on this team due to not only the team's 0-4 record, but the fact that most fans don't see progress when that's all we want to see.
Other than maybe one player (Kenny Britt), I don't blame the players since they are all trying their hardest to win. The problem is a lot of our players aren't good enough to win in the NFL, and that's where the loyalty the Browns fans give is not being returned.
Since the 2007 "season of dreams", the players on this team have not been good enough to win on a consistent basis and that falls on the front office even though the team has gone through many versions of their front office.
It doesn't take a genius to know that you can't win in the NFL without good players but the Browns have consistently had one of the worst rosters in the league, if not the absolute worst.
It's time for the loyalty to become a two way street. It's time for this rebuild to start showing signs of something actually being built. It's time for the Browns to look like the team we all fell in love with. If they don't, there may not be a fan base left to be loyal to.

NEO Sports Insiders Newsletter
Sign up to receive our NEOSI newsletter, and keep up to date with all the latest Cleveland sports news.