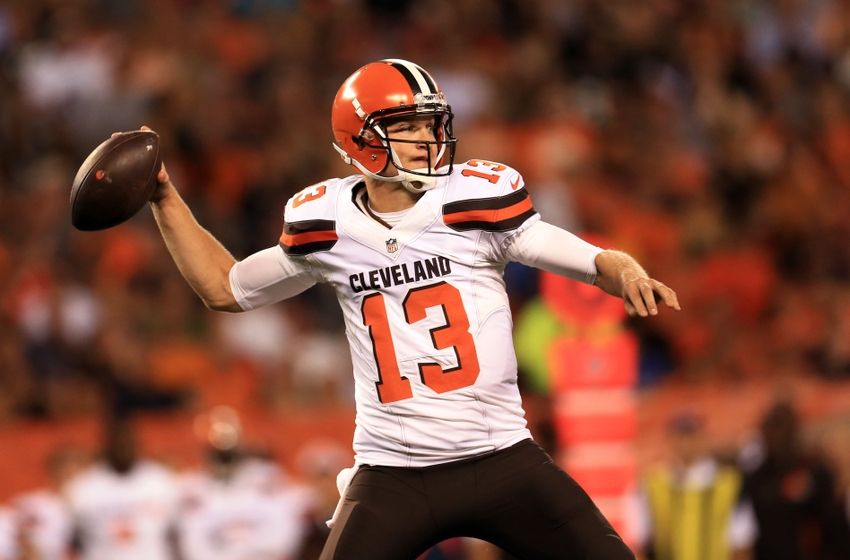 The Following Browns Beat is brought to you by Matteo's Casual Italian. To make your reservation now, you can click on the below link.
http://www.matteoscleveland.com/
BEREA – The RGIII era of Cleveland Browns football has ended only one game into the season. But how bad is it really? NEO takes a deeper look.
With the young receivers drafted back in April, along with the ones already on the roster, the Browns needed a traditional pocket passer, RGIII was not that man. McCown, a 13 year NFL veteran is. The young wideout's need a QB who can stay in the pocket and hit them in stride.
Griffin may have had the better arm, but at the end of the day, it is accuracy that this offense will crave if it hopes to learn and improve as the season goes on. They will get that with McCown as he's a drop back passer who reads and reacts.
It is no secret that the Browns drafted Cody Kessler to be the QB in waiting, he was not going to learn from the scrambling RGIII, but rather the veteran McCown who has a style similar to him. They want McCown to have the student mentor relationship with the young Kessler that they craved for him to have with Johnny Manziel last year.
The problem was Johnny Football couldn't stay in the classroom long enough or on time, and it all backfired.
McCown understands his role as mentor and doesn't have any ego or out to prove something. He will go out each week and give the Browns a chance to win. Realistically, the Browns weren't going anywhere this season anyway, but, at least with McCown he will be that stable presence the young players on the team will have to keep them calm and learn from.
The Browns and McCown also have the perfect opponent to hit the reset button with as well this weekend as they host the Baltimore Ravens. Last season, McCown threw for 457 yards against Baltimore. It was a Cleveland Browns passing record. Better than the living legend Bernie Kosar or anyone else to ever lace a pair of Brown and Orange cleats.
Again, no one is thinking Josh is the answer, or even a suitable season long replacement, however based off last years numbers for him, he will be the short term fix until the permanent quarterback is on the roster, or in the case of Kessler, behind center full time.
Last season McCown completed 63.7 percent of his passes, averaged 7.2 yards per attempt and had 12 touchdowns to four interceptions. His rating was 93.3 during that span. He was also excellent on third downs as he compiled a 129.5 rating with seven touchdowns and one interception.
Now, before we all start the ticker tape parade and pave a road for Canton, I must point out that his solid numbers have not resulted in wins. He is 2-17 as a starter the past two seasons and 18-39 overall in his career. However, as noted and evident, this season is not about wins, but growth for the young players.
One thing is for sure, whomever is behind center is going to have a tough time staying healthy behind a shaky offensive line. McCown knows the importance of staying healthy first hand as he had issues with that last season.
Last season he was sidelines with a concussion in week one, broken ribs and a broken collarbone later in the season.
At the end of the day, the Browns entire franchise from top to bottom needs to be better than it was after week 17 last season when the entire front office and most of the coaching staff was let go for the latest turn over. They must, they need to, they have to, or else the fan base will not continue to be patient with them.
Is this the first step in the right direction?
While the Cleveland Browns struggle to find the right recipe for success, you will never struggle to find the right recipe for a delicious meal at Matteo's. Where this weekend Chef Tony is cooking up some great meals.
Chef Tony's first weekend special is a sautéed Pan Roasted 12oz. Sirloin with pepper, onion and mushroom, baked in a shaved cheese blend. It's served with roasted fingerling potatoes, broccoli and drizzled with a blood orange balsamic syrup.
His second special feature is Shrimp Primavera. It's roasted mixed vegetables, tomato and shrimp in a sage cream sauce served over fettuccine.
Also, don't forget about the very special evening coming up on September 28th at Matteo's.
Matteo's will be hosting a September Wine Dinner on Wednesday, September 28th. The theme will be Hand Crafted Napa Valley Wines. Chef Tony will be pairing the Napa Valley wines with four courses of great dishes highlighted with an eggplant Caponata and pan roasted boneless short ribs. Space is limited so make your reservation today.
Please Call 440-427-5400 for Reservations

NEO Sports Insiders Newsletter
Sign up to receive our NEOSI newsletter, and keep up to date with all the latest Cleveland sports news.