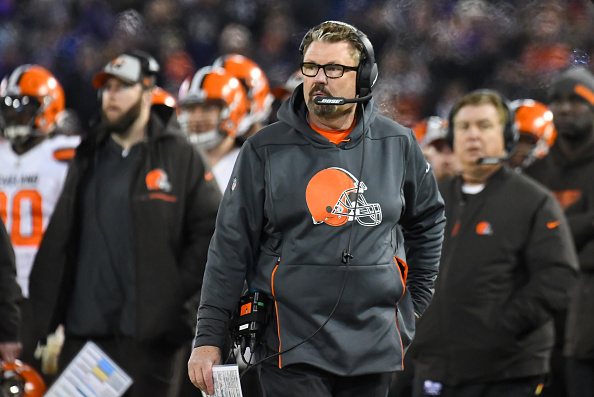 I knew it was coming.
The second the clock struck zero in the Cleveland Browns' face-plant of a season opener, I knew exactly what hot take many fans were going to use throughout this week.
"I think they made a mistake letting Gregg Williams go."
Sure enough, more than a few have called into local sports radio making this exact claim. Giving the head coaching job to Freddie Kitchens was apparently a mistake, one made after the even more egregious blunder of parting ways with Williams after his short tenure as interim head coach.
It needs to be said – this take is extremely short-sighted.
It was short-sighted this week. It was short-sighted this past offseason. It will be short-sighted no matter what happens Monday when Cleveland takes on a New York Jets team featuring Williams as defensive coordinator.
I'm not saying Kitchens will have a much more successful career. I'm not even saying he was the best hire the Browns could make. It's far too early to make those claims.
Still, the romanticizing of Williams' time in Cleveland that you tend to hear from Browns fans will forever confuse me.
For a quick refresher, Williams took over in Week 9 of last season after Cleveland fired then-head coach Hue Jackson. The Browns, at the time boasting a record of 2-6-1, finished the year going 5-2.
It's this seven-game span which many think justifies the belief Williams was the right man for the job, and that letting him go was a mistake.
With that in mind, I beg Browns fans to take a step back and realize just why exactly they're giving Williams so much hero worship.
Yes, Cleveland improved under his watch. The players looked more energized, and the results on the field were proof of this. I'm not here to take away any of that.
At the same time, you can easily argue the team was energized not so much by Williams, but instead because a coach many within the locker room disliked was finally ousted. Was the team stoked because Williams was promoted, or because the distracting power struggle between Jackson and former offensive coordinator Todd Haley was finally removed from the picture?
I don't want to take too much credit away from Williams. However, there's a difference between giving him props for helping the Browns' midseason turnaround and claiming Cleveland letting him go was a bonehead move.
The reality is people view Williams' time with the Browns through rose-colored glasses because the team played better under his watch than it did with the man he replaced. Success for Williams was defined as "he had a better record than Hue Jackson."
It would've been statistically impossible to fail at pulling that off.
Yet, this "achievement" is what drives so much of the praise Williams receives, and why so many think he should be the Browns' head coach. Not his fit for the job, not his relationship with the players, just his ability to win more games than Jackson did.
To me, this just isn't enough proof parting with Williams was a mistake. It instead just lends more credence to the fact far too many fans overvalue his time with the Browns.
Don't believe me? Have a look at this poll from January.
Our ESPN Cleveland Tonight poll of the evening: When you look back at their time in Cleveland, which coach will you have a fonder memory of?

— ESPN Cleveland (@ESPNCleveland) January 10, 2019
Of the 10,730 people who took voted here, over half claim they'll have a fonder memory of Williams than they will of Tyronn Lue, the coach who brought Cleveland an actual championship.
Of course, shining a light on this won't stop anyone from overreacting the next time Kitchens loses a game. A sizable portion of Cleveland's fan-base is still going to believe the team will regret not retaining Williams as head coach.
For those who feel this way, just take a step back and remember you're praising Williams for his ability to out-perform a coach with a record of 3-36-1.

NEO Sports Insiders Newsletter
Sign up to receive our NEOSI newsletter, and keep up to date with all the latest Cleveland sports news.