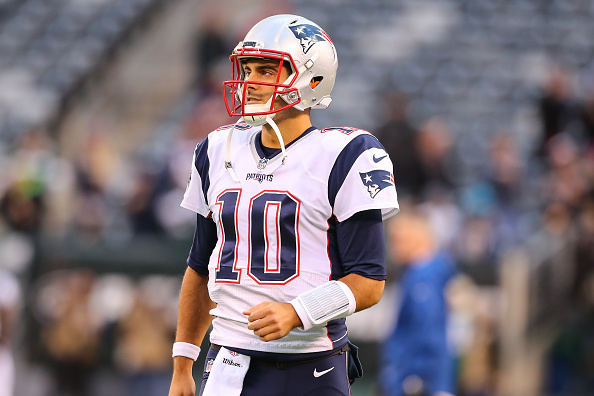 From one day to the next, nothing has ever been 'for sure' when it comes to the Browns desire to try and get the Super Bowl Champion New England Patriots to deal them backup quarterback Jimmy Garoppolo.
From the moment the wild Super Bowl ended (or even before for that matter), there's been rumblings about the Browns wanting to make a mega deal to get Garoppolo, a player who got a shot to show what he could do for a couple games while Tom Brady was suspended to start the year.
Now though with the NFL draft closing in, the Browns and any other team wanting to get Garoppolo might have to wait a year, as NFL.com's Ian Rapoport says that the Pats are not going to deal the backup.
Now that Tony Romo has left Houston holding the bag at quarterback, might former Patriots assistant Bill O'Brien tempt New England into softening the stance that Jimmy Garoppolo is off the table in trade talks?

"Of course Bill O'Brien would love to acquire someone as talented as Jimmy Garoppolo," NFL Network Insider Ian Rapoport said on Thursday's edition of Up to the Minute. "It would make a lot of sense. The system would be the same, the transition would be easy, everything would match up."

There's only one problem.

"From my understanding, the Patriots do not want to deal Jimmy Garoppolo," Rapoport continued. "They really just don't, whether it's to the Browns, whether it's to the Texans. Their stance right now … is they do not want to give up someone who they consider a franchise quarterback for a pick this year."

When Cleveland and New England discussed Garoppolo around the time of the NFL combine in late February, Garafolo added, the Patriots offered no indication that the former Eastern Illinois star would be available.

We've been hearing for weeks that Cleveland's front office has yet to give up the Garoppolo ghost.

"The Browns may make a late run at Garoppolo," Rapoport explained, "but they do not seem to believe there's any hope there."
The Browns as everyone knows do have quite a few picks still to play with, so never say never. For now though, it looks like the brown and orange signal thrower is either already on the roster, or a player that is going to get drafted come the final week in April.