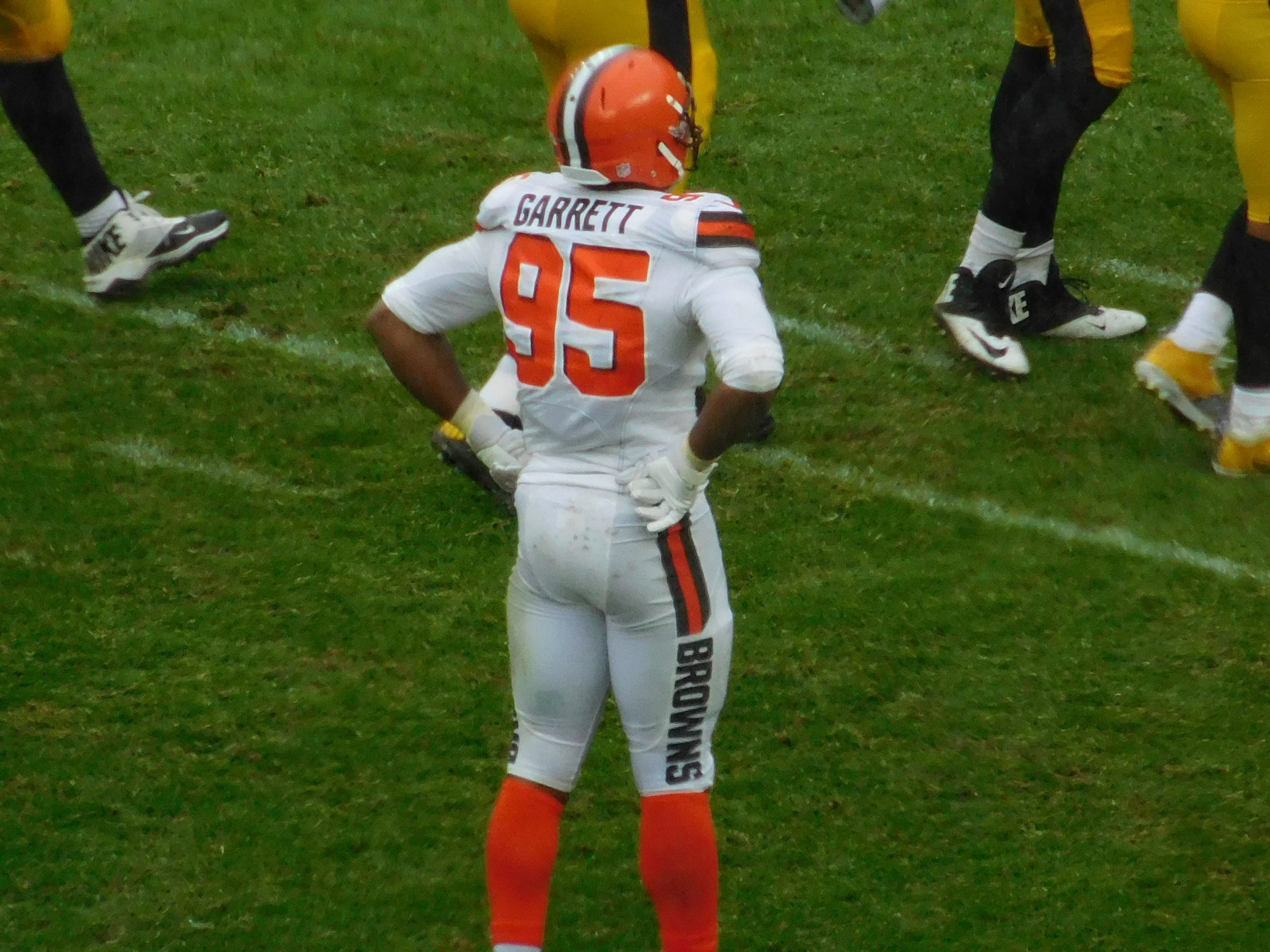 The Browns announced today that DE Myles Garrett has been named the team's 2020 Walter Payton Man of the Year, presented by Nationwide, recognizing the NFL's best players for their performance on the field and their dedication to the community.
"It is an honor to be named the Walter Payton Man of the Year for my team," said Garrett. "It is of incredible significance just to be honored and have that kind of recognition because Sweetness was a hell of a man and a hell of a football player. He has been recognized and gone down in history for his off of the field passions and what he did for people in his community and all across the world. I would like to keep that going. He is one of my favorite running backs, as well as players. To be in the same sentence as him and the same breath is an honor in itself."
"We are incredibly proud of Myles and his strong passion for our team and community, which makes him truly deserving of our Walter Payton Man of the Year award," said Dee and Jimmy Haslam. "Myles is a phenomenal player and person who is consistently working to improve on the field with a team-first mindset while also identifying ways to improve the lives of other people, including through his dedication to Waterboys and important social justice efforts."
"We stress the importance of having smart, tough, accountable players who prioritize the team and others above individual accomplishments. Myles exemplifies those characteristics both on and off the field," said Executive Vice President of Football Operations and General Manager Andrew Berry. "His performance on Sundays has been exceptional this season, but the socioeconomic work he has done in our community and abroad will have a more lasting impact. We are proud to have Myles represent our organization, including as our Walter Payton Man of the Year."
Executive Vice President, Partner J.W. Johnson, will formally present the award to Garrett prior to the Browns' Monday Night Football game against the Baltimore Ravens at FirstEnergy Stadium on Dec. 14.
The No. 1 overall selection by the Browns in the 2017 NFL Draft, Garrett has played in 47 career games with 45 starts, amassing 134 tackles (99 solo), 41.0 sacks (274.0 yards), four passes defensed, 10 forced fumbles and three fumble recoveries. He reached his first Pro Bowl following the 2018 season, when he earned second-team All-Pro honors. Garrett was also named to the PFWA All-Rookie team in 2017.
Garrett is one of only five NFL players to record at least 41.0 sacks since he entered the league in 2017. His 10 career forced fumbles rank tied for the most by a Brown since 2000.
Despite missing two games this season, Garrett is currently tied for third in the NFL with 10.5 sacks, becoming the first Browns player to post at least 10 sacks in three consecutive seasons since sacks became an official statistic in 1982. The Texas A&M product posted at least one sack in a franchise-record six consecutive games during Weeks 2-7, including multiple sacks in three of those contests. The Browns are 7-1 this year in games where Garrett has registered at least a half-sack, and each of his four forced fumbles (tied for second NFL) occurred on strip-sacks that led to Browns scores in victories.
Garrett has consistently proven to be a leader for his Browns teammates on and off the field, including in his role as a member of the team's social justice committee. He has also made a concerted effort this year to be more of a vocal leader and continues to serve as a reliable example to all Browns players, as well as the community in general.
In 2019, Garrett was named the active player captain for Waterboys, which focuses on bringing clean water to communities in East Africa. As captain, he directs a team of active NFL players who are committed to using their platform to engage fans and help address the clean water crisis. Early in 2020, Garrett made a two-week trip to Tanzania to help install wells and experience the impact first hand. Since its launch, Waterboys has funded 83 wells, serving more than 350,000 people. Approximately 844 million people – more than twice the population of the United States – do not have basic water access across the world.
This past offseason, Garrett personally reached out to victims of police brutality and their families while also raising awareness for additional significant social justice issues, including the digital divide. He covered funeral costs for David McAtee of Louisville, Ky., this summer, and paid tribute to John Saunders on his helmet decal during games.
Additionally, Garrett teamed up with Cleveland Hope Exchange and local businesses to provide more than 24,000 pounds of food and additional resources to those in need as a result of the COVID-19 pandemic this past spring.
Throughout his career, Garrett has been engaged in Browns Give Back's dedication to education, youth football and volunteering efforts through the First and Ten movement. Last year, he led a Browns First and Ten Tuesday visit at Akron Ellet High School, breaking ground on the ninth multi-sport playing field installed as part of the Browns' and Haslams' support of education and youth football. Garrett is also highly supportive of his teammates' community initiatives off of the field by participating in and contributing to their events, including several hosted by fellow Browns defensive lineman Larry Ogunjobi.
For the third year in a row, all 32 of the NFL's Walter Payton Man of the Year winners will be highlighted as nominees and recognized for their important work during the weekend leading up to Super Bowl LV. The 2020 Walter Payton NFL Man of the Year will be announced during NFL Honors, a primetime awards special airing on CBS the week of Super Bowl LV.
All 32 nominees will receive a $40,000 donation in their name to the charity of their choice, while the winner of the Walter Payton NFL Man of the Year award will receive a $250,000 donation to the charity of his selection.
.

NEO Sports Insiders Newsletter
Sign up to receive our NEOSI newsletter, and keep up to date with all the latest Cleveland sports news.