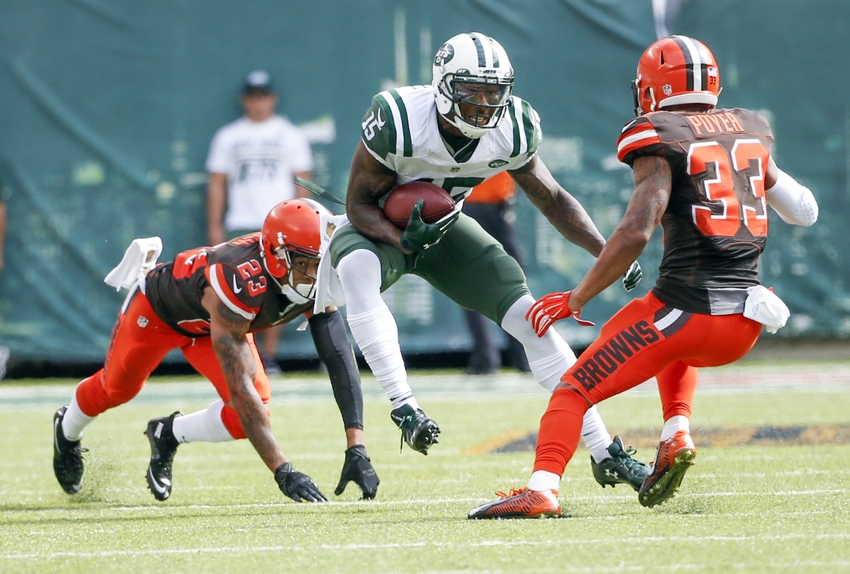 Two struggling teams met down at First Energy Stadium looking for statement wins as the Cleveland Browns fell to 0-8 after a brutal comeback win by the New York Jets 31-28.
Browns QB Josh McCown struck early and fast as he drove the team down 75-yards to hit WR Andrew Hawkins in the back corner of the endzone for a 5-yard touchdown for the 7-0 lead. Jets QB Ryan Fitzpatrick scrambled for a first down, which was reviewed and ruled short, and took a hit by rookie Breian Boddy-Calhoun and both players were taken to the sideline to be evaluated for concussions. Boddy-Calhoun was taken to the locker room but Fitzpatrick was able to remain in the game. McCown did have another good drive late in the first quarter but the Browns had to settle for a field goal and increased the lead to 10-0.
The Jets started off the second quarter with a 35-yard Bilal Powell touchdown run which is the longest run for the Jets this season and put them back in the game trailing only by three. Rookie defensive players Carl Nassib and Emmanuel Ogbah were making impact plays in the first half. Nassib had two batted balls at the line of scrimmage and Ogbah recorded another sack to bring his season total to 3.5. RB Isaiah Crowell started to turn on the jets, no pun intended, and found the endzone late in the second quarter with a 1-yard rushing touchdown and ended the half with a field goal to go up 20-7.
The Browns have not been good in the third quarter all year long. When coming out of halftime, the Browns defense has allowed six touchdowns in the teams first possession of the second half. The Jets looked to get back in the game with a 78-yard drive capped off with a 24-yard touchdown from Fitzpatrick to WR Quincy Enunwa to cut the Browns lead down to six. The defense let the Jets drive down again and score on 4th and 1 from a Matt Forte 4-yard run giving New York the 21-20 lead.
After another Forte rushing touchdown, the Browns defense has let the Jets score 21 unanswered points and making Fitzpatrick and Forte look like a superstars. McCown and the Browns offense disappeared in the second half. In the third quarter alone, they only had 44-yards total. In the fourth quarter, being down by eight, McCown looked deep for Terrelle Pryor but Pryor hesitated on the route and the ball was intercepted by the Jets. McCown threw another interception inside the Browns 10-yard line which set the Jets up for a field goal to make the lead 31-20. McCown did drive down to score one more time to Hawkins and converted a two point conversion but failed to recover the onside kick to end the game.
The Browns will take on the Dallas Cowboys next week at First Energy Stadium still looking for win number one of the season