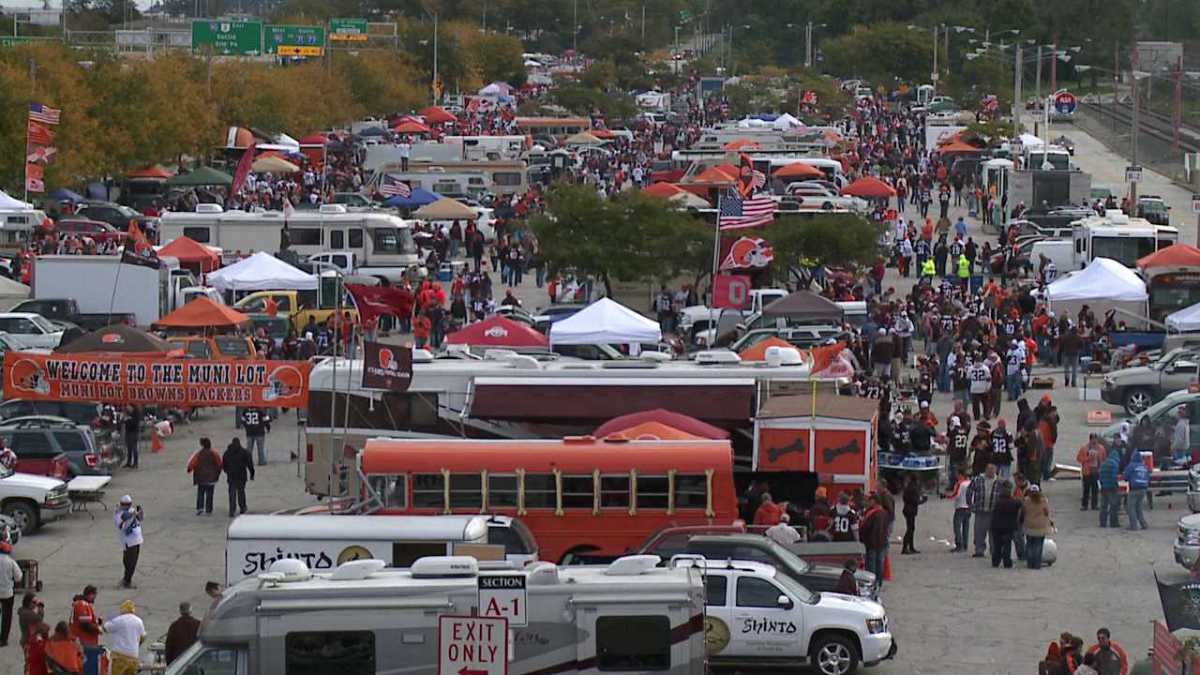 The Browns this morning announced they will be hosting a "2017 Draft Tailgate" in the Cleveland Municipal Lot during the first round of this year's NFL Draft on Thursday, April 27.
"This year's draft is an especially exciting time for our team, our fans and our city, and we greatly appreciate the City of Cleveland for its cooperation and its significant contributions to helping make this Muni Lot tailgate successful," said senior vice president of marketing and media Dave Freeman. "It will be special for our team and fans to enjoy the event in a place that is unique to Cleveland and the Browns and where we are all eager to return for the 2017 season."
Tickets will be accessible to all fans beginning Thursday, April 6 at 10 a.m. as quantities remain available. Browns season ticket members will receive access to a special 48-hour pre-registration window from 10 a.m. on Tuesday, April 4 prior to open registration. Fans must register for the event and print a ticket or use a mobile ticket through the Cleveland Browns App in order to enter the 2017 Draft Tailgate.
Approximately 650 free parking spots will be available on a first come, first served basis in the Muni Lot, which will officially open at 4 p.m. Additional parking is also available in multiple paid city lots within walking distance of the event.
From 5:30-11 p.m., thousands of Browns fans will tailgate in the Muni Lot and watch the first round of this year's NFL Draft. In addition to broadcasting the NFL Network's draft telecast on large LED screens, the 2017 Draft Tailgate will feature appearances from Browns players and alumni; multiple Cleveland food trucks; various food and beverage portables at reduced prices; and more.
Attendees will be able to join the live Browns Countdown Draft Special that will air on News 5 from 7-8 p.m. when News 5's Andy Baskin and Nathan Zegura discuss the last-minute excitement and news prior to the draft, joined by correspondents from Berea and Philadelphia. Fans are also encouraged to tune in to the Browns Countdown Post-Draft Special that will air on News 5 Sunday, April 30 from 11 a.m.-noon.
Additional opportunities at the 2017 Draft Tailgate include the Cleveland Browns Locker Room Sale, where unique items from the team's facility and stadium will be sold to benefit the Northeast Ohio Community, and a pop-up Pro Shop featuring special draft items. The FirstEnergy Stadium Pro Shop will also be open from 11 a.m.-11 p.m. on April 27.
Standard City Muni Lot tailgate policies and regulations will be in place within the lot before, during and after the event.
The Browns have the No. 1 and No. 12 picks in the first round, which opens at 8 p.m. on Thursday, April 27 in Philadelphia. The Browns now have five picks within the first 65 selections and 11 choices in total.
Rounds 2-3 of the 2017 NFL draft begin at 7 p.m. on Friday, April 28, while Rounds 4-7 start at noon on Saturday, April 29.

NEO Sports Insiders Newsletter
Sign up to receive our NEOSI newsletter, and keep up to date with all the latest Cleveland sports news.