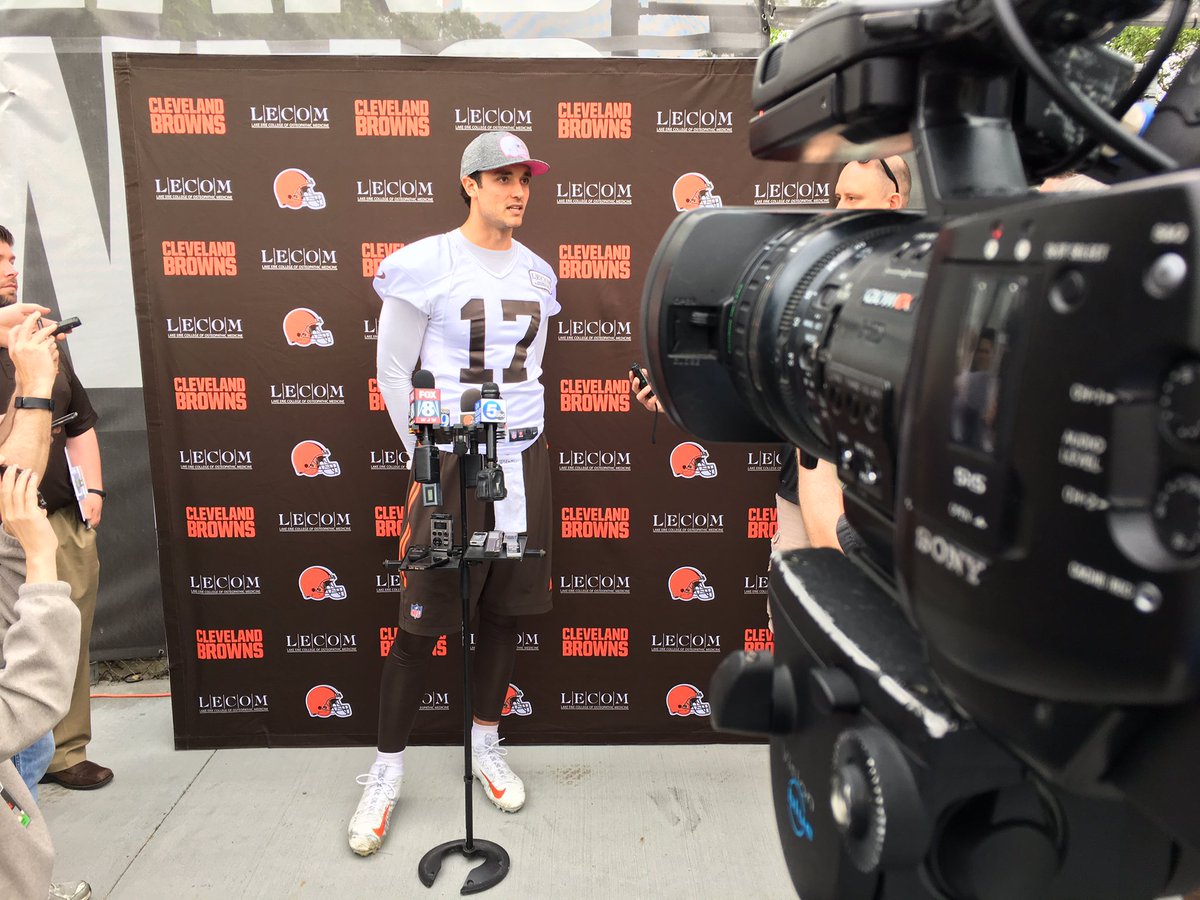 Back in March, Brock Osweiler was traded from the Houston Texans to the Cleveland Browns along with the Texans 2017 sixth-round pick and 2018 second-round pick in exchange for the Browns 2017 fourth-round compensatory pick.
Today, Osweiler spoke to the media in Cleveland for the first time since the move has been done.
Brock Osweiler had this to say on the following topics.
On if he thought he would have a long-term future with the Browns after being traded:
"There was a coach that I played for in college and he told me only worry about the things that you can control. From the time of the trade, that is what I have done, and I couldn't be any more excited to be here. From the day I arrived, you couldn't have been welcomed in a better way. This has been an incredible experience so far. Right now, I'm just trying to work hard, learn the system and be a great teammate."
On the trade and initially seeming like he was a 'throwaway' within it:
"Once again, I don't really make those decisions as far as what I was in the trade, but the facts are I'm here, I'm playing football, I love being a Cleveland Brown and it has just been so great to work with (Head) Coach (Hue) Jackson and (quarterbacks) Coach (David) Lee. I have grown so much this spring, especially in OTA Phase 2. Coach Lee is just tremendous with the fundamentals. Coach Jackson doesn't let us slack off at all, which really keeps you on your game. I have really grown as a quarterback here, and I love being a Cleveland Brown."
On what he was told about his future with the Browns:
"There haven't been any conversations like that. Like I said, I'm only going to work on a fact-based deal. Right now, I'm out here at practice, I'm trying to learn this system to the best of my ability, trying to be a great teammate, doing things with guys outside of the building and working hard inside of it. I'm only going to worry about the things I can control – my effort, my attitude, how hard I work, how hard I study, and that is really what my focus is on right now."
On reports that there was friction between him and members of the Texans organization:
"I am not going to go into Houston at all. My sole focus is on the Cleveland Browns and just on the present time, working hard and trying to be a great teammate here. I am sure players in Houston, if you reached out to them, you can ask them that question. My focus is on the Cleveland Browns right now."
On having an opportunity to compete to become the starting QB:
"That is great. Anytime you are in a competition with other guys at your position, it brings out the best in you, and it is certainly the best thing for the team because the best player at that position is going to play. Ultimately, that should lead to wins for your football team. I think it is great that we are all out here competing every single day. We are all pushing each other. We are all helping each other out. There is no friction in the room or anything like that. We are just working as a unit, which is great to see because I think it is going to bring out the best in everybody."
On what he learned from his experience in Denver and going from backup to starter that can help him with the Browns QB competition:
"Competition goes all the way back to high school for me. I had to compete for a high school starting job. Then in college, I had to compete for the starting job there and then you go to Denver and I started to play because of an injury, but I had to compete for a No. 2 job. Competition has been around my whole life. I think competition is a great thing because it brings out the best in you. Once again, it is the best thing for the football team because the best player ultimately is going to play on Sunday."

NEO Sports Insiders Newsletter
Sign up to receive our NEOSI newsletter, and keep up to date with all the latest Cleveland sports news.