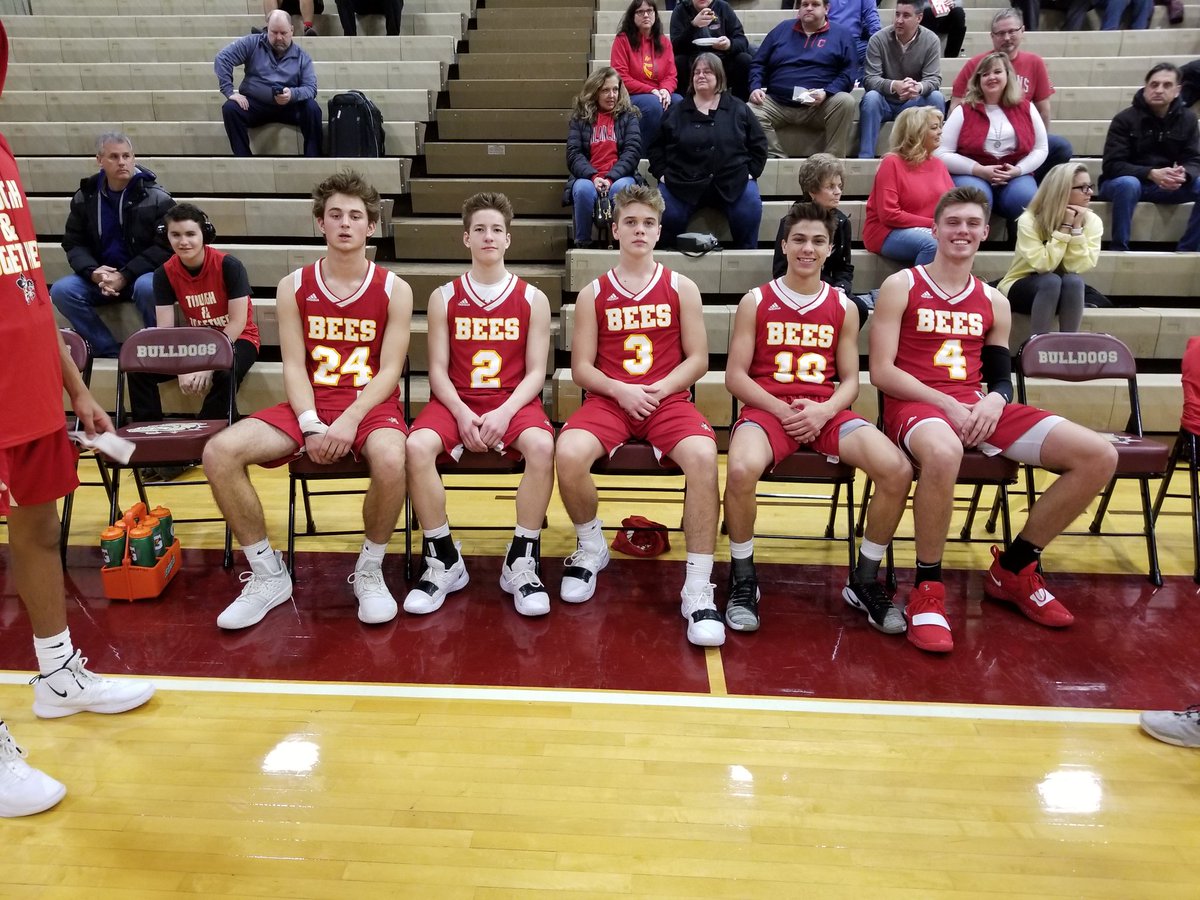 STOW, OHIO – Junior guard JC Sejba scored 22 points and hit several clutch free throws down the stretch as visiting Brecksville-Broadview Heights defeated Stow, 56-53, Friday evening in a Suburban League National Division matchup.
After a low-scoring first half in which both teams played suffocating defense, things got cooking in the second half.
After a Stow bucket early in the third quarter, three straight long-range shots from Sejba and a layup by Kenny Ganley sparked an 11-0 run putting Brecksville up 28-19. The Bulldogs would answer back with a 9-0 run of their own to cut the Bee lead to 28-25 before a couple of Kenny Ganley baskets padded the lead to seven.
Later in the game, Stow would force overtime with a three-pointer by senior guard Jack Wilson with less than a minute remaining to tie the game at 45. Wilson scored 24 points to lead all scores, and kept the Bulldogs in the game with several long range shots.
In overtime, Brecksville took the lead with Sejba's fifth three-pointer of the game. Stow would later knot up the score again with another Wilson three-pointer.
The Bees would respond with a Ganley layup to take the lead for good, and added four free throws to close out the victory. JC Sejba finished with 23 points.
"I can't thank my teammates enough. They find me when I'm open and I return the favor by making shots. I give all the credit to them." said Sejba.
"I'm exhausted." said Brecksville-Broadview Heights head coach Steve Mihalik.
"I'm proud of our guys. We left this gym last year losing by 40 points. People don't realize the upside of Joe Labas, holding one of the top players in the state scoreless. We're pretty young and we're not gonna surprise anybody in the second half." he added.
The Bee defense, most notably sophomore forward Joe Labas, made life difficult for senior forward and Kent State commit Evan Bainbridge on both ends of the court, holding him scoreless on offense and getting him in foul trouble on defense. Labas also added 13 points and hit three long-range shots of his own to aid the winning effort.
"It was a tough game. Guarding Evan Bainbridge was a heck of a challenge for sure. I'm glad I could play good defense and hold him to zero." said Labas.
Senior forward and Youngstown State commit Ganley added 13 points of his own, including the go-ahead bucket in overtime.
For Stow, despite star forward Bainbridge getting shut out, the Bulldogs remained in the game until the final whistle despite being down by as much as nine points in the third quarter.
"I thought we played well defensively. We had a spurt in the third quarter where we gave up some shots defensively. That's when they got the first cushion of the game and made life difficult for us." said Stow head coach Dave Close.
"We missed too many point-blankers right at the rim. Brecksville's a really good team. You can't miss as many shots as you did today and expect to win. We also had a couple of inopportune turnovers at the end there. We still have room to get better." he added.
"I feel like we didn't get Evan (Bainbridge) as involved as we should have. He's a Division I basketball player and one of the best in the state, and that's why we lost. I don't feel that we got him enough touches." said Jack Wilson.
Brecksville-Broadview Heights improves to 8-3 overall and 6-1 in the Suburban League National Division, remaining in a first-place tie with Twinsburg. They host Padua Saturday evening.
Stow drops to 5-6 overall and 4-3 in the Suburban League National Division. They travel to Solon on Tuesday, January 15th for a non-conference tilt.

NEO Sports Insiders Newsletter
Sign up to receive our NEOSI newsletter, and keep up to date with all the latest Cleveland sports news.