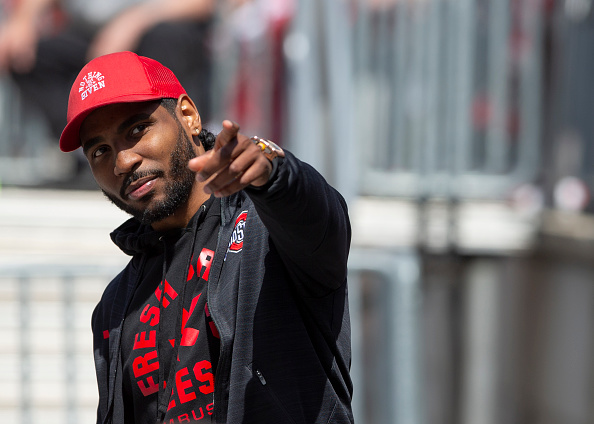 Say what you will about the Cleveland Browns' most recent signing, it sure does seem to be playing well with local fans.
The Browns announced today they've signed former Ohio State Buckeye Braxton Miller. Though the quarterback-turned-wideout is a late addition to an already crowded receivers room, many OSU fans in the Cleveland area seem happy with the move.
If I'm being honest, I can't see it doing much more than generating temporary goodwill with Buckeye supporters. Miller's signing, while celebrated locally, just doesn't look like something that will impact the Browns this season.
Let's start with the obvious – Miller hasn't shown too much during his short time in the pros.
He spent two seasons with the Houston Texans, compiling just two touchdown catches and 261 yards receiving. He was picked up by the Philadelphia Eagles after Houston waived him, but failed to make it off the practice squad.
Bottom line – Miller will need to improve across the board in a hurry if he hopes to make Cleveland's final roster.
This is also the case when you consider the fact the Browns are on the verge of cutting talented wideouts ahead of this season. They really don't seem to be in a position of need here.
Players like Jaelen Strong, Derrick Willies, and D.J. Montgomery have been fighting for a final roster spot throughout training camp. Considering the fact Odell Beckham Jr., Jarvis Landry and Rashard Higgins have already secured a place on the team, there aren't too many avails left at wideout.
As a result, it's tough to believe Cleveland is in a place to save a spot on the team for Miller instead of someone like Strong, who's been standing out over the past few weeks. Barring unforeseen injuries or head-turning performances in the final two preseason games, it's hard to believe Miller can find a home on Cleveland's receivers depth chart.
Outside of wideout, finding a place for Miller is equally tricky.
The Browns could potentially open a spot for him on special teams, though this will again involve cutting a player who has been working with the team all training camp. It would also require Miller accepting a special teams role in general.
There's always a chance Cleveland could try him out in the return game. I'll admit I'm intrigued about the potential of having Miller running back kicks and punts.
Again, though, he'll have to stand out in a big way over the next couple weeks to merit getting a place on the roster at that position, too.
I can only assume some out there will propose using Miller as a 'wild-cat' option an offense, a suggestion I'd like to stop at the door.
The Browns are already set at quarterback, which should eliminate the need to design an offense which over-relies on gimmicks. Even if they intended to run a couple trick plays a game with Miller, would that make reserving a roster spot for him worth it?
I'll happily eat crow if Miller shows enough over the next two weeks to earn a place on the Browns' roster. Perhaps Cleveland sees something in him the Texans and Eagles didn't.
That said, this is an uphill battle for him. Miller has to find a way to earn a spot in a crowded receivers room, or provide value elsewhere on the team in order to land on the final roster.
Right now, said task looks incredibly difficult. As a result, it's tough to see this as any sort of impact move for the Browns.

NEO Sports Insiders Newsletter
Sign up to receive our NEOSI newsletter, and keep up to date with all the latest Cleveland sports news.