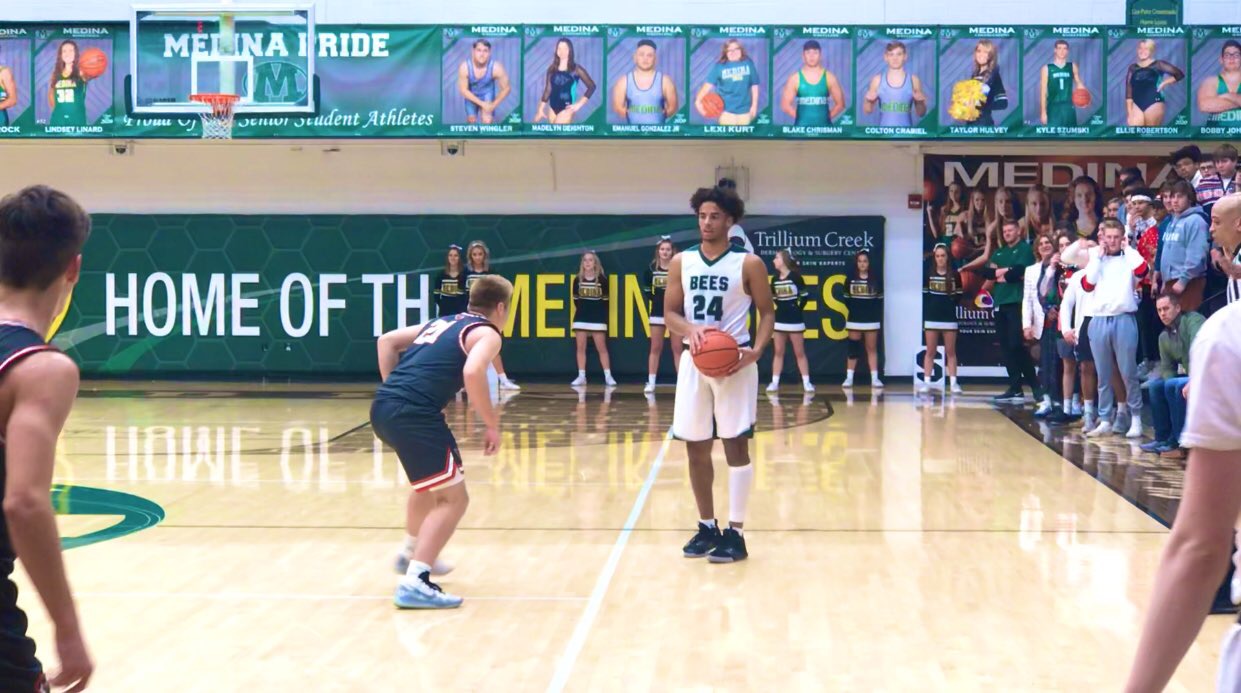 MEDINA, OHIO – Facing one of the best teams in the area in front of a packed crowd for Medina's home opener, the Battling Bees needed one of their players to have a near flawless performance.
That player was four year varsity guard Kyle Szumski, as his 32 points paced the Battling Bees to a 94-81 victory over GCC rival Mentor on Friday night.
Nearly everybody on the Medina roster has the ability to connect on three pointers at any given time. They showed off their abilities behind the arc early, building a 26-13 lead after the first quarter. Bowling Green offeree Corey Tripp displayed his well balanced skill set throughout the contest, driving and shooting has way to 16 points for the game.
.@medinaathletics is RED HOT to start this ball game, leading Mentor 19-7 with 3:05 in the first quarter. pic.twitter.com/2CfflmQqov

— Northeast Ohio HS Sports (@NEOhsAthletics) December 21, 2019
Medina continued to pour on the points, while restricting Mentor's high scoring backcourt of Luke Chicone and Luke Floriea. They led the Cardinals and their high power offense 42-24 heading into halftime.
Kyle Szumski has been the standout player in this ballgame, currently has 27 points. pic.twitter.com/lnDjs94q6P

— Northeast Ohio HS Sports (@NEOhsAthletics) December 21, 2019
Bob Krizanic, the outspoken head coach in his 26th season at Mentor, lit a fire underneath his team after their deficit increased to 24 points in the third quarter. The defense pressed their way into several forced turnovers, as the Cardinals would claw their way back into striking distance heading into the fourth quarter.
Youngstown State commit Chicone (33 points) and Chad Rogers (32 points) could not be stopped in the second half, as the duo combined for a total of 65 points in the contest. Rogers scored many of his points with strong post play, while Chicone spaced the floor and provided several big-time three pointers to keep Mentor within striking distance.
Youngstown State commit Luke Chicone is having a phenomenal second half for Mentor as they have cut a 24 point deficit to 14. pic.twitter.com/tZzgXcr8Q4

— Northeast Ohio HS Sports (@NEOhsAthletics) December 21, 2019
After their deficit would be cut down to 86-77 with 2:02 remaining in regulation, Szumski and his team would come up with multiple press breakers that resulted in easy layups.
Combining that with multiple key defensive stops down the stretch would give Medina a 94-81 conference win over Mentor.
Despite multiple individual 30 point performances for Mentor, they only had four players contribute on the scoreboard for the entire game. Medina had eight players contribute, as their bench outscored the Cardinals 14-0.
Medina (6-0) will have another major challenge next week, as they travel to Cincinnati on Monday to face defending state champions Archbishop Moeller (3-1).
Mentor (1-1) will have to wait until after the holiday to get back over .500, as they will head to Tennessee to participate in the Arby's Classic beginning on December 26th.
Box Score
Medina 26 16 25 27 94
Mentor 13 11 26 31 81
Medina
Kyle Szumski: 32 Pts
Corey Tripp: 16 Pts
Christian Howard-Caffey: 13 Pts
Spencer Aylward: 10 Pts
Doug Sartain: 9 Pts
JaJuan Jackson: 7 Pts
Jack Hagan: 4 Pts
Brandon Geschke: 3 Pts
Mentor
Luke Chicone: 33 Pts
Chad Rogers: 32 Pts
Luke Floriea: 10 Pts
Caleb Piks: 6 Pts